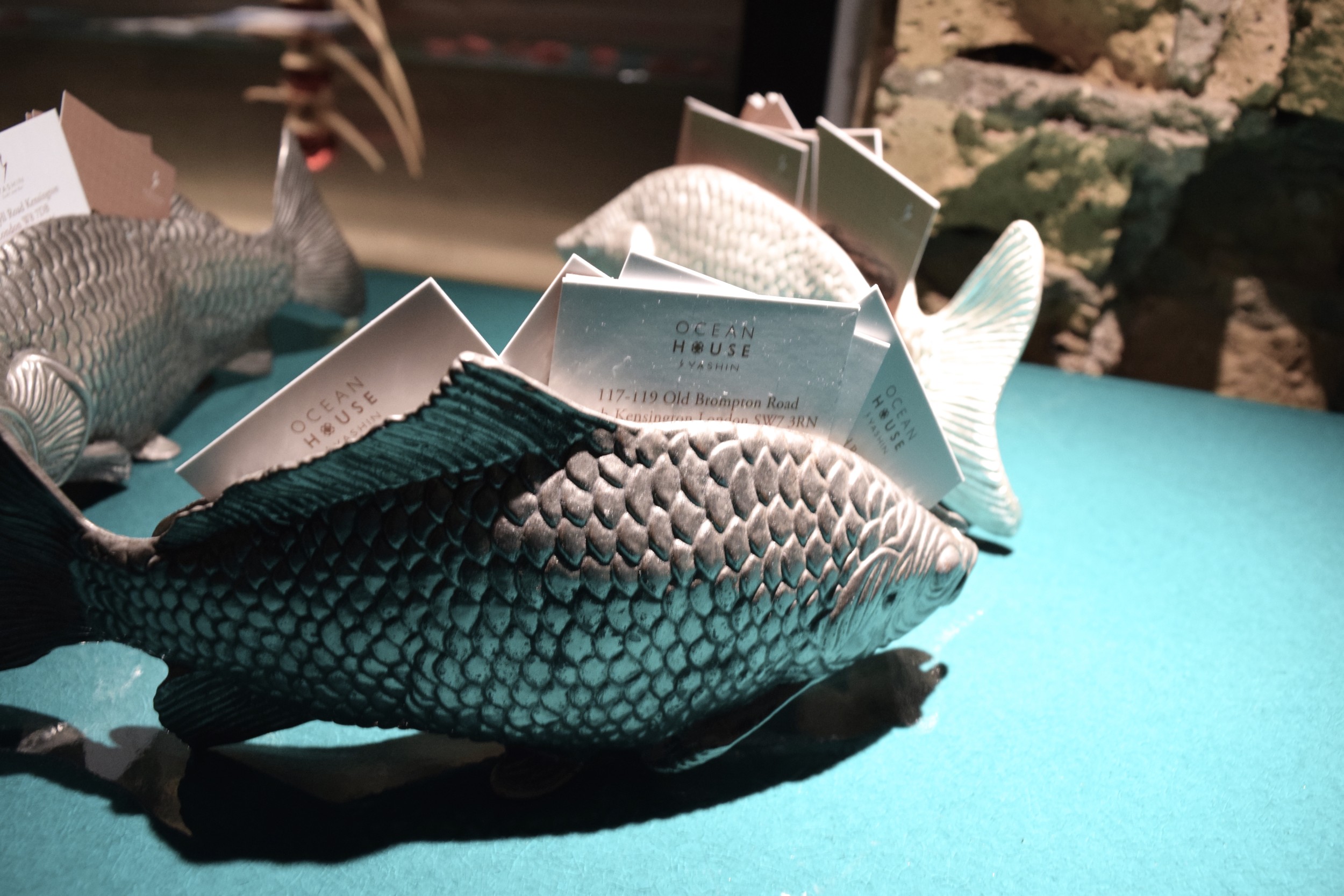 Will you be my Valentine? That's what my fiancé asked me and took me to the Yashin Ocean House in South Kensington for a 7 Course Love Menu including Wagyu Beef, Truffles and lots of fresh fish.
Love also goes through the stomach – at least that's what the Germans say and they are right about that. I am a Foodie and just love to eat delicious food. Furthermore sharing food with my fiancé is just amazing – we love to try out new restaurants and new dishes as well as talking about food what we liked best and what we would change etc. So we went for the 7 courses at Yashin and also gave Wagyu Beef a try.
But first I want to speak about the interior. I am very design conscious and when restaurants are styled through with the love to details and are just amazingly decorated – it is an eye candy for me and as important as the food. Also I am a big fan of design classics and designer lamps like the horse by Moooi.  Just to give you an impression how important interior is for us. For our Wedding Reception we looked at 45 venues all over London and were put off by so many venues with carpets (brits just love their carpets) and low ceilings, no cornicing or the wall colour was wrong, or it was too small, too big, had no staircase or was just on the wrong side of the city. Yes we really had a very specific picture in mind but we found the perfect venue finally and are even more excited for our wedding day. With the perfect location booked there is nothing that can go wrong now.
But back to the Yashin Ocean House and their lovely asian food. I also support their mission to use the whole fish instead of using the filet and throwing everything else away. Too much food is wasted in general so this attempt is amazing and I support that. The Valentine's Menu was like a tasting menu. All the best and popular dishes made into the 7 courses.
First of all I ordered a cocktail called "Cloudy Grapy" which was fantastic. I love to drink something special when we are out on a date to celebrate and toast to everything. Tamago with Truffles was the first dish we ate followed by a Miso Cappuccino. After that there was the Tuna with Ponzu Jelly which was really yummy and I think it was one of our favourite dishes. The foggy Sashimi Platter with Tuna, Bream, Salmon and Prawns was also divine and the foggy effect was quite a show and really nice to look at. Every Sashimi came with a different taste – either marinated with ginger, or it came with jelly, or it was seasoned with coriander or pepper. The only thing that was missing for me was the soy sauce. Yashin does not provide Soy sauce to their dishes because they believe that it ruins the flavour of the fish itself (which is right but I just love soy sauce and it is the flavour of Asia). The paradise prwans were next – the whole prawn was fried in tempura batter and was accompanied by a mango sauce. I always love things with mango in them. Then we finally got the Wagyu Beef dish that we were looking forward to – and Marvin absolutely loved it. For me it was a bit fatty because I am not used to eating meat with fat on or in it. But the taste was really special – I have to admit. As a dessert we chose not to get a sweet treat – we got sushi instead which was also very nice. The fish was very fresh and delicious. We will be back for sure not only because of the food – I just fell in love with the interior and the atmosphere at Yashin.
In case you wonder what the shoefie in the middle of the pics is about? Well my Panda shoes by Charlotte Olympia kinda match the asian vibes at Yashin Ocean House and I wanted to wear them for a while now but just did not get the chance. Finally I put them on for Valentine's and they looked so cute. Everyone was staring at my heels.
---
YASHIN OCEAN HOUSE
117 – 119 Old Brompton Road
SW7 3RN South Kensington
London
---