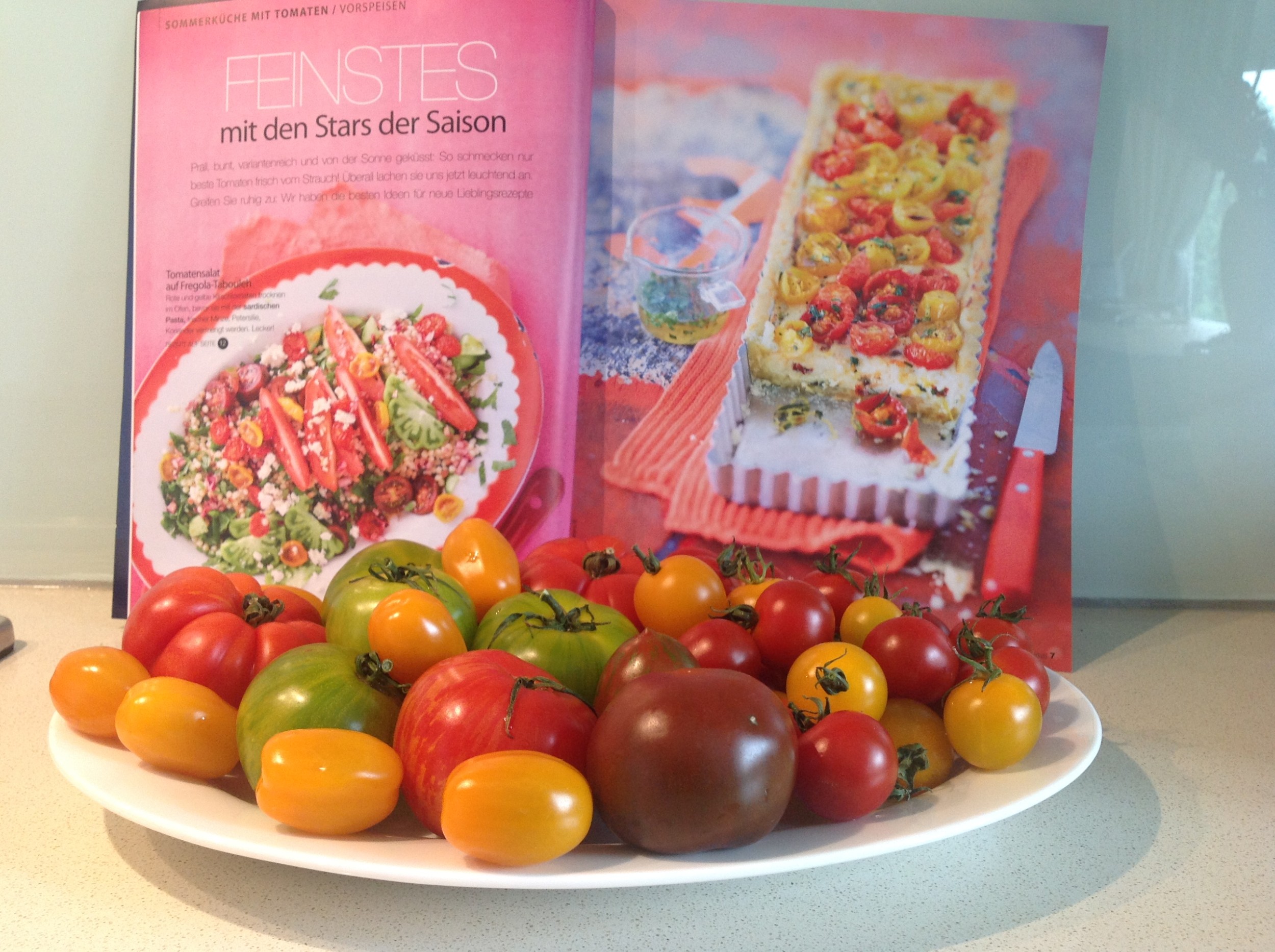 Tomatoes are in season all year – just depending on what kind of tomatoes you can get your hands on. My local Wholefoods Market offers a really enormous choice of tomatoes and I love the colours, textures and tastes. And instead of the ordinary Tomato Mozzarella dish I wanted to make something special and simple. I got some inspiration in my "Lust auf Genuss" magazines and wanted to make a quiche. Look at the result – I am quite happy with it and it tasted so delicate and fresh. A perfect summer dish.
---
What you need?
lots of colorful tomatoes
all purpose flour
butter
5 eggs
pinenuts
bacon
sundried tomatoes
ricotta
2 different cheeses (cheddar & parmesan)
rosemary
basil
lemon zest
salt & pepper
---
how to prepare it?
First start on the Quiche Dough. Combine the all purpose flour with room temperature butter and a little pinch of salt and try to knead it together that it is not to buttery, not to dry. Store it in the fridge for 30 min in order to give the the dough a little rest. In the meantime you can preheat the oven to 180° and butter the tart shell. You can also wash the tomatoes properly and cut them into quarters. Mix the eggs with the ricotta and season the mixture with chopped basil, lemon zest and rosemary as well as salt & pepper and put it aside. Now the bacon has to be fried so that it gets crispy. The last prep stage is to grind the cheese as much as you like but remember – do not take too much cheese because it tend to get heavier – keep it fluffy and light.
The dough should be ready now, so knead it a little bit and then put in into your tart shell and press it down that it gets the same height everywhere. You do not want the dough to rise so you can punch some holes in with a fork. Then bake it in the oven for 15 minutes until it is golden brown.
When it is ready take it out of the oven – you can start assembling everything. First pour in the ricotta with egg mixture and then place the tomatoes and the bacon on top. Lastly sprinkle on the cheese and the pine nuts, afterwards put it back in the oven for another 25 minutes until the filling is firm.
When the top is golden and still a little shiny – it is done and ready to eat.
ENJOY this summery, healthy and fresh dish.