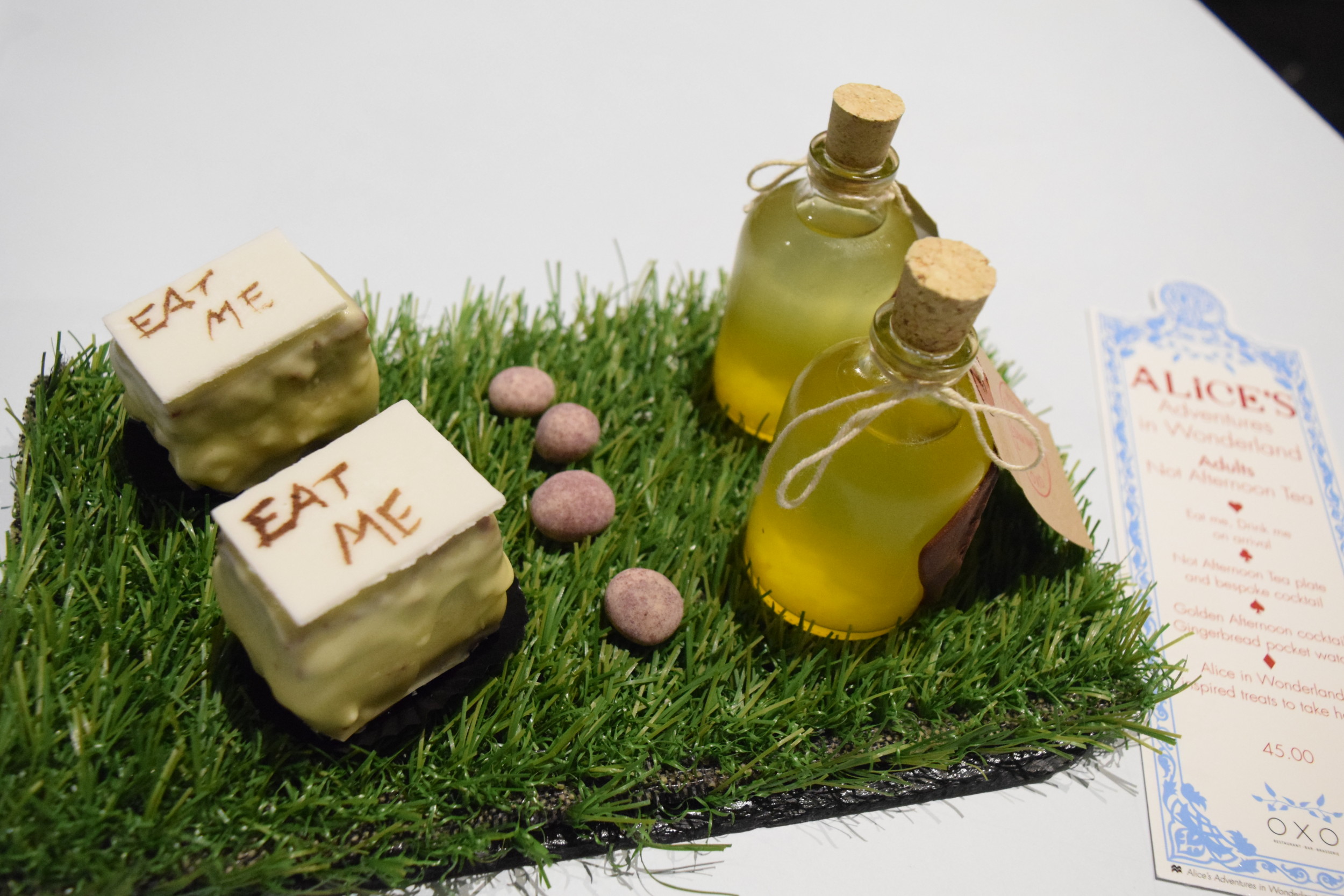 If you can skip the traditional stuff that usually belong to an Afternoon Tea like Scones, Clotted cream, Jam, Sandwiches and Tea maybe this NOT Afternoon Tea at the OXO Tower is for you. Every hotel or restaurant that offer afternoon tea put their own twist to it – what the OXO Tower does is mixing cakes with cocktails. But forget Pina Coladas and Bloody Mary's – at the NOT Afternoon Tea you'll get Hendricks Gin Cocktails and Coffee Liqueur shots as well as a warm cocktail which tastes a bit strange first but it is special – that's for sure. The Afternoon tea is "Alice in Wonderland" themed as they celebrate their 150th anniversary.
There are many options to choose from. You can choose between different cakes and cocktails but the Drink me and Eat me plate is which I liked the most is a staple. The next plate is the one you choose either more chocolaty or fruity paired with a matching cocktail and afterwards the gingerbread pocket watch with the golden cocktail arrives. The finale consists of Alice in Wonderland Treats that you can take home or eat in the cab (that's what we did). They are a delight and also look so cute and artistic.
When we arrived the sun went down and we had such a great view of the city. Being situated right at the thames you look over the river, watch boats drive by and look at the houses on the other side. And when it gets dark and the lights are on the view is even more spectacular.
All in all it is a different but great experience. Don't go there when you want a traditional afternoon tea with Scones, Bubbles and Sandwiches. If you like to drink experimental cocktails that are very creative and fancy – then book your NOT Afternoon Tea at the OXO Tower straight away.
---
The OXO Tower
Oxo Tower Wharf
Bargehouse Street
SE1 9PH South Bank
London
---
We really enjoyed the views and the cakes but for me the cocktails were a bit too strong. But if you like tasty cocktails with a special twist and also like to pair them with cakes and sweets then you should give the Alice in Wonderland Afternoon Tea a try. As you can see the presentation of the sweets and the drinks were amazing and really creative. Next time I would go for the non alcoholic version which they offer as well. I am not very keen on too much alcohol but that's just my personal taste and did not affect this experience – we really enjoyed our time at the OXO Tower and we will be back soon because the food on the plate of our neighbours table also looked so delicious. But now back to the NOT Afternoon Tea.