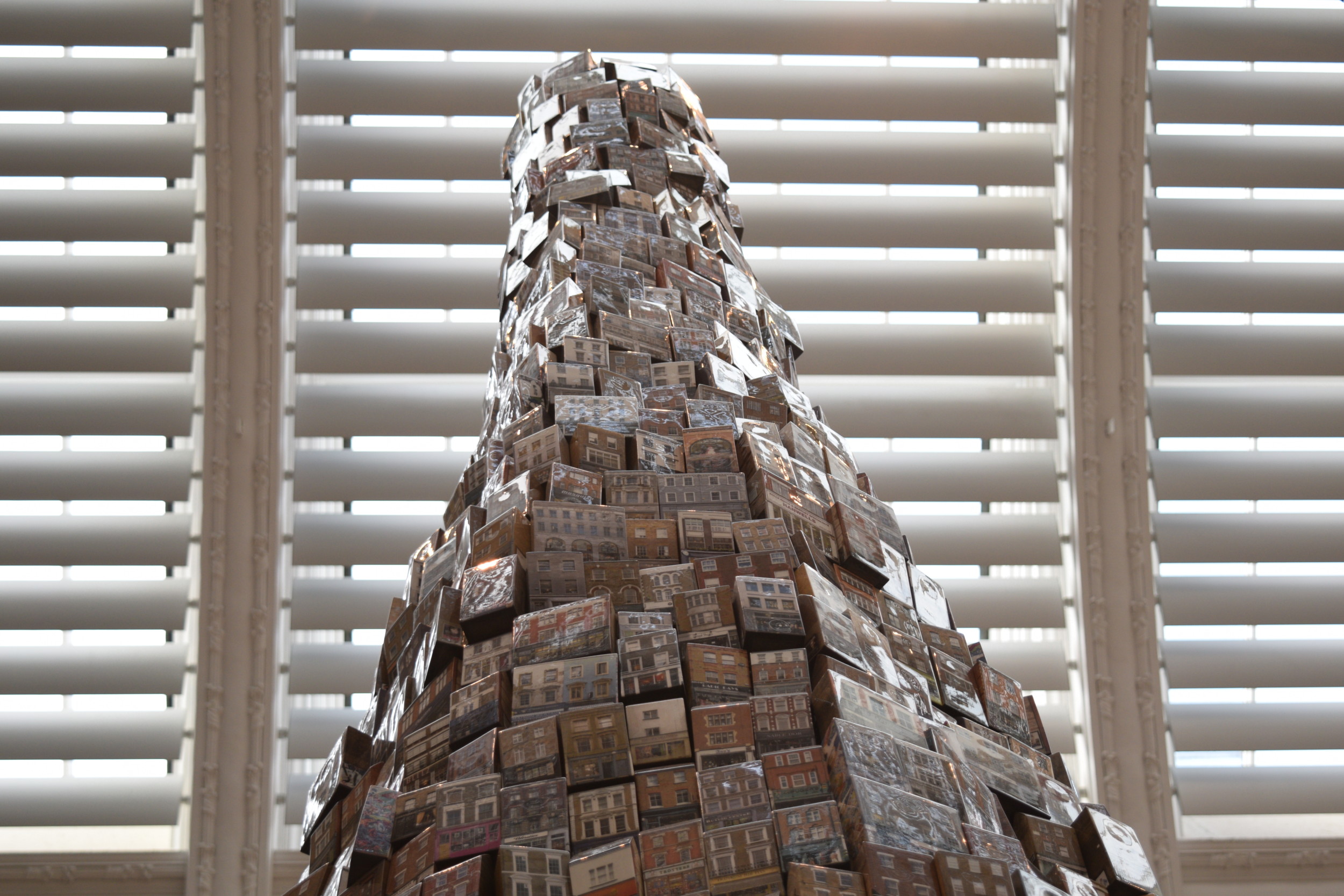 The Tower of Babel by the artist Barnaby Barford is the newest attraction at the V&A which is a combination of art and commerce. The material is fine bone china which will last for many years if you keep it safe but it can also be smashed and broken by falling on the ground. That's also the life circle of shops. Some shops are in London forever because they are popular but some of them are gone before you even know that they existed.
3000 little china houses form this tall tower. The artist photographed shops and buildings all over the British capital and built a tower out of them starting at the outskirts of London at the bottom with shops that are closed or not used anymore and finishing of with the most central locations and most exclusive shops and art galleries in Mayfair, Knightsbridge and Kensington. The tower also symbolises the division between rich and poor which many poor people on the bottom and very few rich people at the top. But consuming is what everyone with any budget has in common. London is known to be a babel with multi cultural heritage and influences where the world comes together.
What the artist criticises? The brits used to be citizens but they turned into consumers. Everything is about consuming that's why he came up with the idea to photograph the stores of London. He actually needed three years to complete this art piece. Now every single handmade fine bone china piece is for sale depending on the location like in real life. A house in Knightsbridge SW1 is the most expensive while a house in Peckham is less expensive. The prices vary between 95 Pounds and go up to 6000 Pounds. If you are interested in one of the houses visit www.thetowerofbabel.vandashop.com.
The tower is very impressive and I strongly recommend to head to the V&A to see this art piece in person. It will only be there until the 1st of November – that leaves you with 9 days to go. Hurry up.