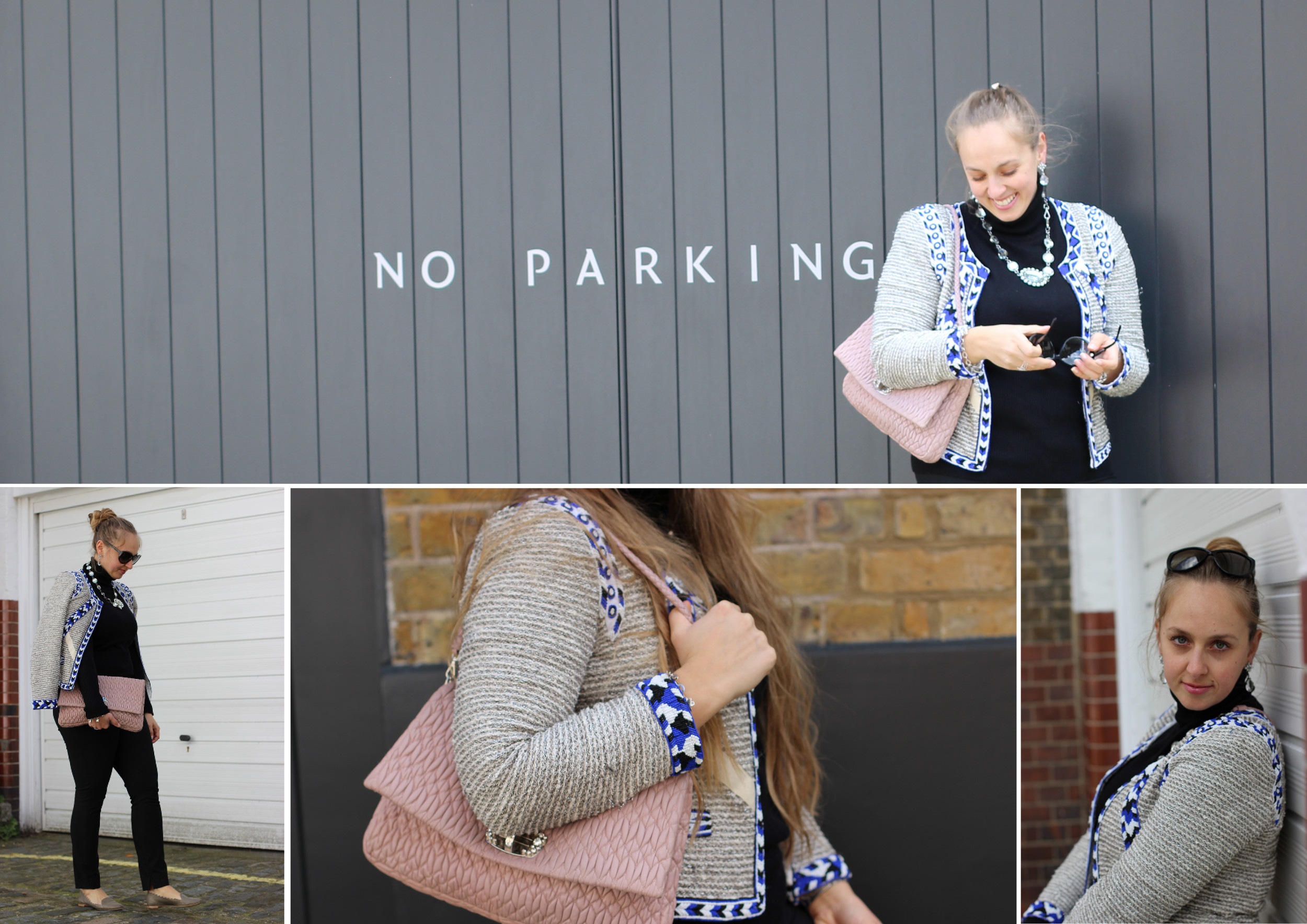 And here comes this weeks outfit post with the Marylebone Look. My girl Vicky from Stories & Smiles and I had another lovely meeting where we had a big chat, lots of coffee and another outfit shooting. After a Banana Bread, a Paleo Müsli and a Chocolate Croissant at Kaffeine, we were ready to shoot our #ootd in a quiet mews street in Marylebone.
It is finally Spring in London, so it is Ballerina Time, which means it is loafers time for me. My feet are not really made for Ballerinas (sadly) , I love how they look but they are so uncomfortable. I prefer loafers because they suit wider feet much better in my experience. My new Chloé Snakeskin Loafers wanted to be worn today so I styled them with an Ethno-Print Boucle Jacket by Pyrus London. A Label that you have to check out. There are so many London Labels out there and I do not know them all yet but every brand I discover is amazing and reflects the true London Style.
This outfit is not complete without accessories. This Miu Miu Clutch on chain is so versatile, I thought it would look nice with this look. Have a look at my other outfit, where I wear the Miu Miu. I also like that I can wear the chain as a necklace. This bag is just so practical and the color really fits most of my outfits. It is a wardrobe essential as well as my new comfy loafers.
Credits
Sunglasses // Stella McCartney
Sweater // Ralph Lauren
Pants // Zara
Shoes // Chloé
Bag // Miu Miu
Scarf // Silk & Cashmere
Jacket // Pyrus London
Necklace // Miu Miu
Earrings // Banana Republic
Lipgloss // Dior