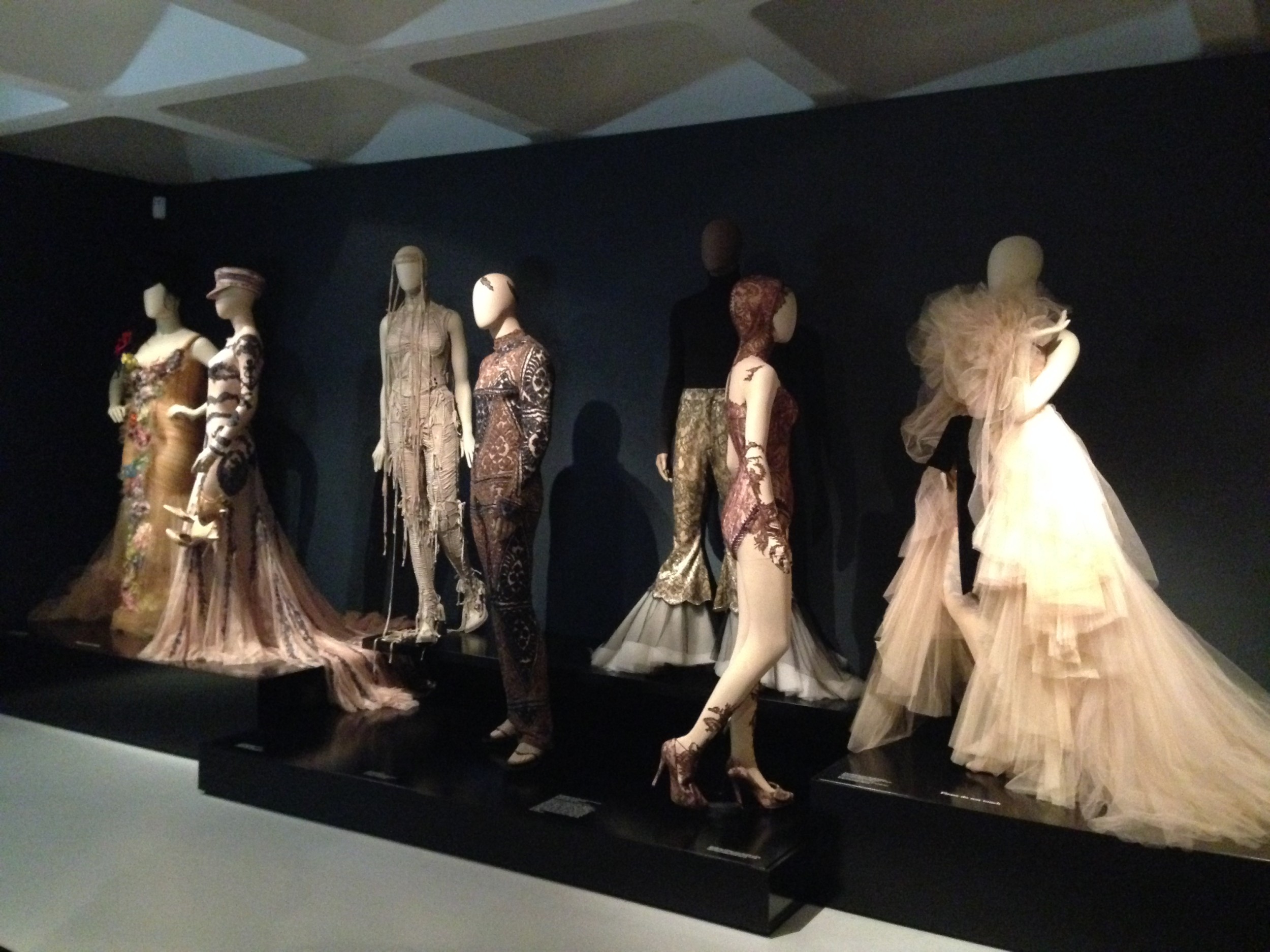 Am Montag ging in London eine Fashion Ausstellungen zu Ende, die ich als eine der gelungensten Fashion Ausstellungen aller Zeit betiteln würde. Es war ein Erlebnis für alle Sinne, ein Archiv, eine Catwalk Show, ein Pop-Up Shop und ein Museum in einem. Begleitet wurde das Ganze auch noch durch eine wunderbar informative App. Auch wenn ihr es nach London so kurzfristig nicht mehr schafft, keine Panik, "The Fashion World of Jean Paul Gaultier – from the Sidewalk to the Catwalk" wandert weiter, vielleicht ja in eure Nähe.
Der Sailor Look hat ihn berühmt gemacht, Jean Paul Gaultier's Streifenshirts und Ringelpullover sind selbst bei nicht Modeinteressierten bekannt und man bringt ihn damit in Verbindung. Doch nicht nur das ist sein Markenzeichen, er gilt als Enfant Terrible der Mode, ein durchgeknallter Modedesigner, der das absolute Gegenstück zu konservativer Mode ist. Seine Entwürfe sind gewagt, sexy, punkig, provokativ und kreativ. All das wird in der Ausstellung thematisiert und man wird Teil der Modewelt des Designers. 
In London's Barbican Art Gallery konnte man vom 9.April bis 25.August 2014 die Ausstellung: "The Fashion World of Jean Paul Gaultier – from the Sidewalk to the Catwalk" bestaunen. Eine grandiose Ausstellung, die ich gerne noch öfter besucht hätte. Insgesamt war ich ganze drei Stunden in der Ausstellung und habe mir alles bestimmt zwei oder sogar drei mal angeschaut. Besonders bei den Outfits habe ich so viele Details beobachtet und entdeckt. Ich war überflutet von Eindrücken und konnte sie bis jetzt noch nicht verarbeiten. Runway Looks mit verschiedenen Themen wurden ausgestellt, sowie seine Musen, Inspirationsquellen und Fotographien von ihm und seiner Welt. Sogar Projektionen auf Gesichter gab es, die dann auch noch sprachen. Eine medial sowie visuell überragende Inszenierung, die ich jedem empfehle, der Jean Paul Gaultier's Mode schätzt, sowie generell einfach modebegeistert ist. Da ich gefühlte Millionen Bilder gemacht habe und sie euch natürlich alle zeigen möchte gibt es nun leider Fingerkrämpfe durchs ewige herunterscrollen, doch Bilder fangen einfach die Stimmung der Ausstellung am besten ein. Und ein Video habe ich auch noch gemacht –
hier gehts zu Youtube.
Vorher war Gaultier's Retrospektive in Paris, Rotterdam und Brooklyn, nun in London und nächster Stop ist München.
Mehr Informationen zur Ausstellung "The Fashion World of Jean Paul Gaultier – from Sidewalk to Catwalk" gibt es auf der Barbican Art Gallery Webseite .
Die App könnt ihr Euch kostenfrei hier im App Store herunterladen. Sie sieht so aus:
Screenshot Barbican Website: http://www.barbican.org.uk/apps/