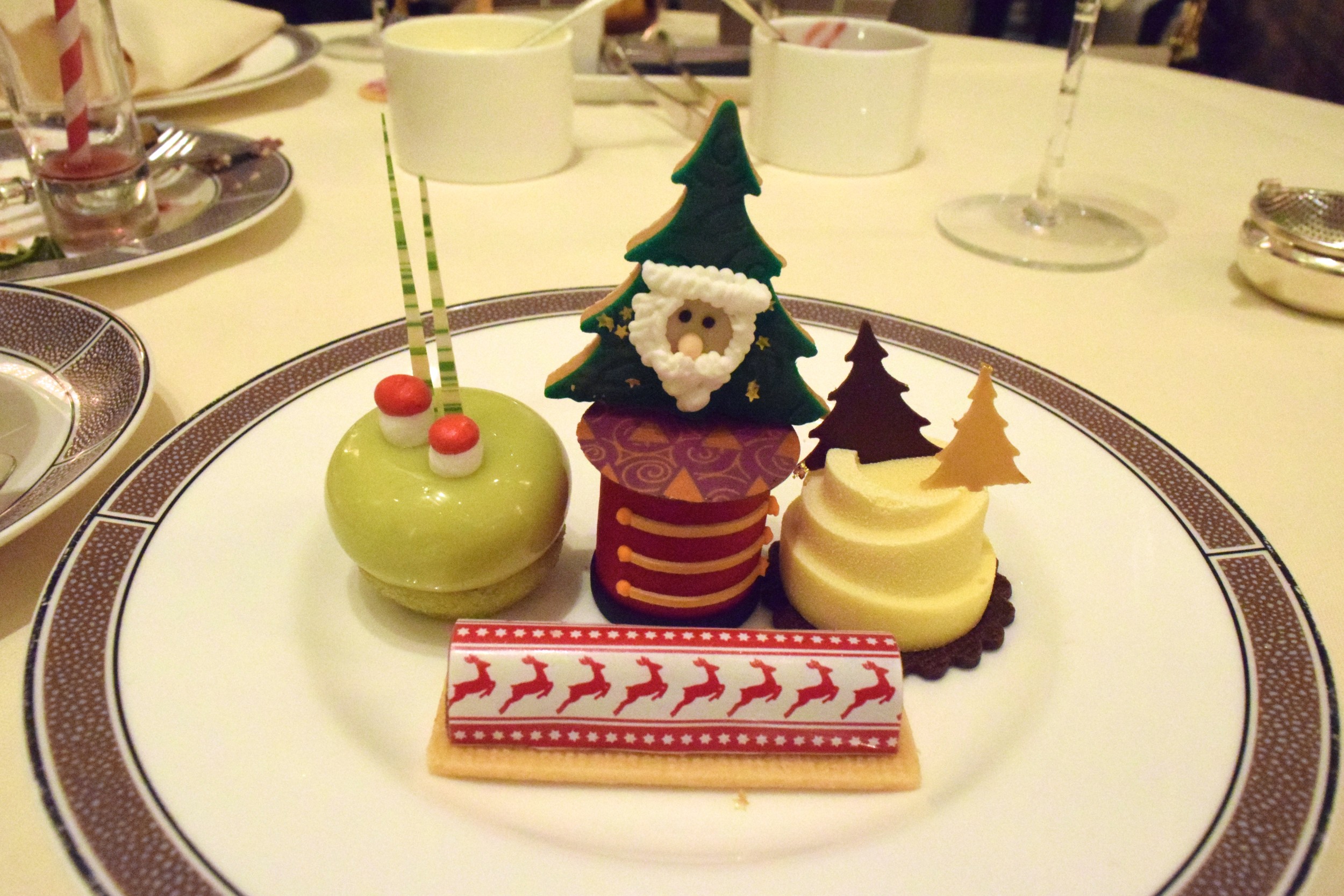 People go crazy when it comes to the true British Afternoon Tea. Every tourist should do one and Londoners you should become regulars and try out different ones every few weeks. Every hotel and restaurant add their unique touch to their tea times – either they focus on chocolate, cocktails, juices, sandwiches or on a theme and what better theme than christmas for an afternoon tea? And since they are at least 20 different festive afternoon teas in London I will help you select the best one. I have been to so many Afternoon Teas in the last few weeks that I have experienced a great variety and know what I am talking about.
You can trust me on this when I say that the festive Afternoon Tea at The Langham is the best. Look at this Christmas plate – the cakes were almost too cute to eat them. But in the end I ate them of course and the flavours were so christmassy and fragrant. Cinnamon, Cranberry and Chocolate were used to put together the best christmas Afternoon Tea which is available until the 3rd January. By the way at the Palm Court where The Langham serves the high tea – the tradition of Afternoon Tea was born 150 years ago. The Duchess of Bedford was the first lady to enjoy an afternoon tea in 1865. She felt a bit weak in the middle of an afternoon and told her footman to bring everything to her room for making tea as well as some bread and butter to accompany the tea. She enjoyed this meal so much that she soon invited friends to share the tea and bread with her in the afternoon. Bread and butter soon evolved into sandwiches, cakes, fruit bread, scones and other sweet and savoury treats. A traditional British Afternoon Tea starts with sandwiches followed by scones, clotted cream and strawberry jam and it finishes off with a variety of cakes and of course there is tea.
This festive afternoon tea started with a glass of rosé Champagne and an eggnog pannacotta with rum jelly – both absolutely brilliant. After the little sweet treat the sandwiches followed with traditional flavours like cucumber, salmon and smoked chicken but also a truffled duck egg roll which was my favourite. Really delicious and delicate and the truffle really brought it to another level. After the savoury delicacies I was ready for some sweets and then this festive plate with cakes and a cocktail arrived. This is by far the cutest and most beautiful cake presentation I have seen so far. Chapeau to the award winning Pastry Chef Cherish Finden who created this afternoon tea. I loved the pistachio and raspberry dome with sablé biscuit as well as the mango and passionfruit white chocolate Chantilly. But it did not stop there. The plain scones with clotted cream and strawberry jam were also very nice. Especially the festive scones with cinnamon and cranberry were so yummy. They were served warm just fresh out of the oven – that's how they should be – fluffy and warm.
I had an amazing time and would definitely recommend this Afternoon Tea to anyone who likes to enjoy a truly British Afternoon Tea with a Christmas twist.
---
The Langham Hotel
1C Regent Street
W1B 1JA Marylebone
London
---