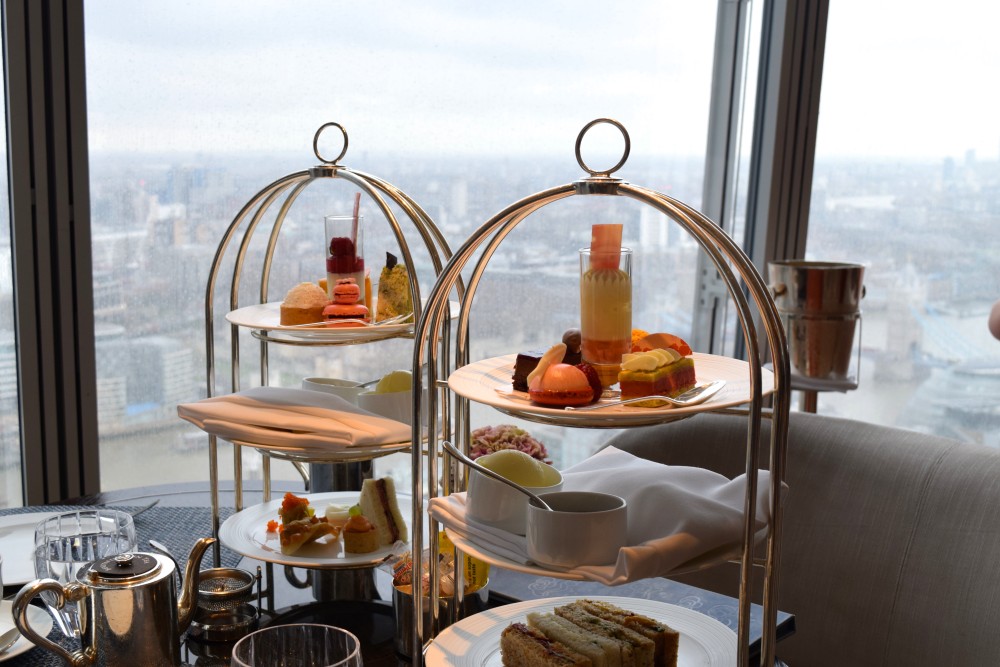 Afternoon Tea is my passion but this one is not an ordinary one. This one combines my love for asian flavours with my sweettoth and you'll get an amazing view of the whole city because you are sitting at Ting Restaurant, Shangri-La Hotel located in the Shard on the 32nd floor. This is literally a high tea and this asian inspired afternoon tea is totally authentic and you think you are in Asia somewhere.
Well the weather did fit rainy cloudy and grey. I remember that most of the asian metropoles do have a similar weather because of the smog and the heat. In London though this weather is unusual. The saying that it rains all the time is just not true. You can compare the weather to Germany or Switzerland only it is milder but that's a different story. Anyway the tea was amazing. We ordered one regular afternoon tea and one asian inspired one. To be honest the normal one was only average but the asian one was one of the best teas in the city. Flavours like Mango, Coconut, Matcha, Lemongrass, Jasmine and Rice were integrated in the sweets which I love. There is nothing better than the combination Coconut & Mango and even though I am not keen on matcha – the matcha cake was quite delicious considering that matcha tastes kind of odd in my opinion. And there were macarons of course – this has become an afternoon tea classic that must be on the etagere in some way. Also the savory dishes were nice – as you know I always fancy the sweets but of course I try the savoury tarts just to see how they taste. And my favourite was the fried veggie dumpling and the spring roll. When going for an afternoon tea I always focus on the sweets because I just cannot eat everything and they are always my highlights why I go in the first place. The scones came with mango jam and clotted cream instead of the traditional strawberry jam – they were a delight. The jam was surprisingly not as sweet which I love. And the scones were fluffy and yummy as they should be.
My suggestion is that if you want to do an afternoon tea in London and you are only in town for a weekend – book a table at the Ting. You'll get a traditional British must do attraction with a twist and you also get to see the whole city. That's two boxes ticked at once. If you are local still book at Ting if you love an asian twist – the view is still breathtaking even for locals. I have been to the Shard almost 10 times but it is still amazing to see the City and the Skyline and have a 360° view accompanied by delicious food. It doesn't get any better – at least for me.
---
The Ting
Shangri-La Hotel
The Shard
31 St. Thomas Street
SE1 9QU Southwark
London
---