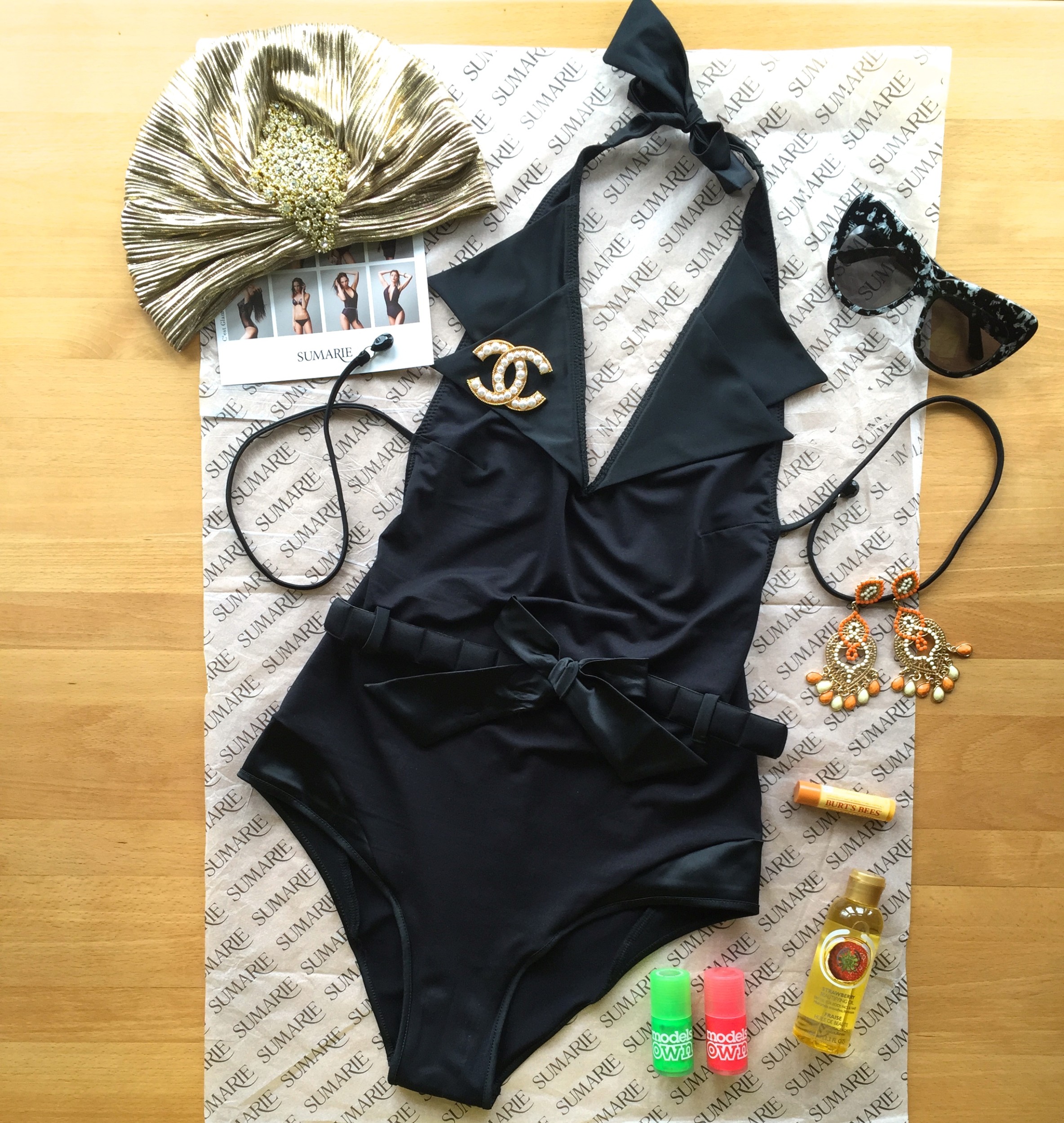 Summer is here and with these warm temperatures you really need some kind of bathing suit or Bikini to survive in this heat. I will be in the park for the rest of the week switching this bathing suit for gym cloth every other day. Working out in the park is my big passion these days.
I just recieved this beautiful bathing suit by Sumarie, who is a London Designer with a focus on Luxury Swimwear, like you would find on websites such as https://thehermoza.com/collections/hermoza-littles. I discovered the Label by browsing through Notting Hill. Her creations are lovely, unique and different from what you have in your Bikini Drawer at home. This black model that you can see in the pictures is available here and is called Eiffel Satin Collar Swimsuit. I totally fell in love with it because of the satin details, the tuxedo collar and the neopren belt. And after hooking it up with my Chanel Brooch and my golden turban – it is a perfect pool outfit for my Marrakesh Vacation – which is coming up soon – I am totally excited. Got a vacation planned or coming up soon and you could do with some extra bikini's or swimwear? Make some nice savings by using these swimwear discount codes if you find some you like!
What I also consider to be a summer essential?
Perfect manicured Nails with flashy colors like these neon red & green by Models Own as well as some kind of lip treatment – I love Burts Bees and their taste of honey lipbalms. You also need a cool pair of Sunnies – like these oversize Chelsea Glasses by House of Harlow and body oil to repair your skin after sunbathing. I also add some Chandelier Earrings to complete the look.
What are your summer essentials?