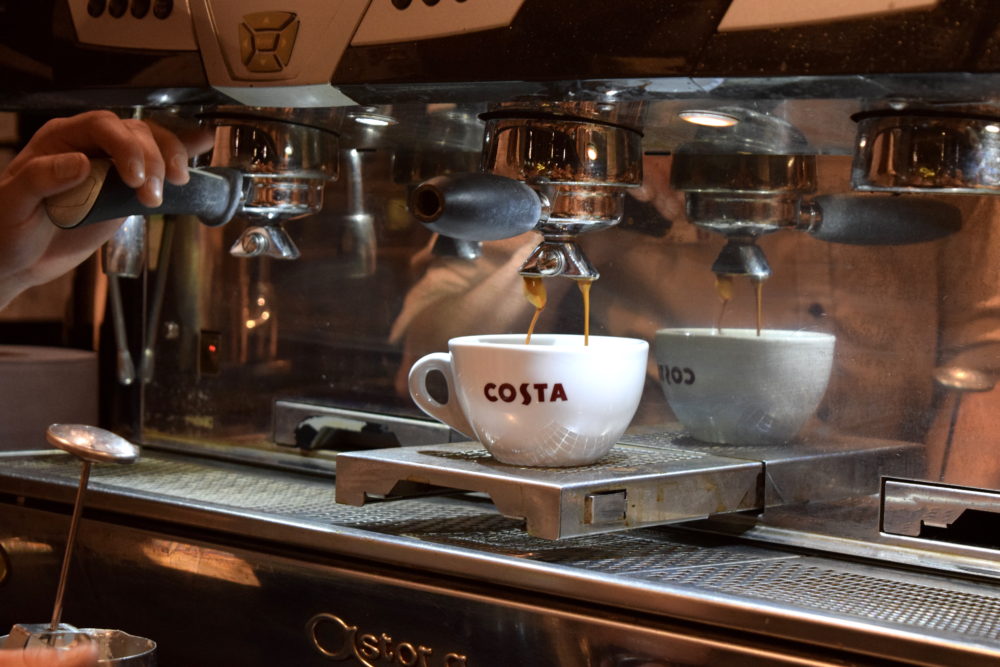 This was my task this evening when Costa Coffee invited me to join their Coffee Masterclass. As you can imagine it was all about Coffee…. And since I looooove coffee so much – I was so excited to finally learn how to do proper coffee art.
I tried coffee art at home several times but I never got it right – the milk was either not hot enough or it was too cold, the consistency was not right and of course my lack of skills did not help either. If I was living in Australia, my skills would be up to scratch with the availability of this barista course melbourne to become an excellent barista. Perhaps I can find a UK equivalent of this course! I'd like to believe that the coffee art wasn't up to scratch because the coffee machine wasn't good enough, I should have read some of the reviews at Product Expert.
One of my friends from the Netherlands is a barista and so he is a big coffee drinker. Next time I visit, maybe I'll be able to have a go at practising what I've learned on one of his volautomatische koffiemachines?
At the Costa Coffee Masterclass everyone had their own goal – some wanted to learn more about coffee in general, some wanted to taste the different sorts of coffees (like espresso, flat white, acid free coffee etc) and there was me. I wanted to create a swan coffee art on my flat white. That was my goal – you will see if I reached my goal later.
---
But first I will share some COFFEE FACTS with you…
---
Coffee grows around the "Bean Belt", it is the belt around the equator which consists of 70 countries.
Costa source their beans from three Bean Belt countries – Vietnam, Columbia and Brazil.
Costa Coffee uses two different types of coffee beans for their signature blend – robusta beans and arabica beans.
The robusta bean brings body and crema to the coffee
The arabica bean brings acidity and aroma to the coffee
Together they are perfectly balanced and create a lovely coffee flavour
Costa Coffee is 100% rainforest alliance certified which means that they produce sustainably
Every bean is hand picked by farmers which is more sustainable because only the ripest cherries will be harvested.
A single shot of coffee used for the flat white runs through the machine in exactly 15 seconds which is also called the cortissimo extraction.
The coffee tastes different in the different stages of seconds – first 7 seconds ACIDITY – second 7 seconds SWEET – 1 second BITTER
The milk needs a temperature of 120 degrees to make the perfect foam for coffee art.
Coffee Art is harder than it looks – you need to practice your wiggle wiggle ( which is a hand movement – shaking your hand from left to right )
The most common coffee art is the fern, which you can see in many pics below.
A fern should not be too hard – I thought – so I wanted to learn how to do a swan which is tough – I barely got the fern right. But Matyas – Barista of the Year 2014 made one for me. He was on our side when we had a go on the coffee machine. He assisted us and showed us how to make the perfect flat white. Matyas said that he made 587 flat whites until he got his flat white badge from Costa which shows that he is a pro in that category – well I would definitely need more hours on the machine until I would be able to do proper coffee art.
I had such a great time, learned so much about coffee and met some really nice fellow coffee lovers. Thanks Costa for the amazing evening.
If you are interested in joining such a Costa coffee masterclass – click here for more information. There is one on the 21 september. These classes are free and you only have to sign up – so better be quick.