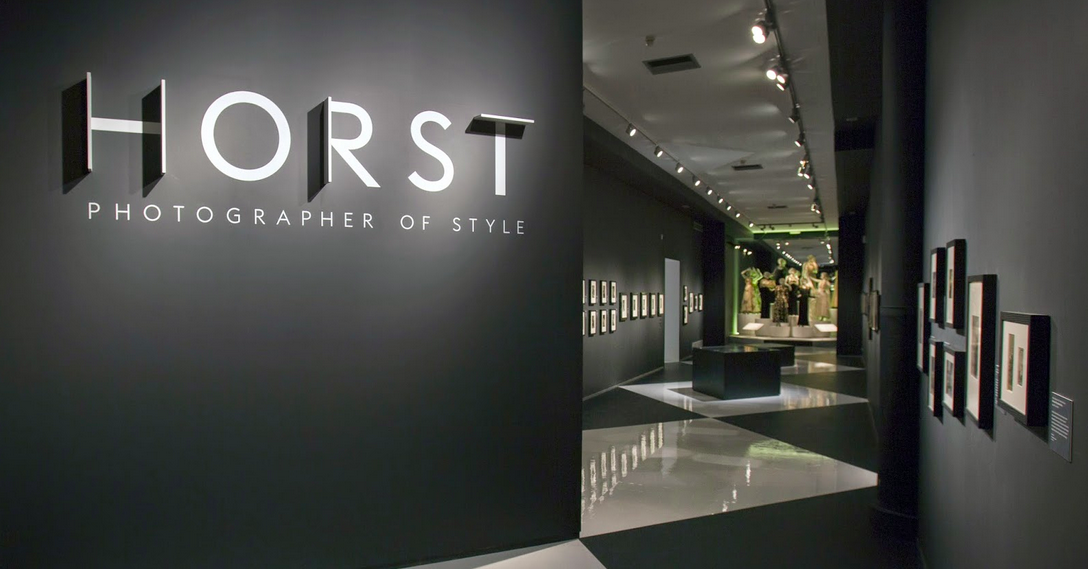 "Horst: Photographer of Style" is the perfect title for this breathtaking exhibition, that opens its doors for the public on saturday the 6th of September. It starts tomorrow so book your tickets now.
Style is something you can't buy – but he sure had it. Horst was one of the most successful photographers of the 20th Century. His career almost lasted 60 years he shot the crème de la crème of the film and fashion world. 100 Vogue Covers were photographed by the "magician of light", as Horst P.Horst (1906-1999) was called. He became a photographer after being the assistant and lover of Georg Hoyningen-Huene, also a big name in fashion photography scene. The german born mainly worked in Paris and New York and soon became very popular with his shots of the golden age and the couture era. The Topmodel Lisa Fonssagrives was his muse as well as one of the first models he shooted with. Couturiers like Coco Chanel and Elsa Schiaparelli collaborated with him as well as stars and artists like Marlene Dietrich and Salvador Dali.
"Horst's Legacy and influence continues today" says the Director of the V&A Martin Roth. In this context he mentions artists like Herb Ritts, Robert Mapplethorpe, Bruce Weber and Madonna.
The V&A Museum in London hosts this spectacular retrospective, which was curated by Susanna Brown. She kindly answered my questions during a short interview, after the press conference.
Curator Susanna Brown speaks about the exhibition in front of the press
She was the busiest lady of the preview. But then it was my turn – I was a little nervous to be honest but she broke the ice by telling me that she loved my earrings. Then I started with my first question how Susanna Brown would describe the retrospective in three words. She beautifully summed it up: Style, Elegance and Timelessness.
Horst P. Horst was never interested in fashion itself, but he sure was a extraordinary fashion photographer who worked in the fashion industry for 6 decades and produced nearly 100 covers for Vogue. He once said: "Fashion is an expression of the times. Elegance is something else again." Fashion is reflecting the "Zeitgeist", is probably what he wanted to say. The V&A Museum tried to showcase his work in a Horst kind of way. He was the "Master of Light" and so the exhibition also took that element in presenting the photographs. Changing Black and white walls were used in order to set a light or dark atmosphere for the theme of the photos. Themes were: Couture Fashion, Stage & Screen, Fashion in Colour, Travel, Living in Style, Nature, Patterns, Nudes and Paris Style.
Almost 400 objects are part of the Horst exhibition. Nearly 100 Vogue Covers, 250 photographs and a few objects like mannequins in couture dresses and his photo equipment. With this enormous portfolio on display, it is like an archive of Horst's work throughout the decades he inspired.
Horst: Photographer of Style opens on saturday the 6th of September. Go to the V&A website to reserve tickets in advance or to get more information.
Now that you already know a lot about Horst and the retrospective it is time to show you some photos.

*The following pictures are courtesy of the V&A Museum, London.
*The above pictures are courtesy of the V&A Museum, London.