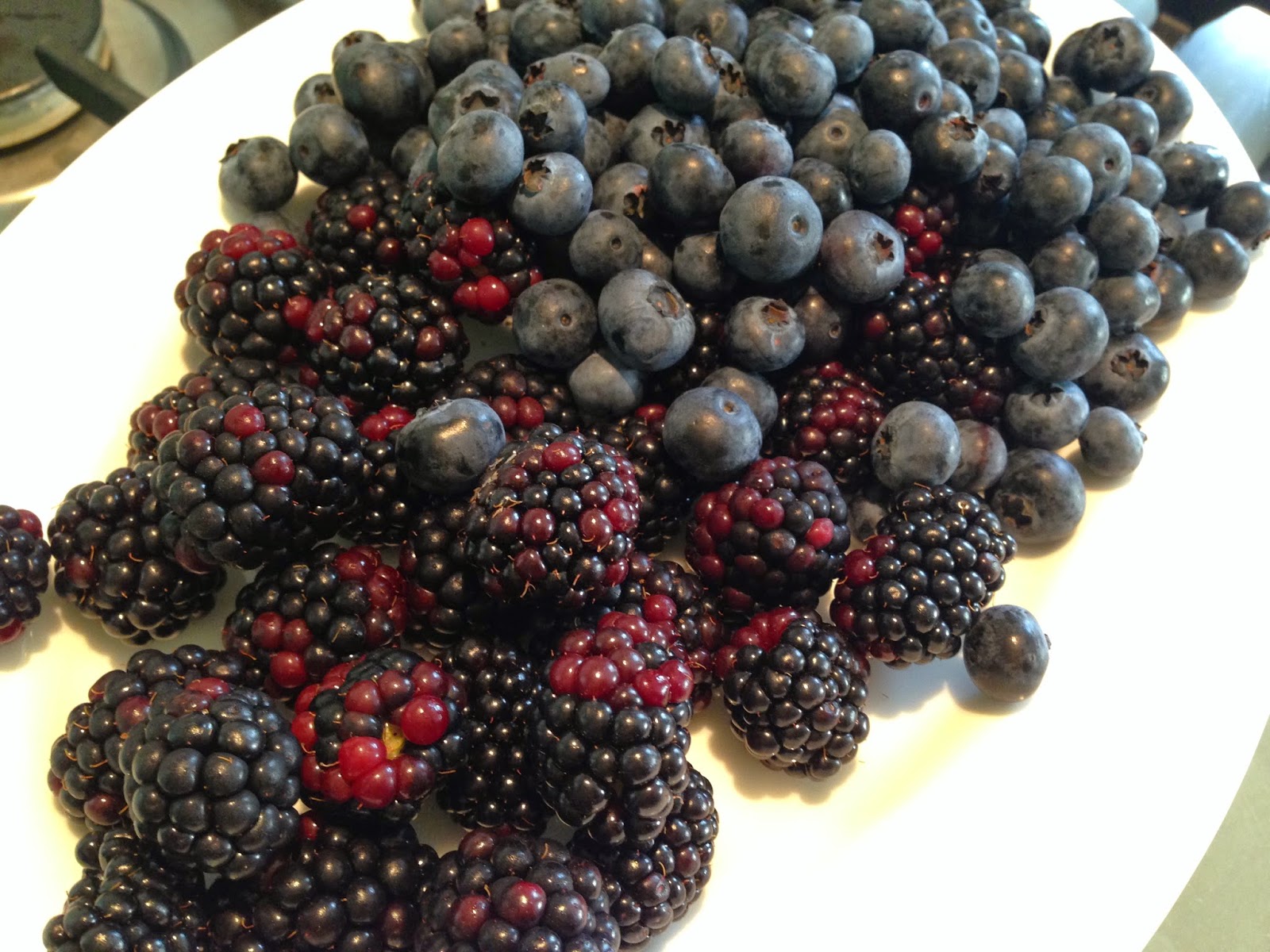 Enjoying summer berries while they are in season. Although Black and Blue do not match in my opinion because I never wear these two colors together. But for this lovely fruit sauce it is the perfect combination.

Sommerfrüchte wie Blaubeeren und Brombeeren gibt es bald nicht mehr, Beeilung also solange sie noch erhältlich sind. Obwohl Schwarz und Blau modisch nicht zusammen passt, ist es in dieser Fruchtsauce jedoch die perfekte Kombination.This Black & Blue Sauce is so yummy. I put it in müslis, yoghurt and also just on the side of a fruit plate. It is also great for all sorts of puddings as a fruity component alongside ice cream, panna cotta or cakes.
//
Diese schwarz-blaue Sauce ist so lecker. Ich liebe sie zu Müsli, in Joghurt oder einfach zu einer Fruchtplatte servieren. Sie eignet sich auch ganz wunderbar zu Desserts aller Art. Zu Eis, Panna Cotta oder Kuchen kann man sie als Fruchtspiegel auf dem Teller verteilen. 
Here comes the recipe:
750g of Blackberries
600 g of Blueberries
3 Tbsp. Sugar
1 Tbsp. Vanilla Paste
First put half of the blackberries in the pot that you cook it in. Coat them with the sugar for a few minutes before you turn on the heat. They should loose a little bit of juice so you don't have to add additional water. You have to constantly stir the fruits so that they don't burn. After 10 minutes add a few blueberries. Continue to add fruit after another 10 minutes. Don't put in the fruit all at the same time. Somehow this makes a difference. Believe me. Then add the Vanilla Paste and let it simmer for 40 minutes in total until the fruits are cooked and their juices are all combined. Then turn of the heat. The not so fun part starts now. I want a smooth sauce so I strain it. That's a lot of work and it is dirty. But I think it's totally worth it. Strain 1/4 of the sauce at a time. I stir it with a spoon until all the moisture is in the bowl under the strainer. When you strained everything fill it into jars. I rinse them with hot water before use to kill the germs. The last step is to put the label on.
You have to hurry if you want to make this sauce because Blueberries and Blackberries are almost out of season. Fall is almost here.
//
Hier ist das Rezept:
750g Brombeeren
600g Blaubeeren
3 EL Zucker
1 EL Vanille Paste

Erst in einem Topf die Hälfte der Brombeeren mit dem Zucker vermengen und etwas stehen lassen. Erst nach ein paar Minuten den Herd anstellen. So können die Früchte Flüssigkeit verlieren und man muss kein Wasser hinzugeben. Sobald man den Herd anstellt sollte man immerzu rühren, damit die Sauce nicht anbrennt. Dann nach und nach Früchte hinzu geben sowie die Vanille Paste. Nicht alle Früchte auf einmal hinein, denn dann wird die Sauce zu flüssig. Ich habe die Erfahrung gemacht, dass das nach und nach hineingeben die Sauce aus irgendeinem Grund verdickt. Also alle 10 Minuten eine handvoll Früchte hinzugeben. Nach 40 Minuten sollte alles gut verkocht sein. Dann den Herd ausstellen und ein Sieb mit Topf darunter vorbereiten. Nun kommt der anstrengende Part und es kann auch ziemlich dreckig werden. Doch es lohnt sich. Die Sauce abzusieben macht einen großen Unterschied, denn die Brombeeren haben harte Körner, von denen ich kein Fan bin. Erst mit circa. 1/4 der Sauce beginnen und mit einem Löffel im Sieb herumrühren und die Früchte ausdrücken bis keine Flüssigkeit mehr im Sieb ist. Wiederholen bis der Topf leer ist. Wenn alles abgesiebt ist kann mit dem Befüllen der Gläser gestartet werden. Immer die Gläser vorher mit heißem Wasser ausspülen, um die Bakterien zu töten. Dann die Sauce in die Gläschen füllen, stürzen, abkühlen lassen und dann die Schildchen drauf kleben.
Wartet nicht zu lange mit dem Nachkochen, denn die Blaubeer und Brombeer Zeit ist fast vorbei! Leider steht der Herbst schon vor der Tür.