This season I did not only want to attend the London Fashion Week – since Berlin's Fashion Scene is growing and growing – I thought that I would give it one more shot. And I was not disappointed. I have been to Berlin and their Fashion Shows a couple of seasons but last time was three years ago and a lot has changed since then. The shows and the management became more professional as well as more creative and modern. Attending fashion week is a goal of many fashion blogger and I don't blame them. Who would think that having the confidence to start a blog by checking out sites like Site Beginner and posting content for everyone to see that they'd be able to say they attended fashion week? It's funny how things work out. When I first saw a show in Berlin I was quite disappointed that the labels did not invest lots of effort in the presentations, models just walked bored down the runway and there was no decoration or a concept. But the goodies were amazing and every single guest got lots of goodie bags. That part has also changed since nobody wants to throw money out of the window – only the most important guests get goodie bags which is the first row and maybe the second row. Putting goodies aside the fashion is way more important and the collections are the reasons for my attendance.
Most importantly the staging and the label communication has improved. The Riani show started with a dance performance by Rebecca Mir and they also hired a guitar player to spice up the show. I really loved that. And at Marc Cain the models danced around dressed like hippies and flower girls instead of just walking down the runway. More highlights of this seasons Mercedes Benz Fashion Week Berlin – scroll down.
LOCATION
The Fashion Tent, where most of the shows took place, was just behind the Brandenburger Tor – Berlin's most iconic piece of architecture. You can also see the Fernsehturm from here. I enjoyed this view everytime I sat down in the Mercedes Benz Lounge to wait for the next show and also get a bite to eat and drink lots of water. It felt like 40 degrees in the tent so it was amazing to sit down and cool down.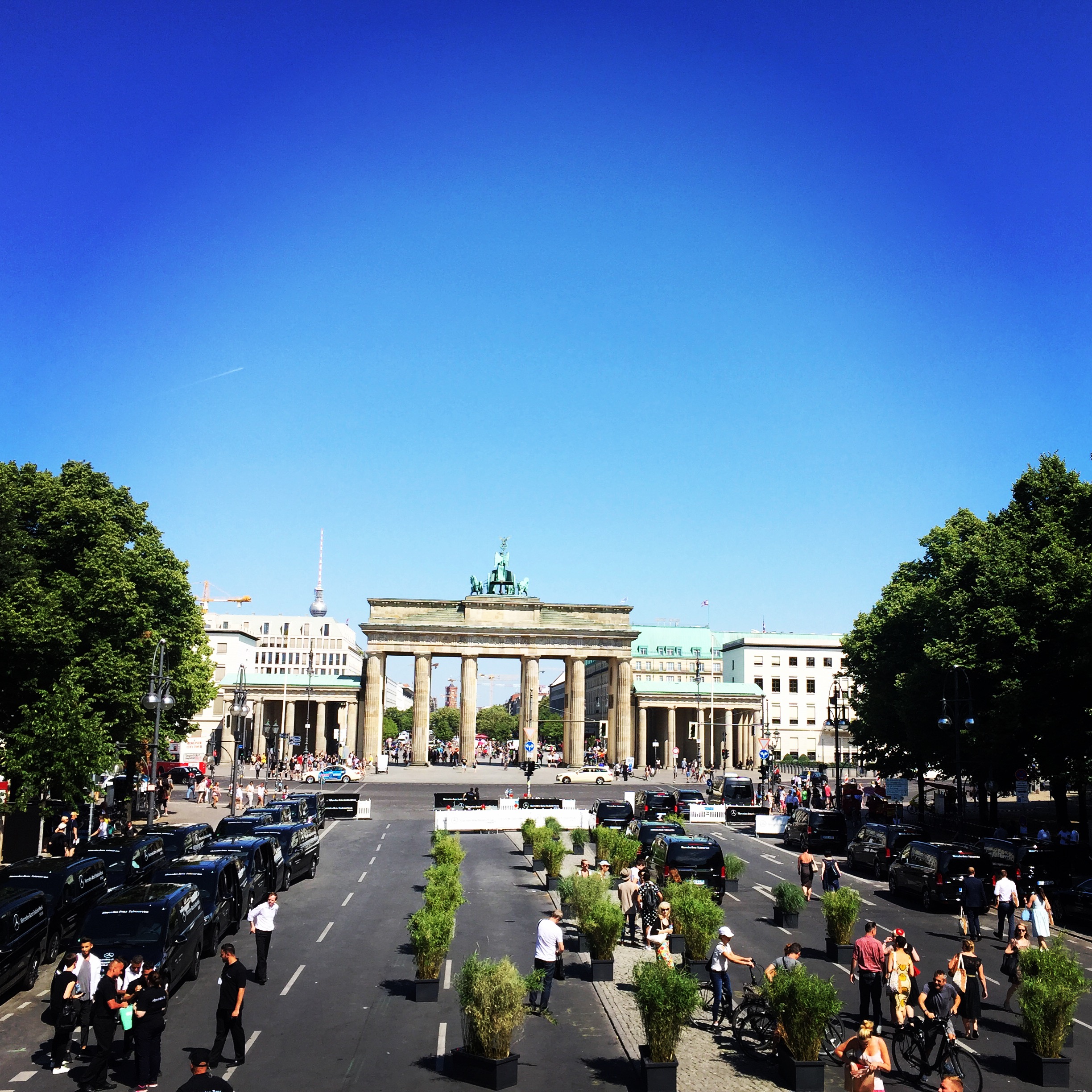 TUESDAY SCHEDULE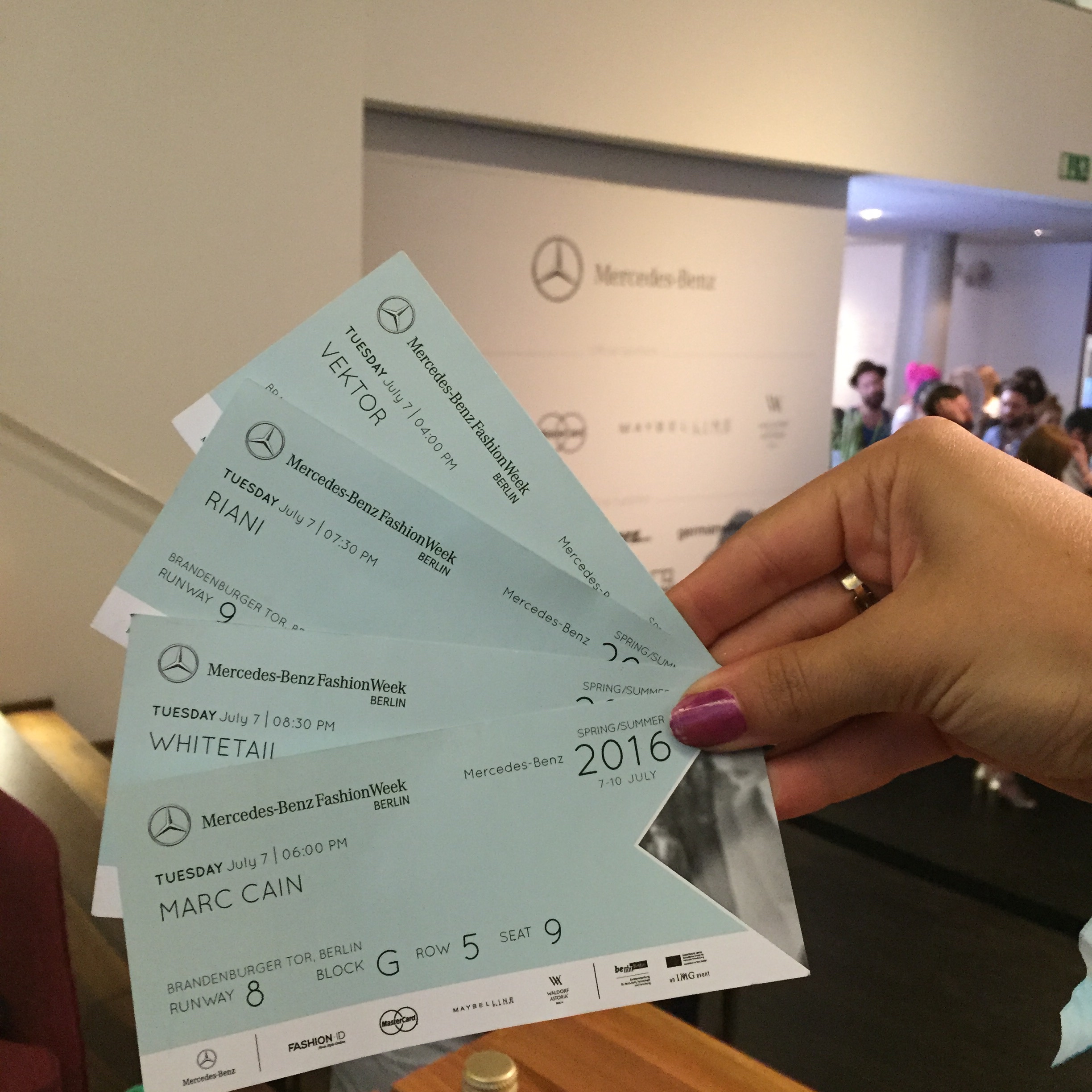 OUTFIT DETAILS
My Amorir Sunnies were just perfect for making a statement. Combining these colourful shades with my gold turban was definitely the highlight of my DAY 1 Look. Pink Lips finished off the all black outfit. After two shows I switched my Nicholas Kirkwood Stilettos with gold Bow Sandals. My feet were killing me.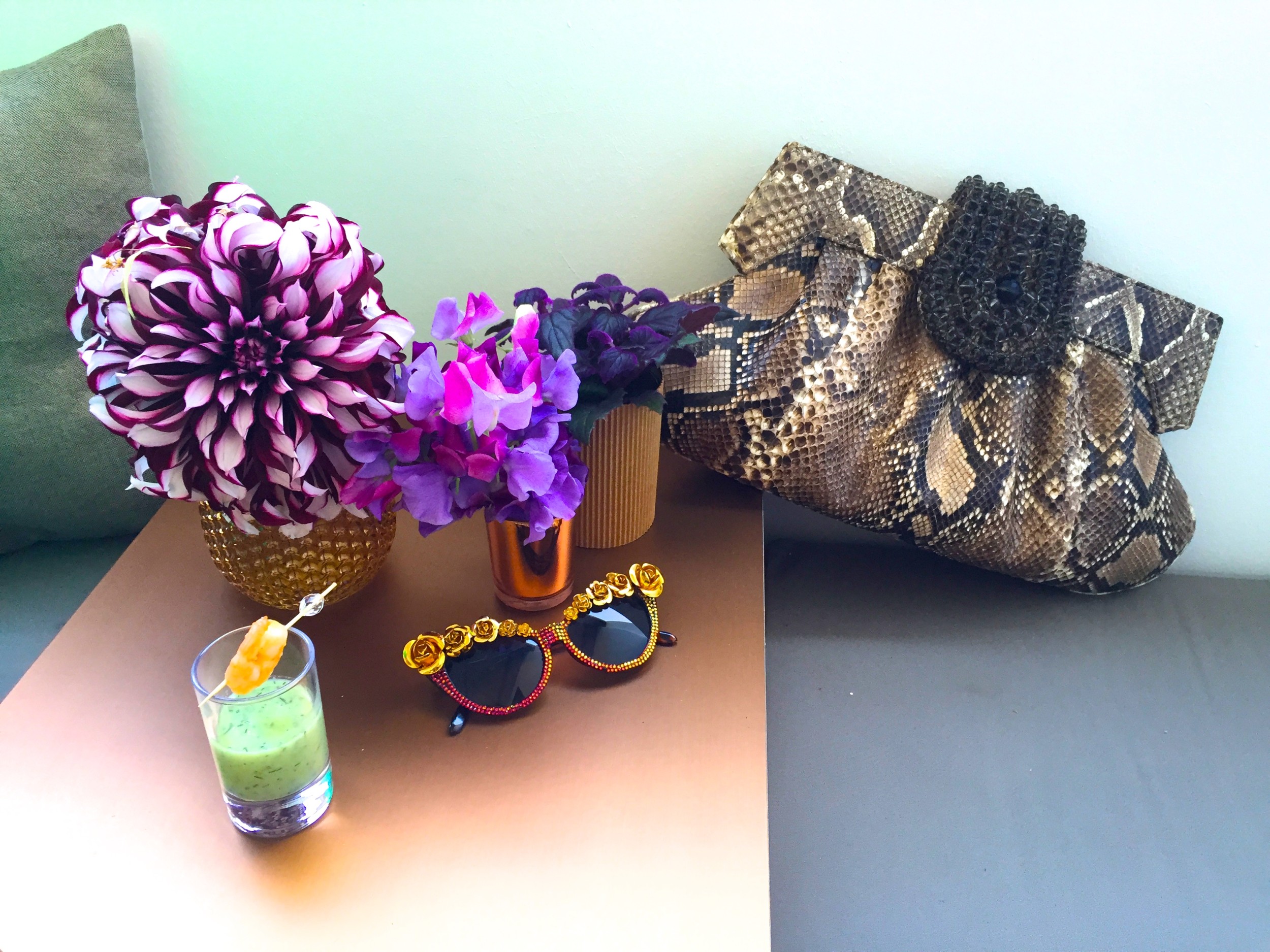 MERCEDES BENZ FASHION WEEK TENT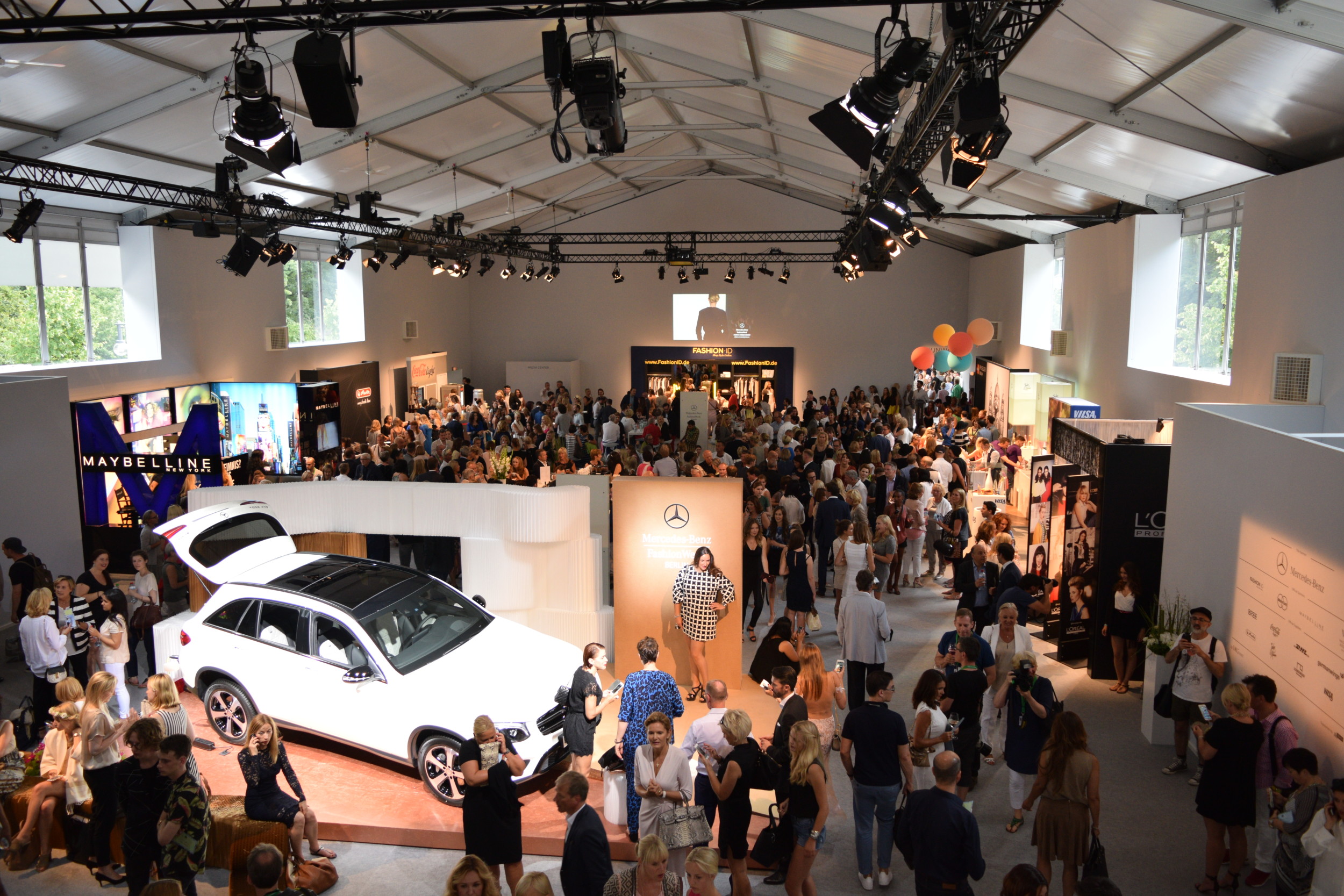 VEKTOR SHOW
I loved their collection because they had so many mesh details in dresses and jumpers. The material is amazing and combining it with denim is always a great idea. The cuts were very unique.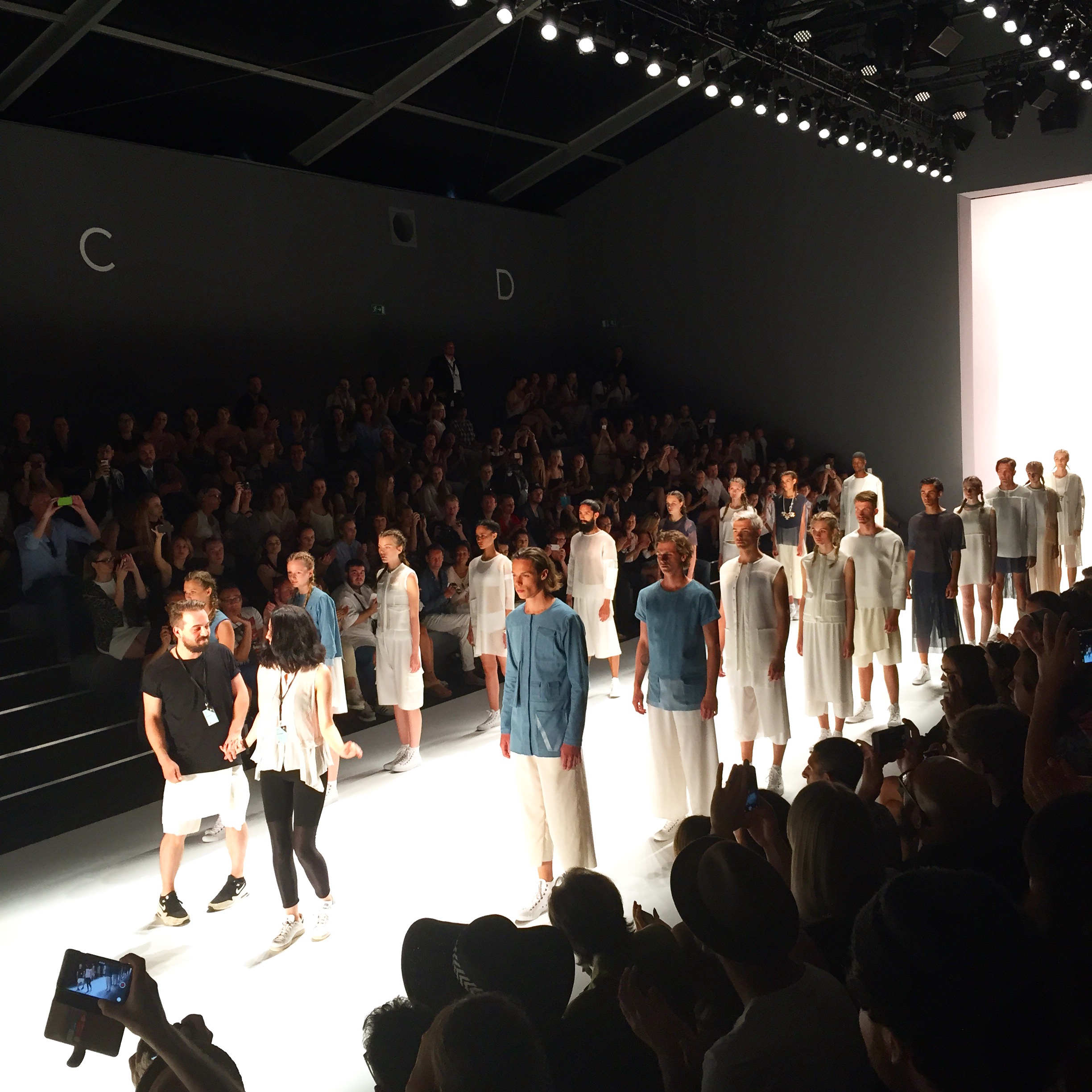 GOODIES
For this custom made bag I stood in line for 1,5hours but I am so happy that I had this little patience. In the Mercedes Benz Fashion Tent there were all the stalls of the sponsors and on of them was Fashion ID. They gave away white bags which could be customised by two fashion illustrators. They saw you and started painting, inspired by outfits, looks, details or Berlin in general. This is how he saw me – you can spot my gold turban and my sunglasses.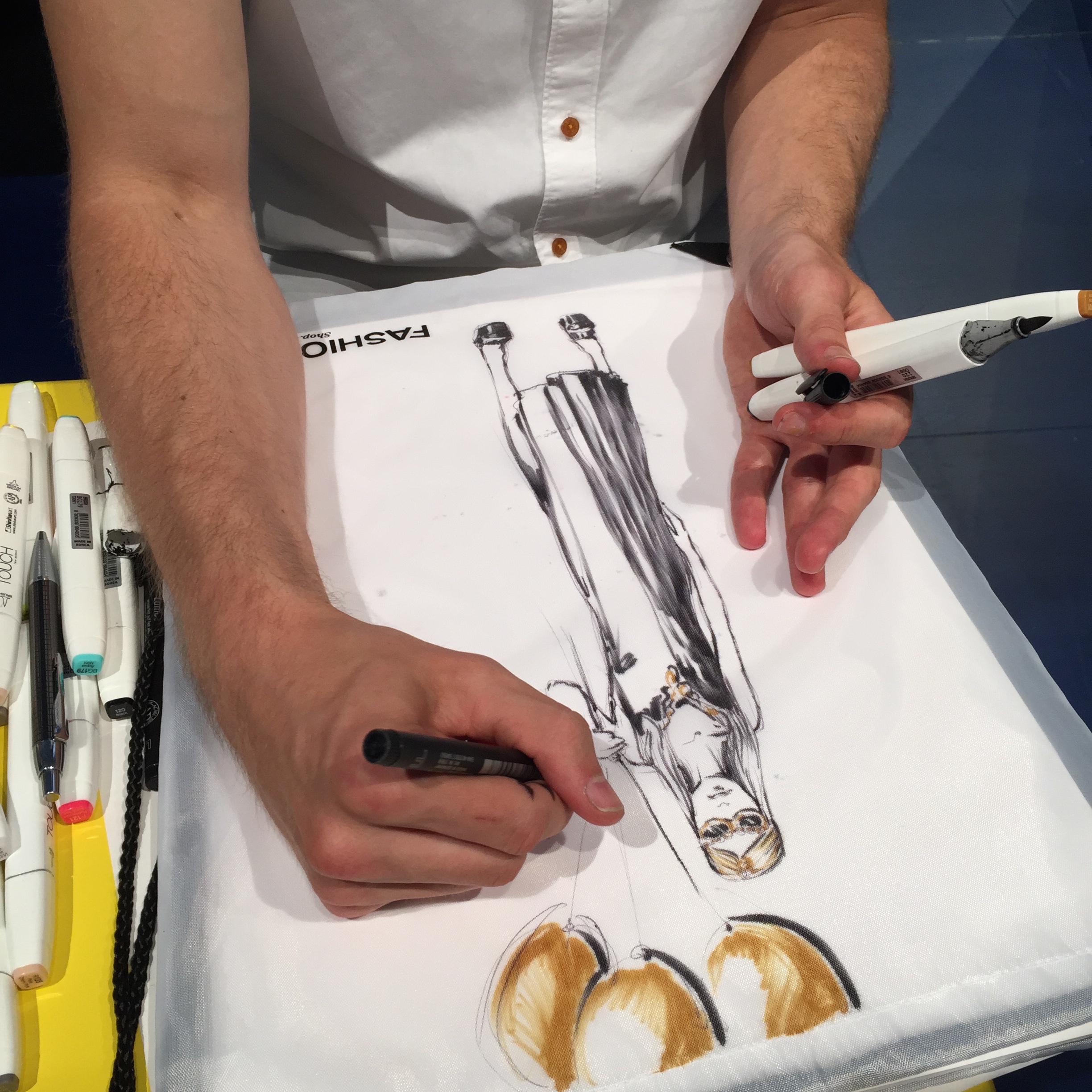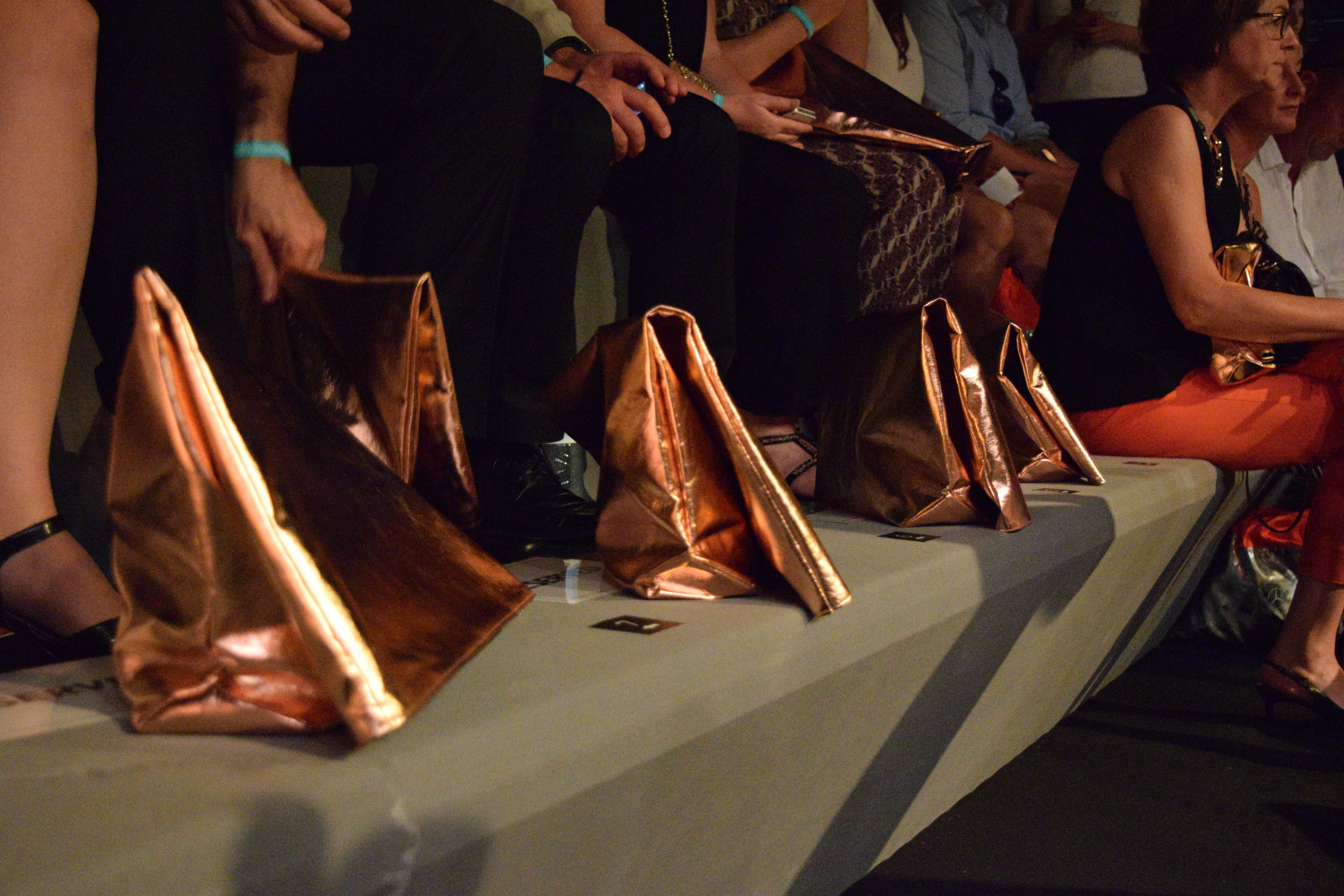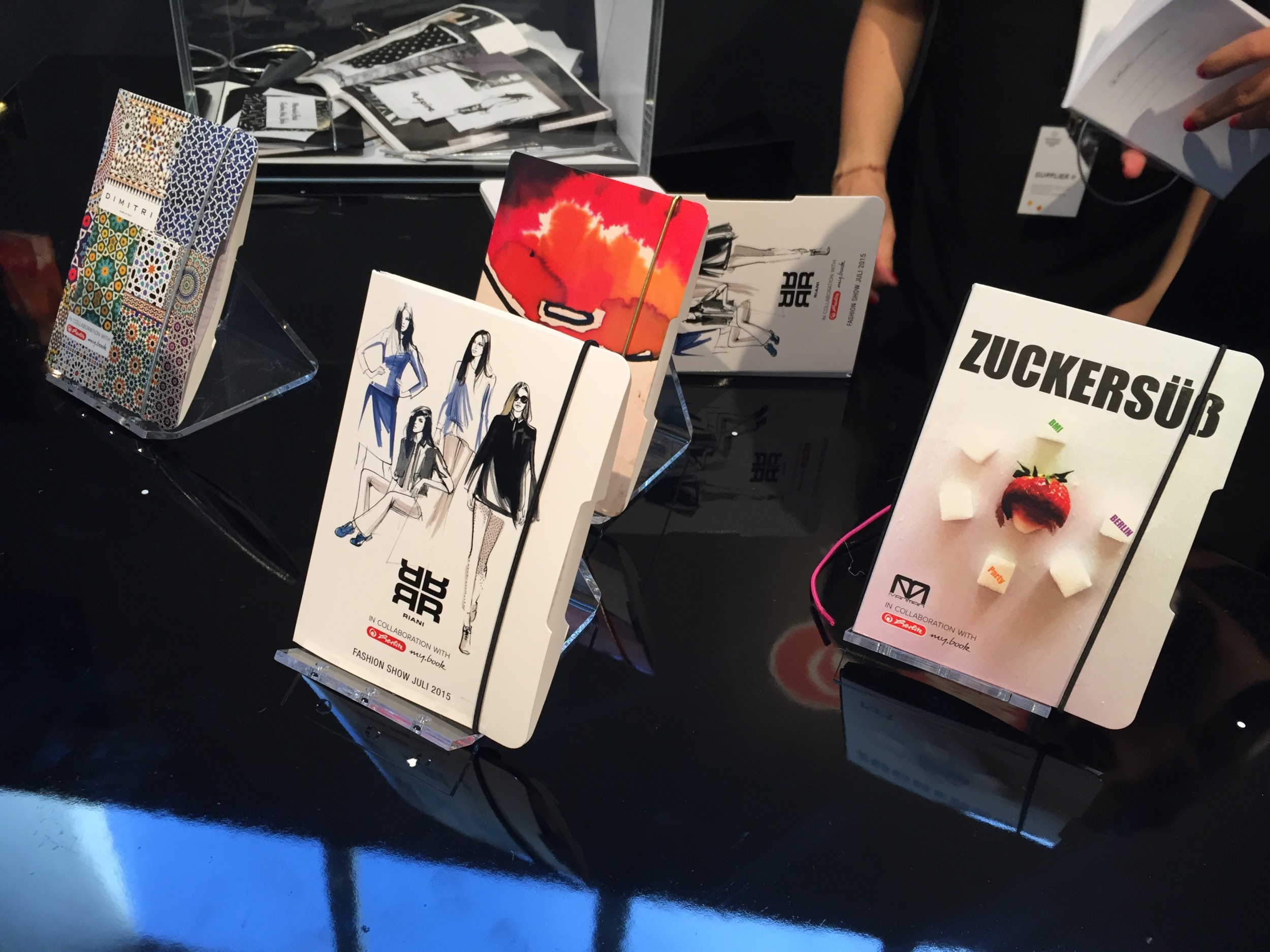 RIANI SHOW
The Riani show started off very dramatic. The newly wed Rebecca Mir and her husband performed a very dramatic Tango before the models started to walk down the runway. It was actually all about music and dance. At the finale a violin player and a saxophonist accompanied the new version of "ain't nobody" and got the fashion crowd dancing and clapping. The atmosphere was amazing as well as the collection. Many lovely dresses in sheer, see through materials – very feminine and wearable pieces that I would love to wear. I really loved this show.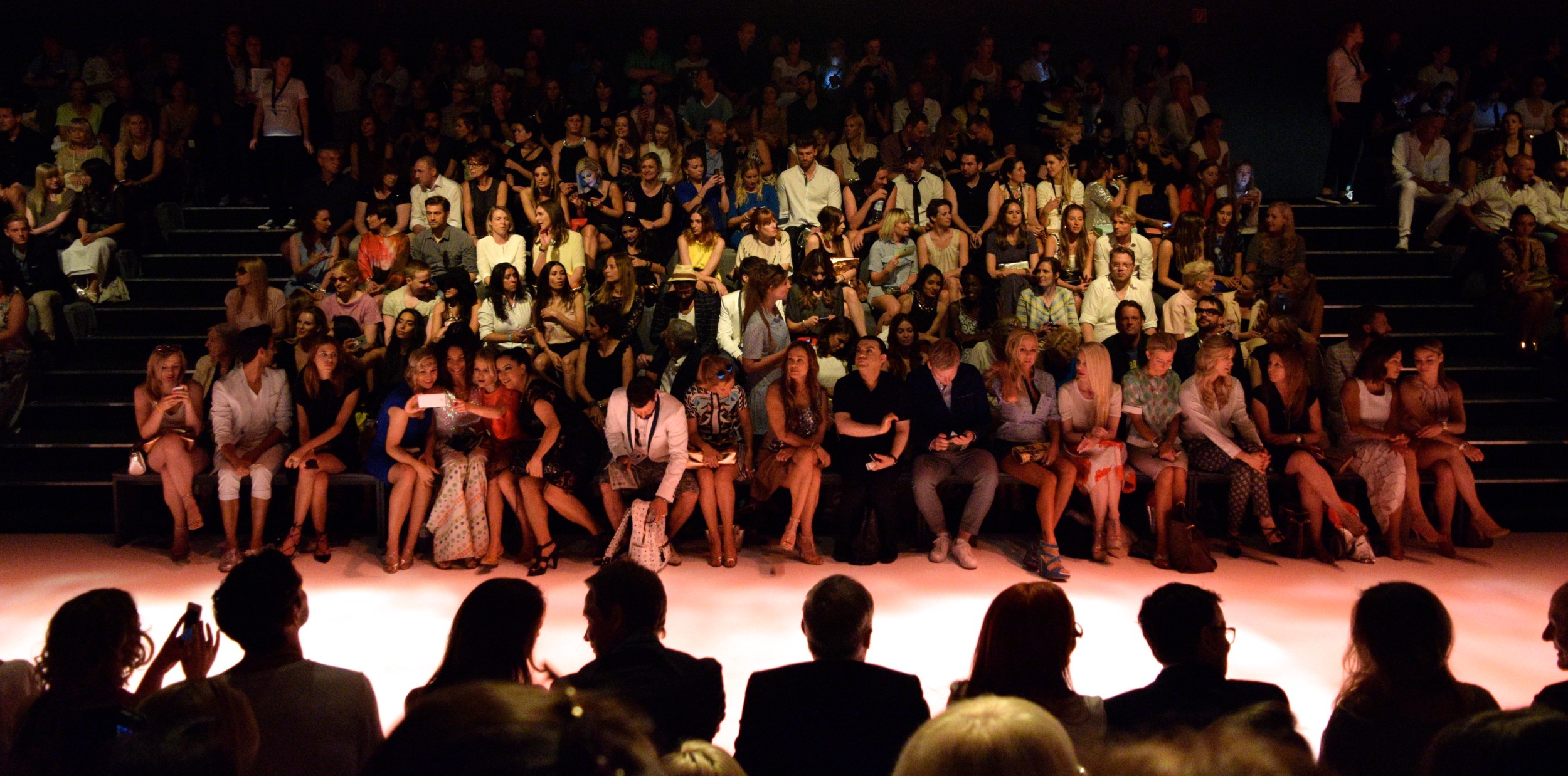 CELEBRATIES
I was amazed who showed up this year especially real Top Models – and for me Germany's next Topmodel girls are not included in this category. Elle MacPherson and Eva Herzigova attended the Marc Cain Show and because of the Papparazzis and their picture addiction the show started 30 min later. I sat behind them and was almost blind because of the flash attack.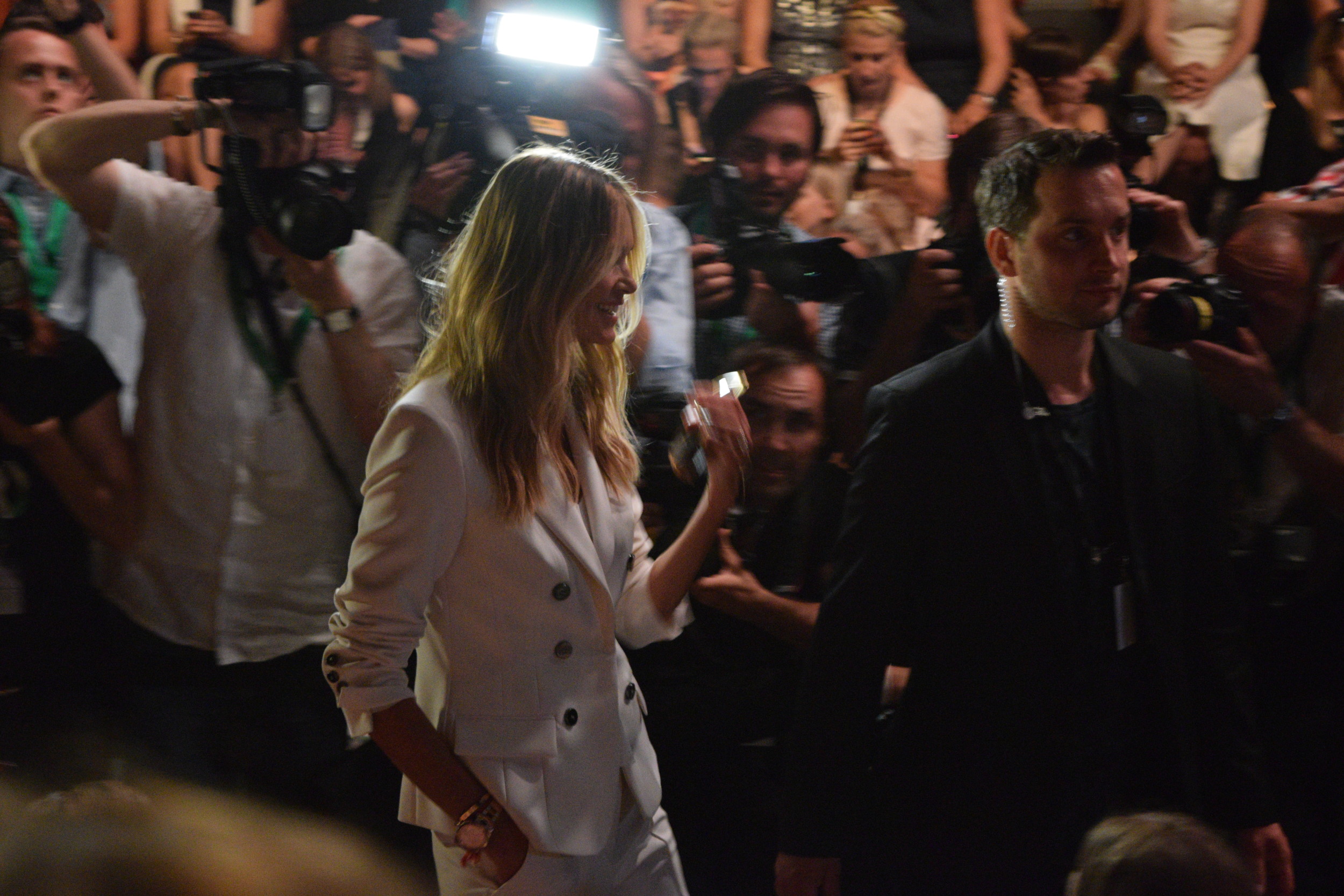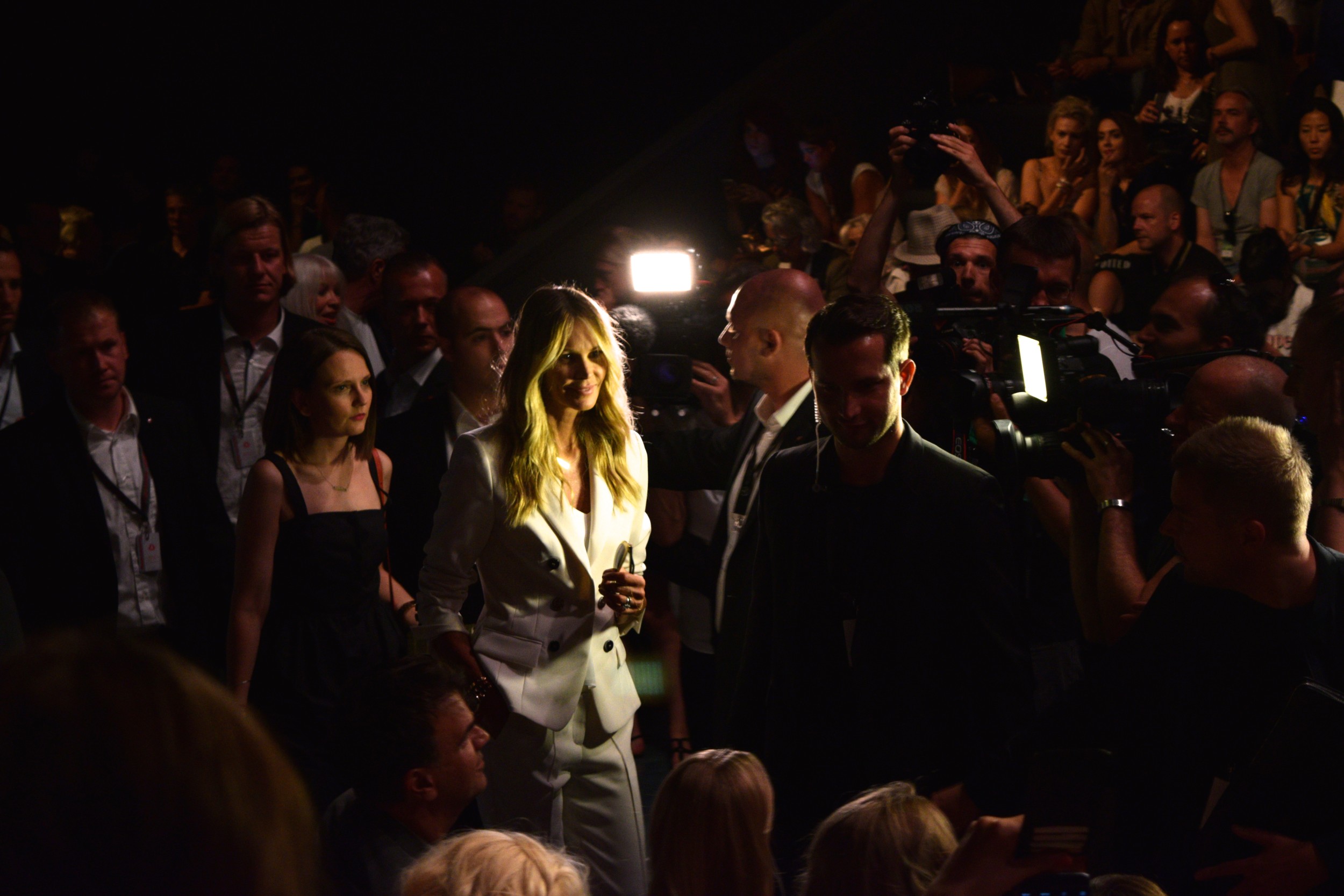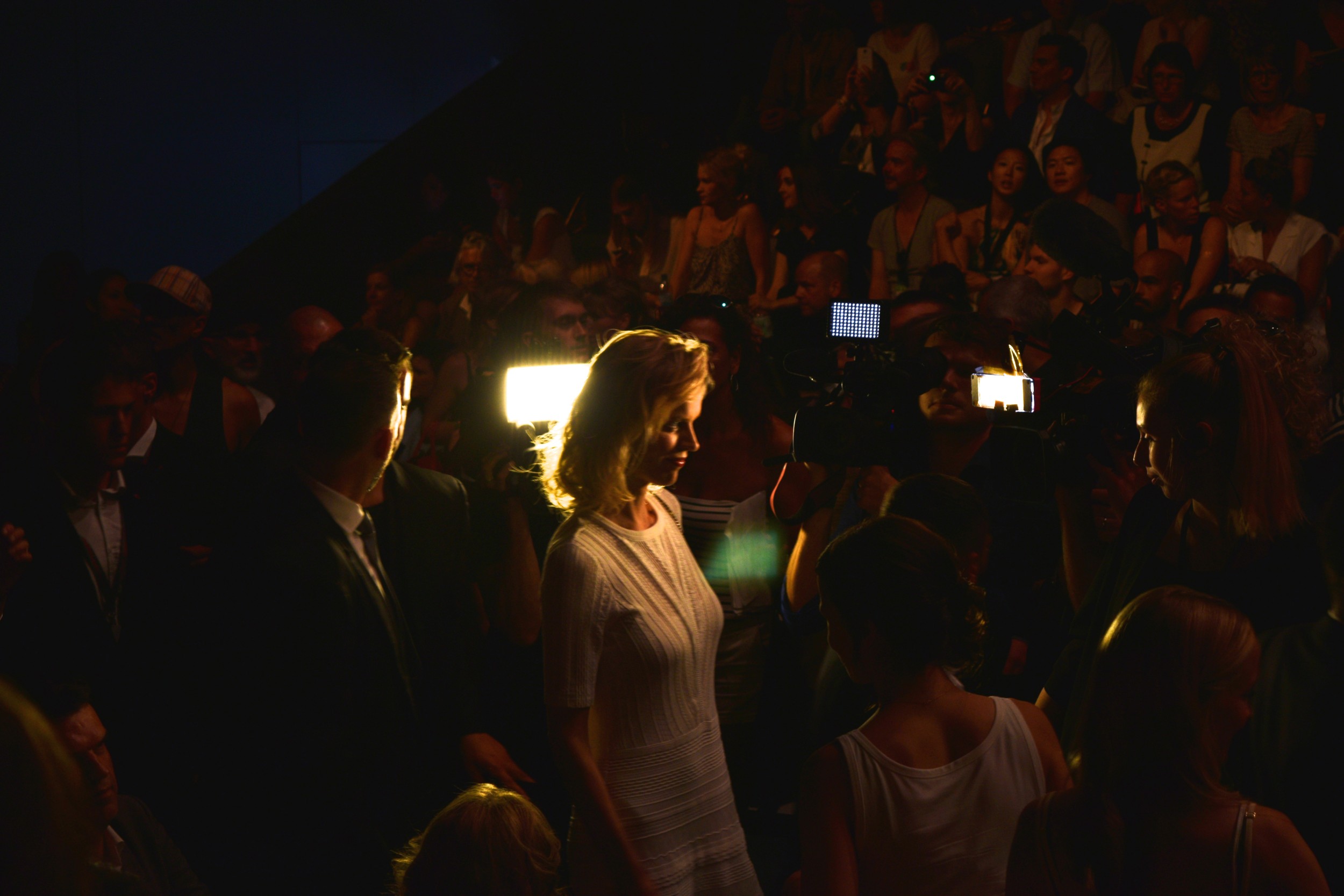 HOTEL
25 Hours Bikini Hotel Berlin is the place to be and to stay. After two lovely nights overlooking the Berlin Zoo and chilling in my own hammock – I did not want to leave. Location is amazing ( 3min walk to KaDeWe – 10min Taxi to the Brandenburger Tor & the Fashion Tent ), Interior is modern and stylish, the rooms have a good size and you have an amazing view. The Roof Terrace and the Neni Restaurant is also a Berlin Hotspot which you have to check out, when in Berlin.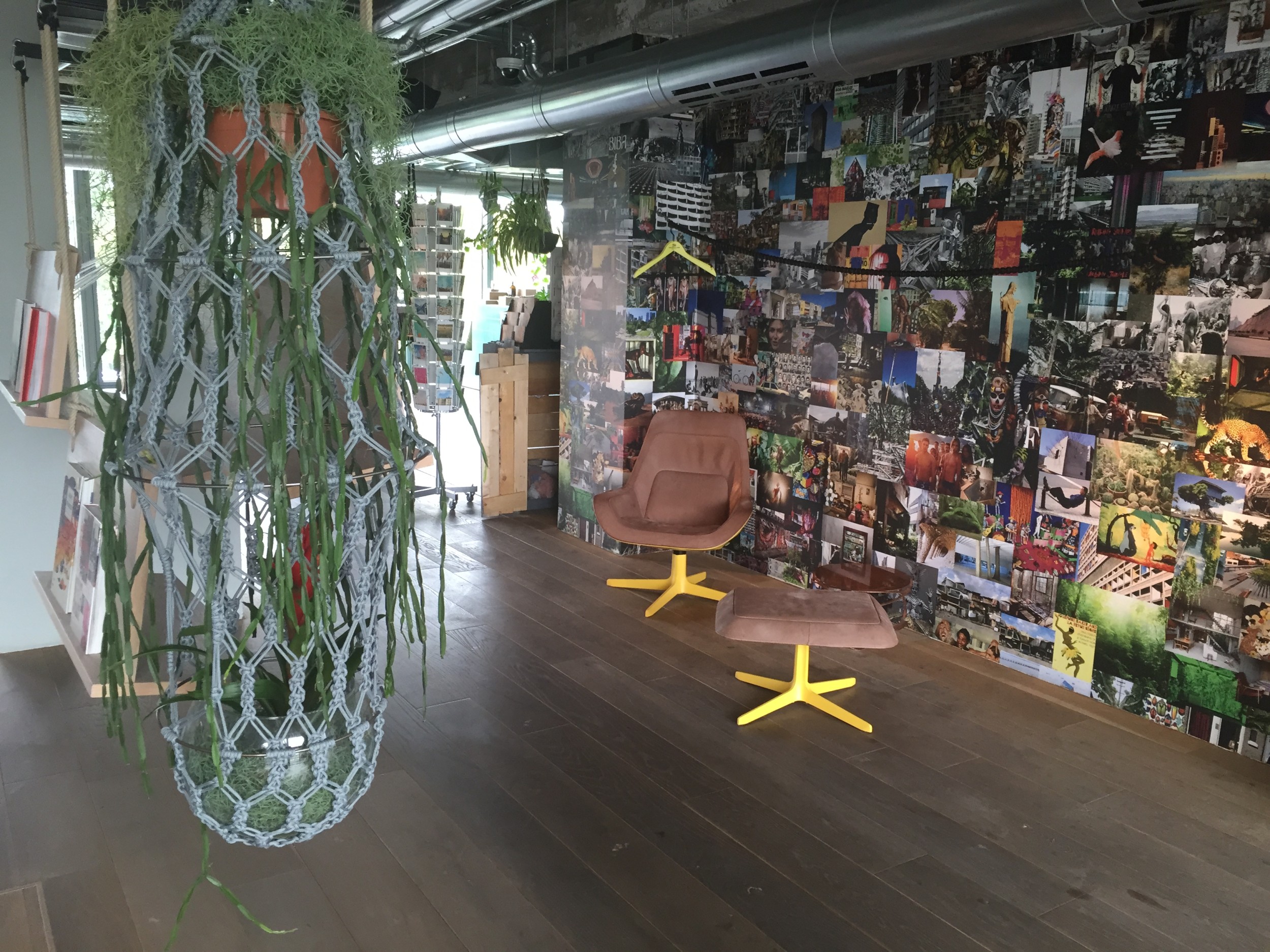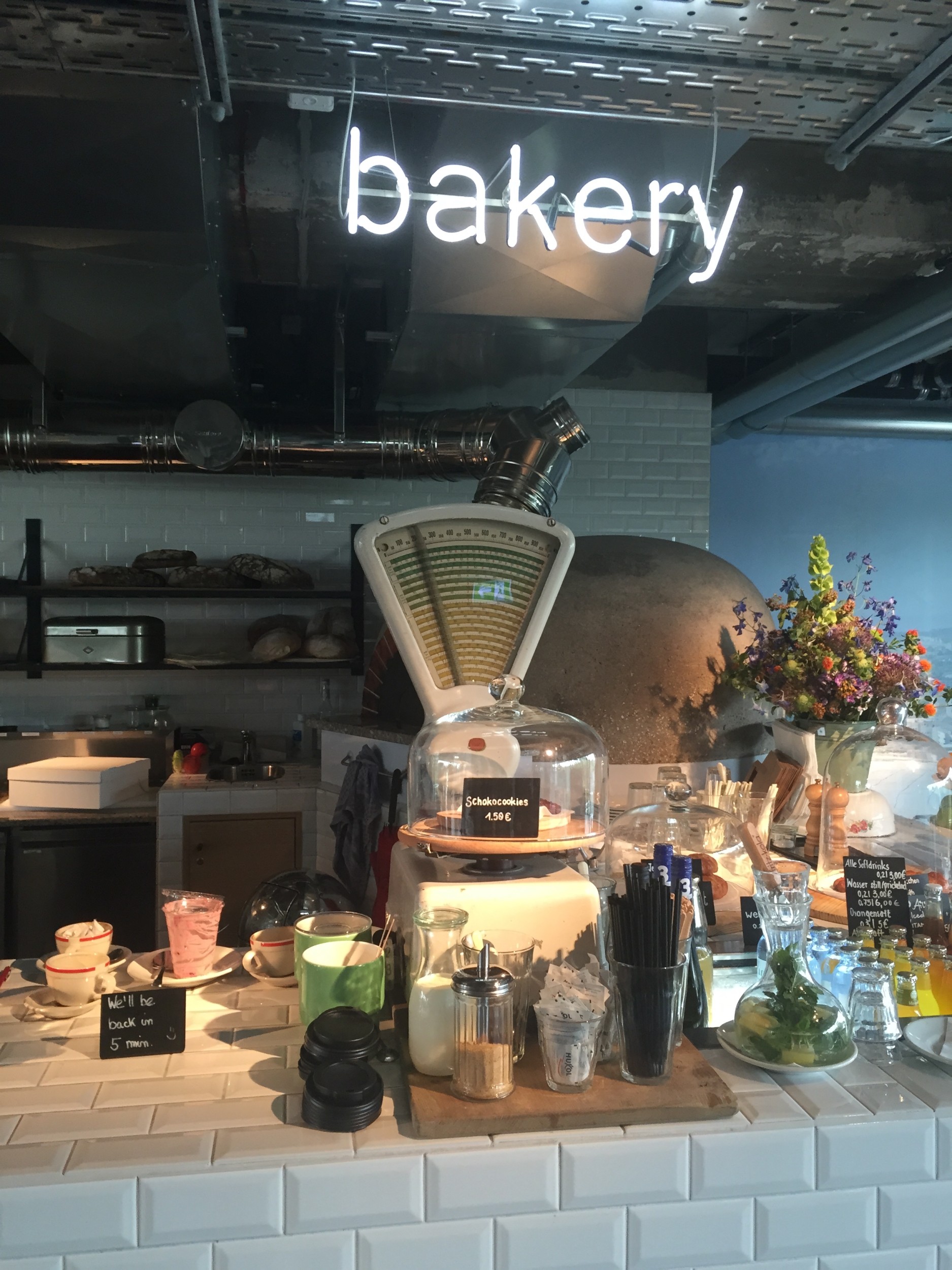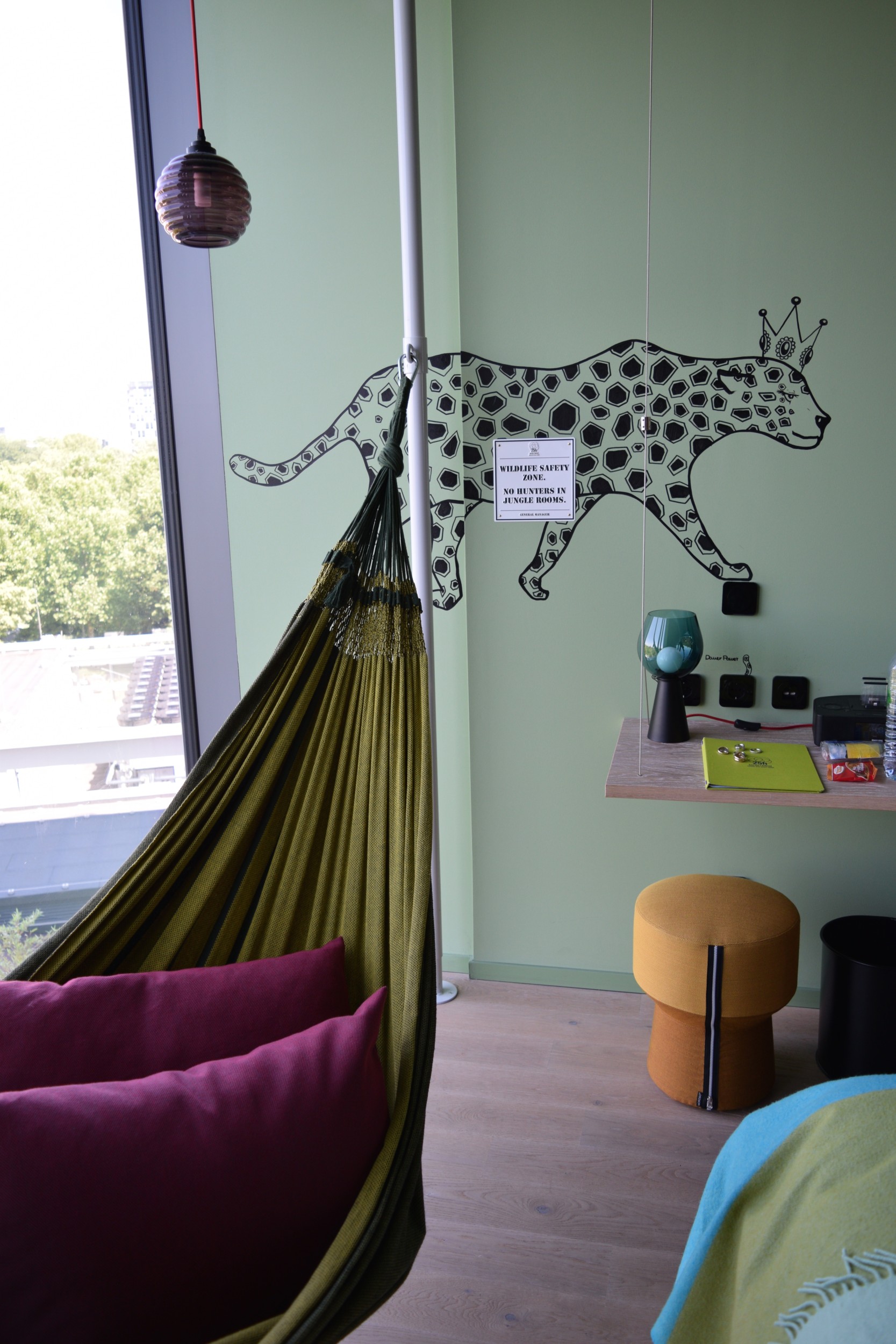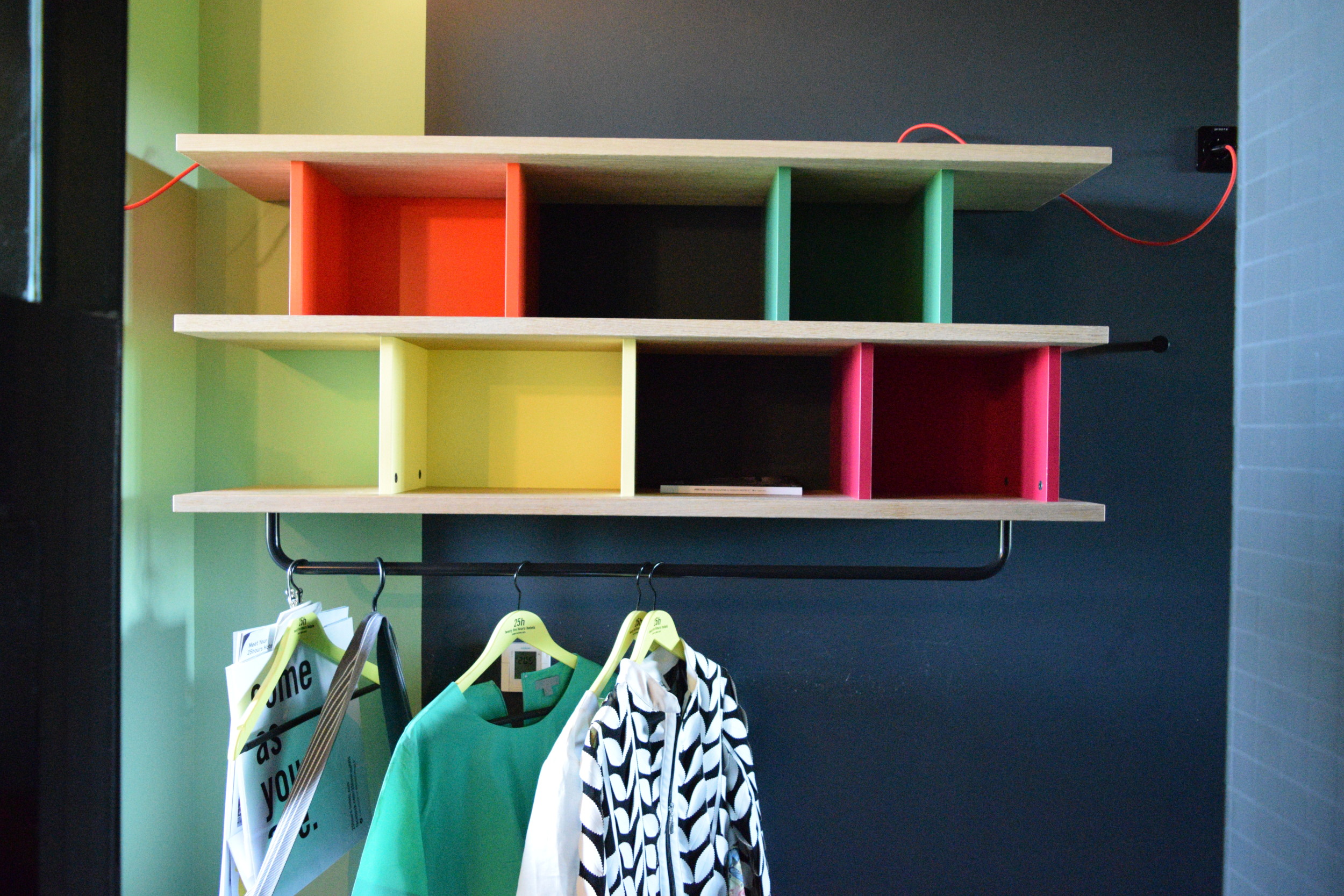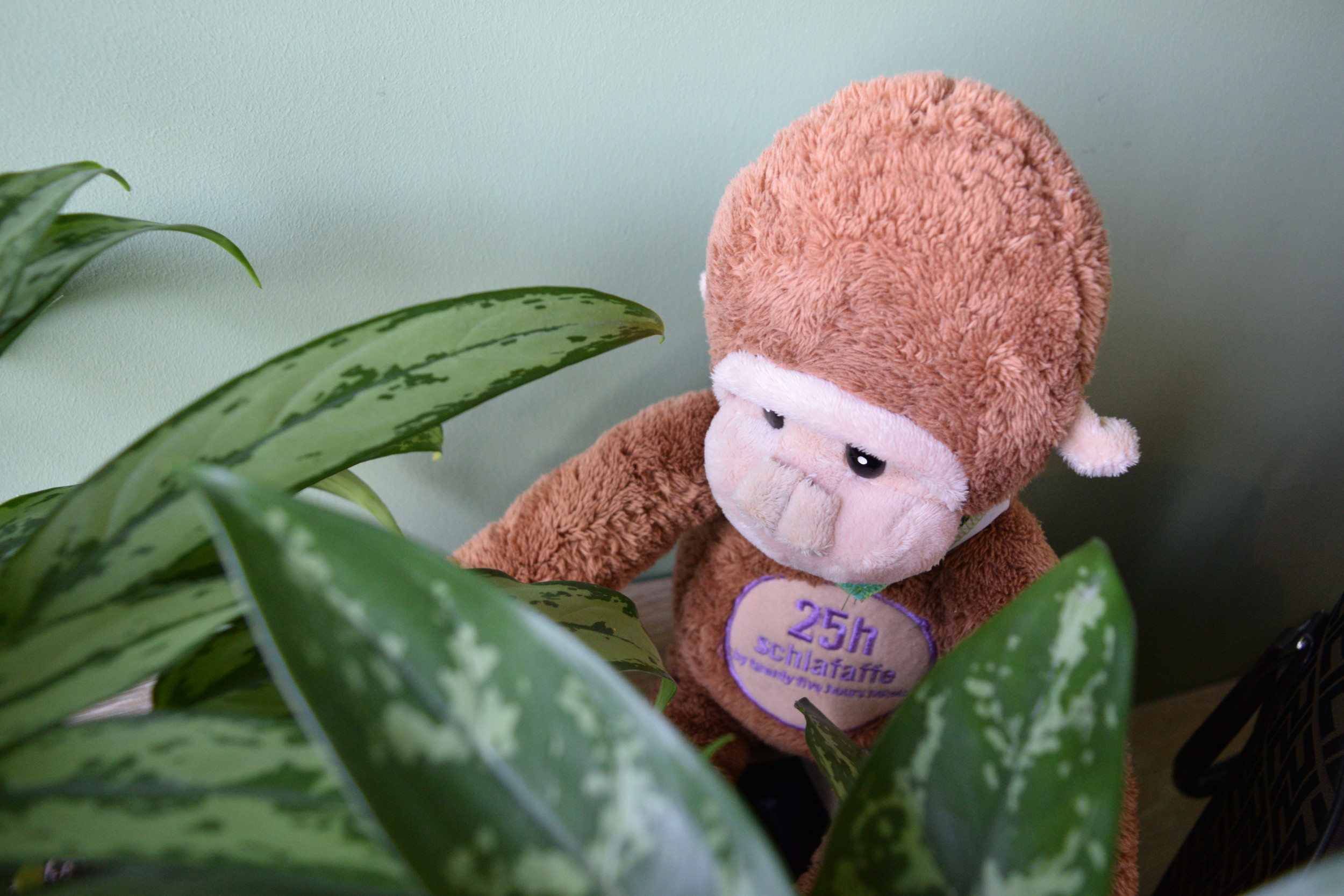 MARC CAIN
Hippie Flower Girls were jumping and dancing around – the atmosphere was amazing and rose petals were flying around. Instantly I wanted to jump into a white Marc Cain hippie dress or least an outlet from somewhere similar to BitterSweet Boutique and join them on the runway.
I hoped that I could connect with fellow bloggers by going to the Blogger Bazaar Event at the Görki Loft in Berlin Mitte. But somehow nobody wanted to talk to me or my friend. Maybe because I was "new" in the scene or looked stupid – not Berlin like – I don't know. Only one girl seemed to like us and gave us a coffee mug with the slogan: "Buy now or cry later" – funny quote. After that I took a few pics with the new EOS Lipgloss that were presented in ice cones – they smell really good and the packaging is smart. But then we left and hoped for a nicer atmosphere at the Soho House.
I am a big Fan since I stayed at the Soho House in Istanbul a few month back. And I have to say that I also like the Berlin sister. The recently opened store is really cool and it has some great fashion labels and good vibes. The Café is also very nice where we went for a green raw smoothie and an Ice Coffee with Almond Milk. After this vitamin boost we browsed through the shop and tried on some sale items – Sale is everywhere.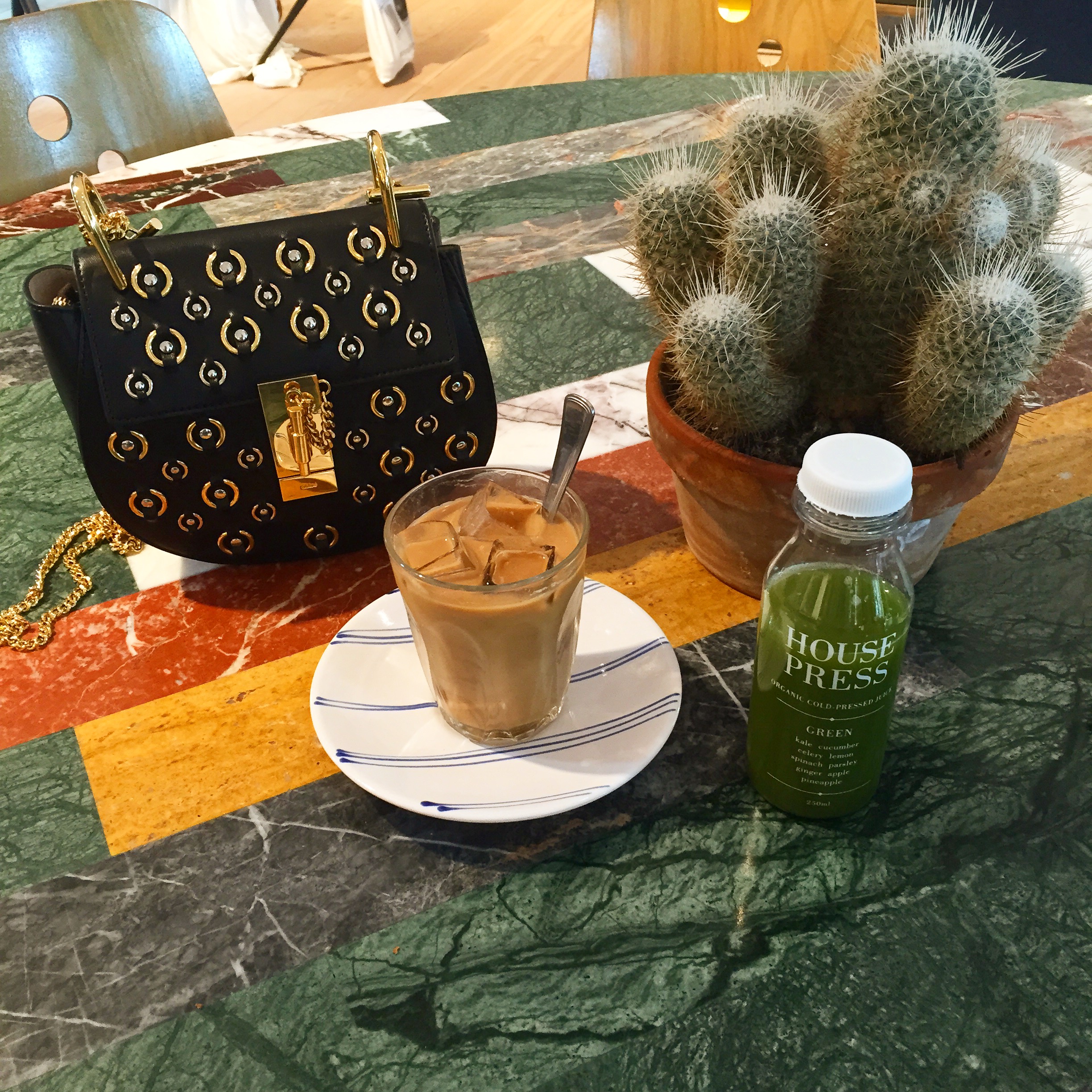 WHITETAIL
Finishing off with the Whitetail presentation. We almost missed it because the Riani Show started later and so we had to jump into the Mercedes Shuttles and rushed to the venue. After 4 shows on this day I was exhausted and went to bed quite early. Fashion Week is hard work but also lots of fun.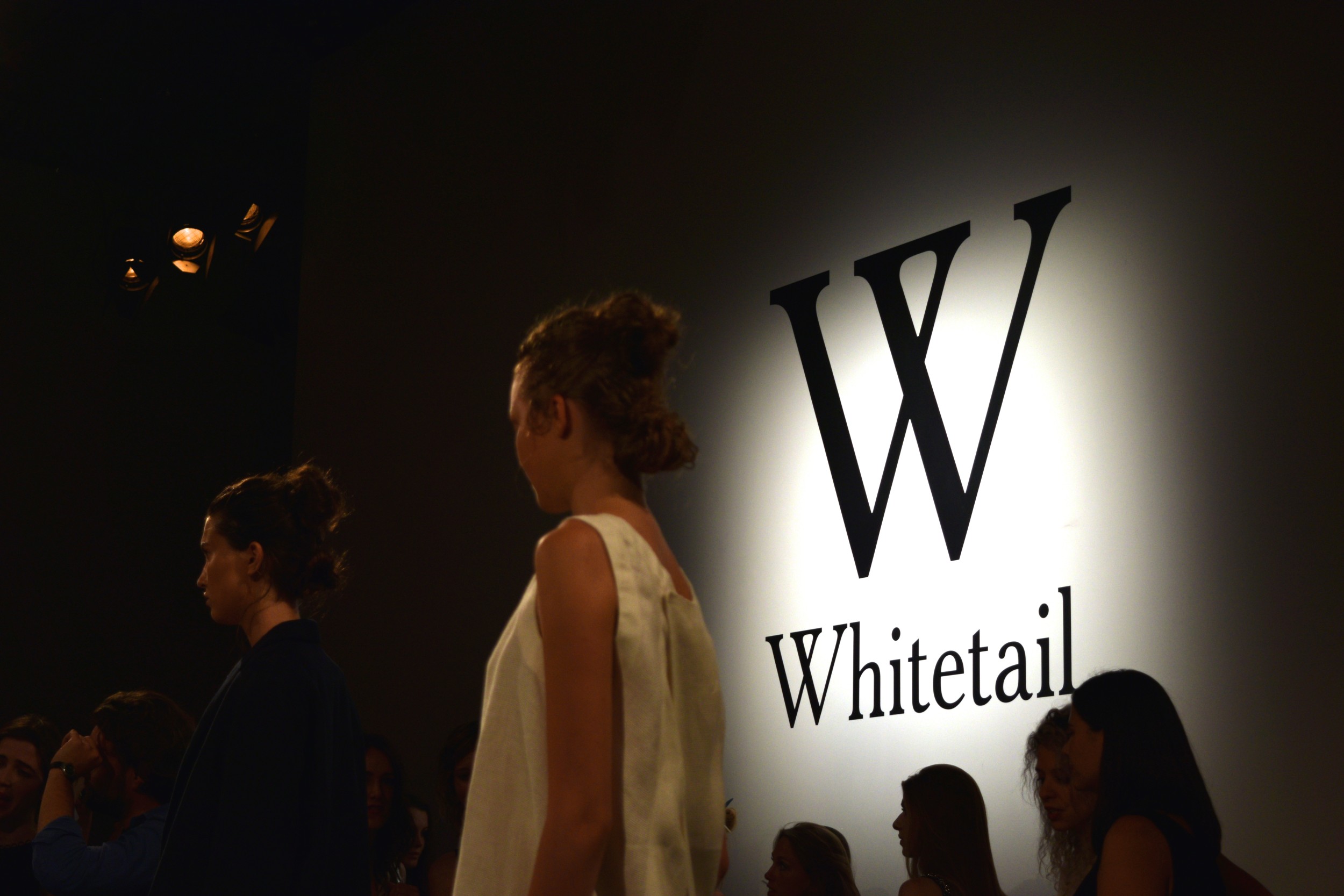 Berlin I'll be back – I had an amazing time and I will come back next season for more shows, events and fun.