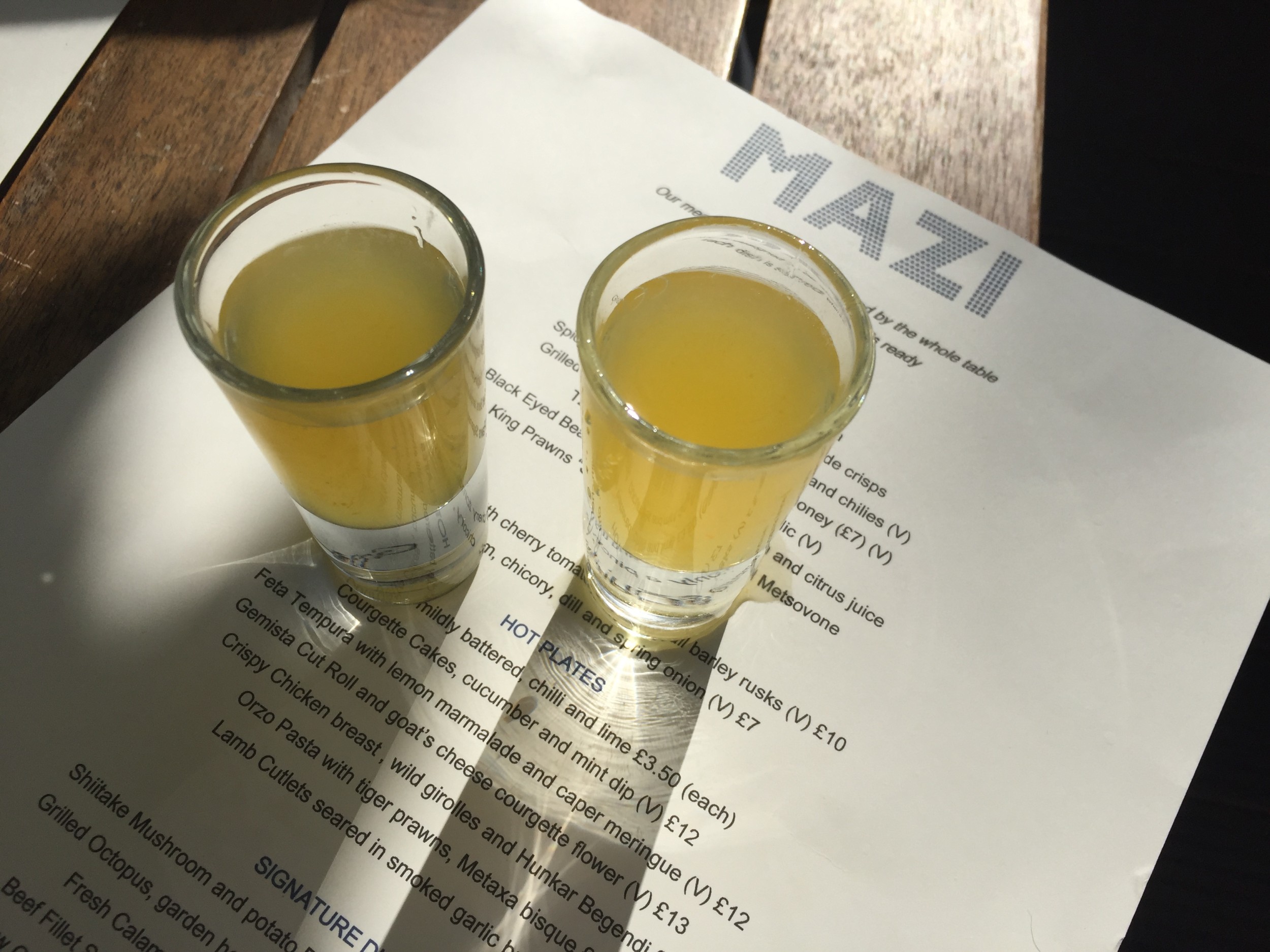 Hey Londonlovers, I do have a new culinary spot that I have to share with you. The restaurant that I have in mind is called Mazi which is a greek adverb that means together. Their Credo : Come, Eat, Drink, Laugh, Enjoy, Talk, Love – MAZI.
At Mazi they serves utterly delicious greek mezze. I will prove everyone wrong who says Greek food is boring. The presentation alone is unique and creative and the dishes are very well put together. Before we could order half of the menu the very friendly waiter brought us two shots of yummy tsipouro, a liqueur flavoured with mandarin and lime – how nice is that – you feel welcomed as soon as you walk in the restaurant.
It was a lovely warm day and we sat in the beautiful garden on blue metal chairs where you sit under grape vines and you smell Mediterranean herbs that grow there in pods. Only the sea is missing but the food definitely makes up for that one simple flaw.
Most of the starters are served in jars and are placed in the middle of the table to share with your friends. Sharing dishes is something I really enjoy because you get to try so many different dishes and you should really order lots of dishes at Mazi to try as many greek platters as you can. My personal favorite was the grilled octopus with potatoes – I have never had so tender and crisp (at once) pieces of polpo before.
Also the location is very convenient – just off Notting Hill Gate Tube Station – and so pretty. After these many dishes go for a walk in the neighbourhood where you find lovely colorful houses that I will show you later. But now I will show you the food.
---
MAZI
12 -14 Hillgate Street
W8 7SR Notting Hill
London
---
And this is the Neighbourhood. Love is in the Air.