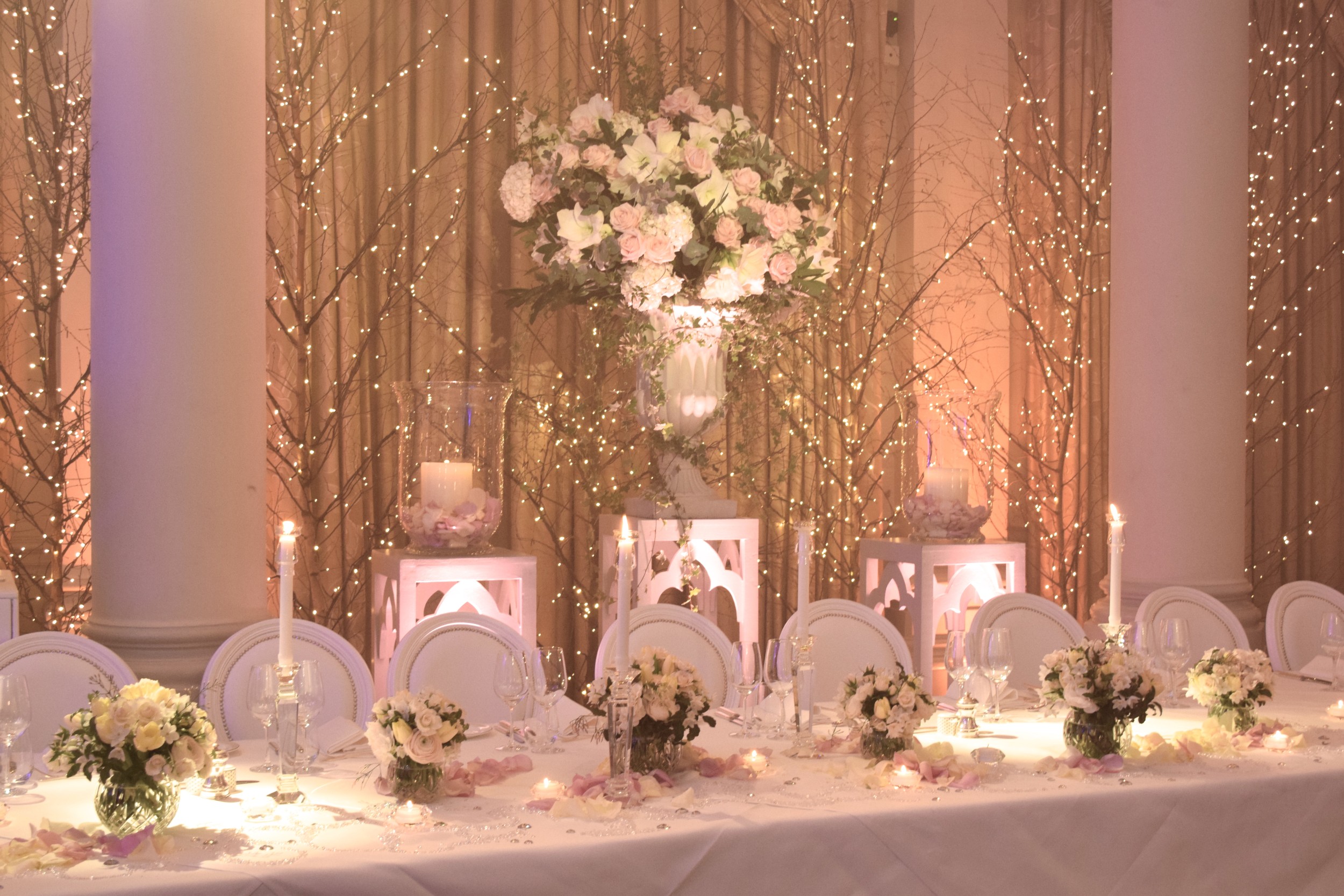 Another Wedding Showcase? You might say. But it was more like a real wedding. It felt as if there was a wedding going on right now- the only thing missing was the bride & groom in fact. The music was cheerful and loud, the crowd was dancing, there was food, canapés, champagne and there was lots of fog.
The fog machine was a bit too much for my taste but the wedding feeling definitely was there. The Langham hosted a wedding showcase similar to the one that I have visited some weeks back at the Shangri-La ( see here if you cannot remember ) – but it was better. One could really imagine how the big day could look like. The ballroom was decorated to perfection and the band was playing their best songs and really got the guests to dance ( thats the goal overall right? )The atmosphere was phenomenal. And still you could look at different suppliers – talk to them, see what they do, try out samples and exchange business cards. For me it was very interesting to see how everything comes together. At my stage of planning I book the different pieces and still don't see the whole thing in front of me. But eventually it will become one event that will match and at the Langham I saw how that could look like. Stationary, Flowers, the Cake, the Dress, the Music, the Food, the Decoration, the Photographer – everything really has work hand in hand that this big construct works in the end. I am very excited for my big day and cannot stop thinking about it. The planning eats up 90% of my day at the moment – but I just love it – most of the time.
My highlights of the Langham Wedding Showcase? The Pops Guys definitely because I discovered them on instagram and always wanted to try their champagne popsicles – and now I could. I am seriously consider them for after my ceremony. Imagine the wedding crowd exits the church and there they stand smiling in their uniform with their blue trolley offering everyone champagne or fruit popsicles – I love it.
And I loved the sweets bar. My friend Julia ate half the buffet and packed such a big bag of sweets and so did many others – that was everyones highlight really.
And I liked the afternoon tea by the Langham – it is in fact one of the best afternoon teas in the city ( check out their christmas afternoon tea as well ).
And the stationary – if I would still need invitations – I would go for these lovely cut out invitations by Cutture London. They are so delicate and beautiful as well as super individual and creative.
Enough with the talking – have a look yourself and tell me what you think.