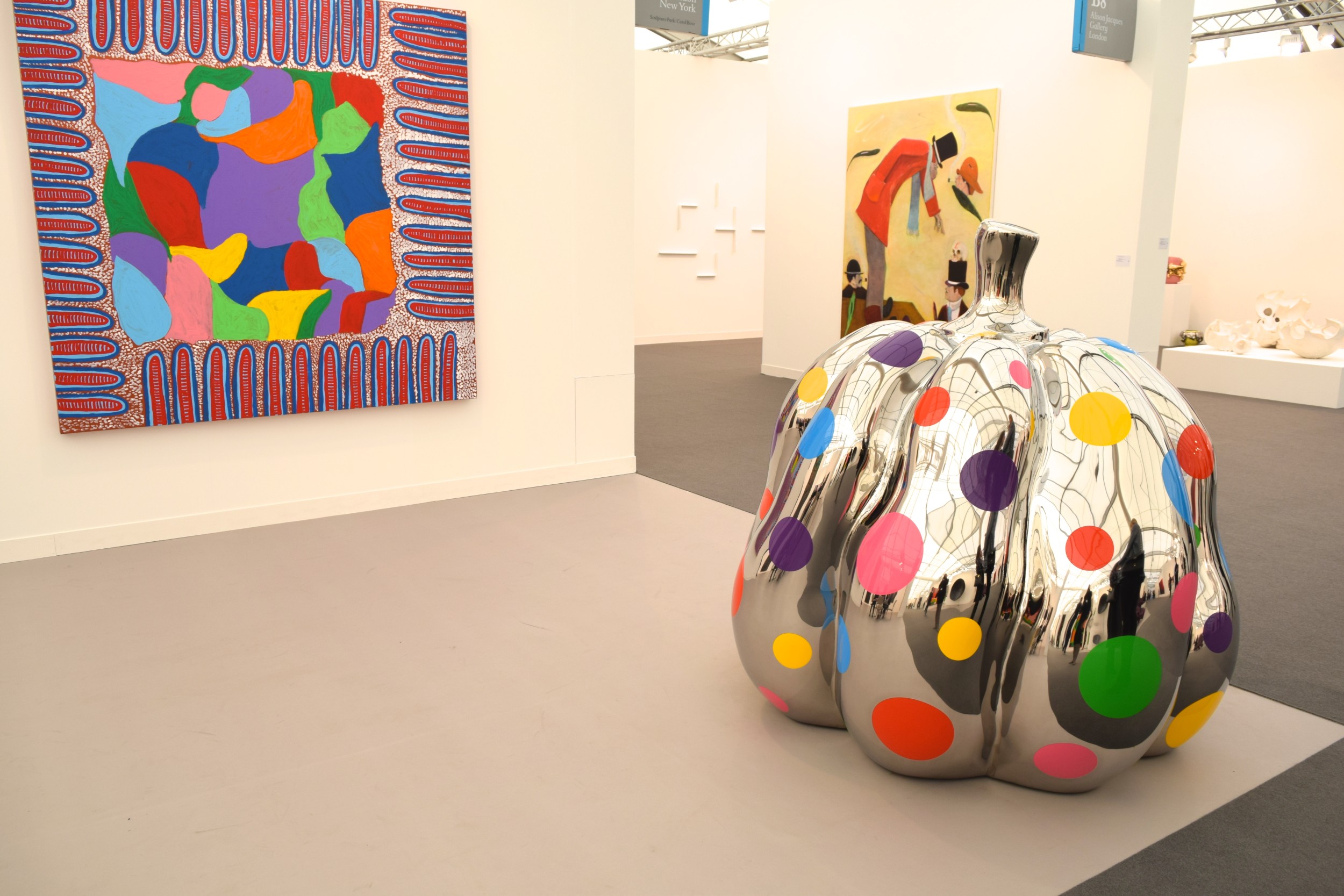 October is the art month on Cityfreudeblog. First The Fabric of India at the V&A, then the Mademoiselle Privé at the Saatchi Gallery, and now FRIEZE LONDON at Regent's Park (but it does not stop there – more art posts are on the way). It feels like it is Fashion Week – only for another kind of art. But definitely less stressful as I had a driver who picked me up and drove me everywhere I wanted – to meetings, to the Frieze tents and back home. I actually really enjoyed this kind of service – would be nice to have that every day. No more waiting for the bus, running to catch the tube or get kicked out of the bus because it suddenly decides to terminate after just two stops. I did not have to worry about anything which was nice.
And the best thing about it: I could work while I was travelling from one place to another: reply to emails, make phone calls, talk to the nice and very polite driver, charge up my iphone ( that stupid thing is always empty! And every Addison Lee mini cab has a free charger for every phone – brilliant right? ) or browse through the internet with the car's own wifi hotspot. Addison Lee hooked me up with a fantastic and very comfortable ride which made my day a lot more convenient. Thanks so much for that.
After this very relaxing travelling I arrived at Frieze and walked around the big tent for hours. There is so much to see and to shop if you can afford the art pieces. I totally fell in love with this Yayoi Kusama Pumpkin with its colourful dots which is the artists distinctive feature. It is bright, shiny, colourful and reflects everything that walks by. It would be perfect for my living room if it would be double than its actual size. This pumpkin needs lots of space which I don't have. But who actually has spare space in London? That's something you give up when living in this fabulous city but you get so much in return that you can't be bothered to think about it.
But don't you worry at the Frieze there are plenty more art pieces that also fit into small flats. So if you want to give your flat a final artistic touch and like to have stand out art pieces around you this is where you should go. 160 Art Galleries from all over the world showed their newest collections of their artists and at the Frieze Masters there were another 130 Galleries which showcased any form of art from sculptures to paintings and drawings as well as design pieces and performance live art. Forget other art fairs because the Frieze is not just an art fair. There are live performances, Art Talks , Art Films and Music performances. Although this fair is all about selling it is also very interesting for browsers like me. Especially the Talks are very interesting – on Saturday Vivienne Westwood hold the keynote speech and talked about the changing relationship between art and practice and how children influenced her designs from her early creations as well as her commitment to social and environmental activism. I would have loved to see her talk but at the same time I had theater tickets to the Alexander McQueen play at the Haymarket Royal Theater. If you missed it as well click here to hear her talk online.
The Frieze does not stop there – for all the art people that did not get the chance to get inside the tent – there is the sculpture park which is open to the public. Stay tuned – I will post the pics of the Sculpture Park tomorrow. But now back to Frieze London and my pics from inside the tent.