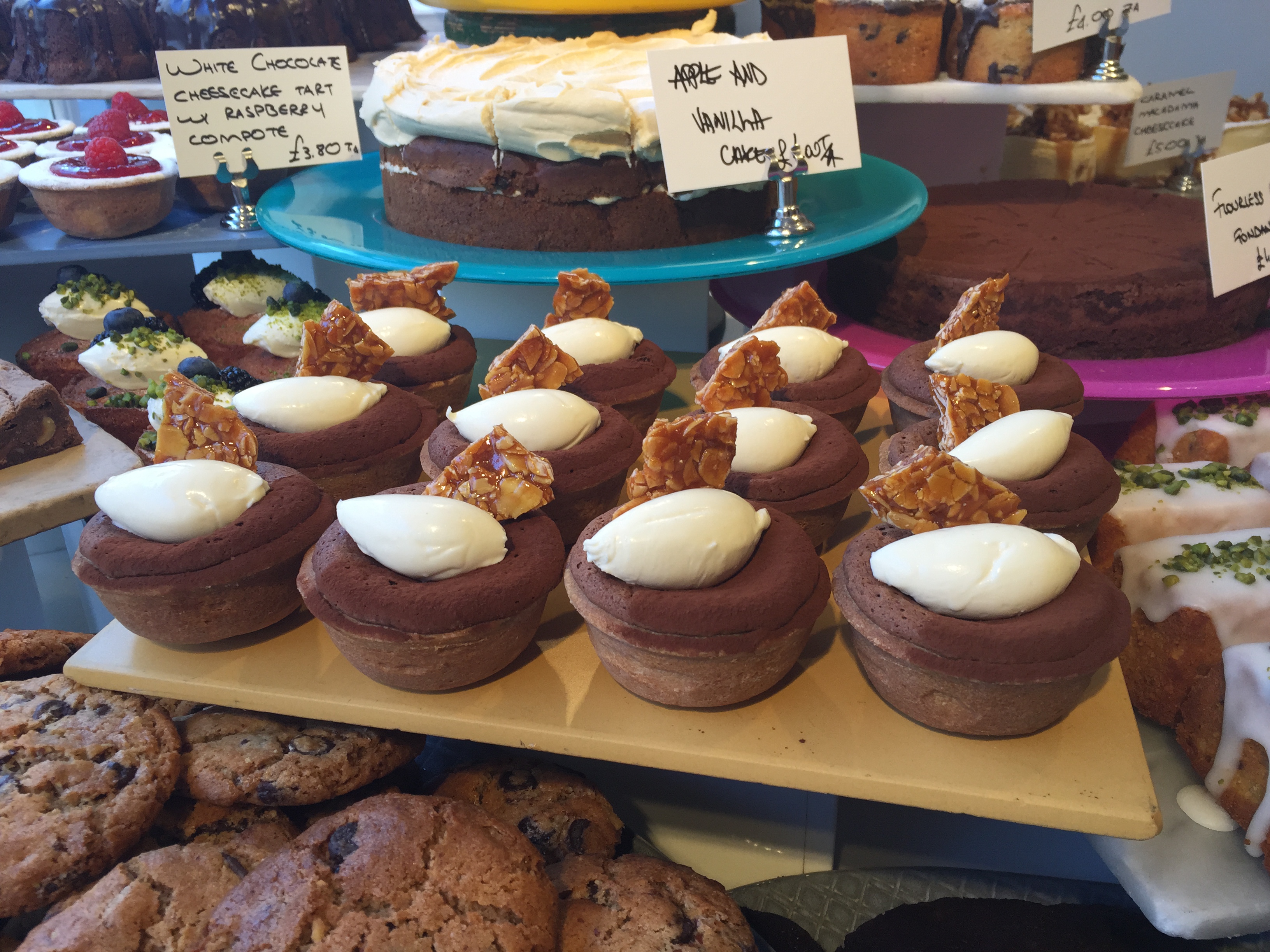 Hmmmmmmm these cakes do not only look amazing – they taste like heaven. If you feel like cake you have to go to Ottolenghi, who currently has three delis and one proper restaurant called Nopi in London. So if you happen to walk around Notting Hill, Belgravia or Islington pop inside, eat cake or have some healthy salads instead. It is a London Essential that you should not miss out on.

Ottolenghi is named after the cookery writer and Isreali chef Yotam Ottolenghi, who is famous for his modern vegetarian cooking which is full of flavour and give the dishes an arabic twist. Yotam grew up in Jerusalem with typical ingredients like chickpeas, pomegranates and tahini as well as spices like mint, z'aatar, cinnamon and preserved lemons which influenced him a lot and which he still uses in his cooking and baking. Ottolenghi was a pastry chef at Baker & Spice before he opened his own first deli with business partner Sami Tamimi in 2002. The connection to sweets is conspicuous when you enter all three delis. The proof is in the pictures below.


I have tried almost everything here and there was nothing that I did not like. The food is so beautifully presented that it just has to delicious. You can see that they put lots of love and effort into the dishes. That's what makes them special.
Enough with the sweets, let's move on to the savoury dishes.

Is your mouth watering yet? At least mine is. I am sure that the pictures say more than thousand words so if you are in the neighborhood stop by for some delicious treats. Or you can also buy one of his cookery books and cook these lovely dishes at home. I can really recommend the "Jersusalem" cookery book – it was a life changer for me. It changed my cooking to more healthier and fresher ingredients and how I can create vibrant veggie dishes with lots of flavours without missing the meat. It is my inspiration when I am in the mood for cooking something special.


---
Ottolenghi
13 Motcomb Street
SW1X 8LB Belgravia
London
---