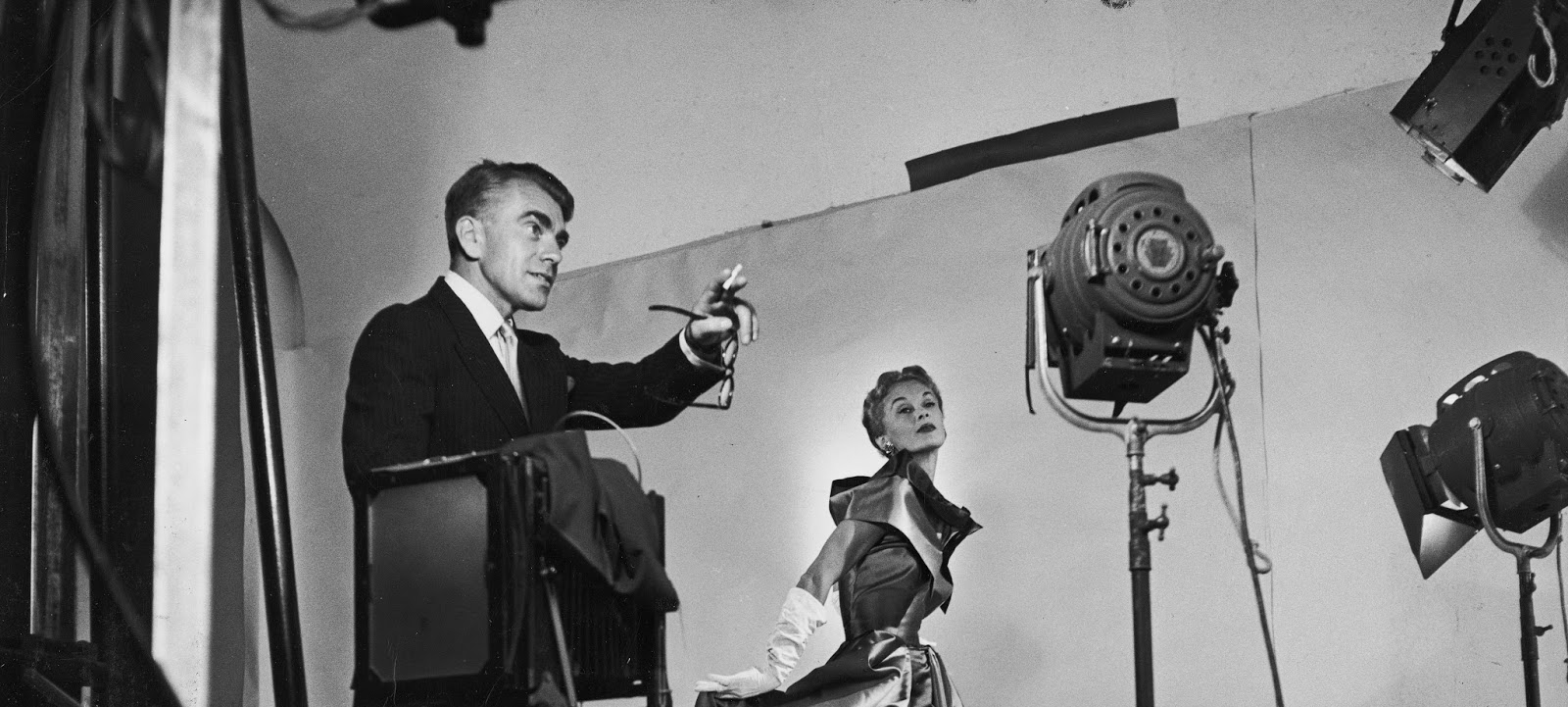 Horst directing fashion shoot with Lisa Fonssagrives, 1949
Photo by Roy Stevens /Time & Life Pictures / Getty Images
Modefotografie fasziniert mich. Besonders, wie sie sich verändert hat über die Jahrzehnte. Schaut man sich manches alte Vogue Cover an, wirkt es oft nicht mehr zeitgemäß, wobei andere wiederum jetzt noch druckbereit wären. Ein Fotograf der seiner Zeit voraus war und besonders sein Handwerk verstand, war Horst P. Horst.  Dieser Name sollte den meisten Modefans ein Begriff sein. Wer ihn nicht vom Namen her kennt, kennt jedoch seine Bilder.
Horst gilt als Meister des Lichts und der Inszenierung. Seine Aufnahmen sind zeitlos und elegant. In seiner 60 jährigen Karriere hat viel erreicht. Er lichtete Topmodels und die bekanntesten Persönlichkeiten ab und arbeitete für die Vogue, das weltweit führende Modemagazin. Er ist einer der einflussreichsten Modefotografen des 20. Jahrhunderts und reiht sich ein neben Namen wie Richard Avedon, Cecil Beaton und Irving Penn.
Das Victoria & Albert Museum in London wird am 6. September die Mode- und Fotografie-Ausstellung – Horst : Photographer of Style, eröffnen. Sie soll voraussichtlich bis 4. Januar 2015 laufen.
Also genug Zeit, um einen Trip nach London zu planen.
Hier zeige ich Euch nun einige seiner Werke, die auch Teil der Ausstellung sind:
Summer Fashions, American Vogue cover, 1941
Condé Nast / Horst Estate
Salvador Dali costumes for Leonid Massine's ballet Bacchanale, 1939
Condé Nast / Horst Estate
Corset by Detolle for Mainbocher, 1939
Condé Nast / Horst Estate
Marlene Dietrich, New York, 1942
Condé Nast / Horst Estate
Dress by Hattie Carnegie, 1939
Condé Nast / Horst Estate
Round the Clock, New York, 1987
Condé Nast / Horst Estate
Dinner suit and headdress by Schiaparelli, 1947
Condé Nast / Horst Estate
Muriel Maxwell, American Vogue, 1939
Condé Nast / Horst Estate
Alle Bilder sind Eigentum des V&A Museums. 
Thanks very much for the pictures. 

 Press Material – I

mage courtesy V&A Images.