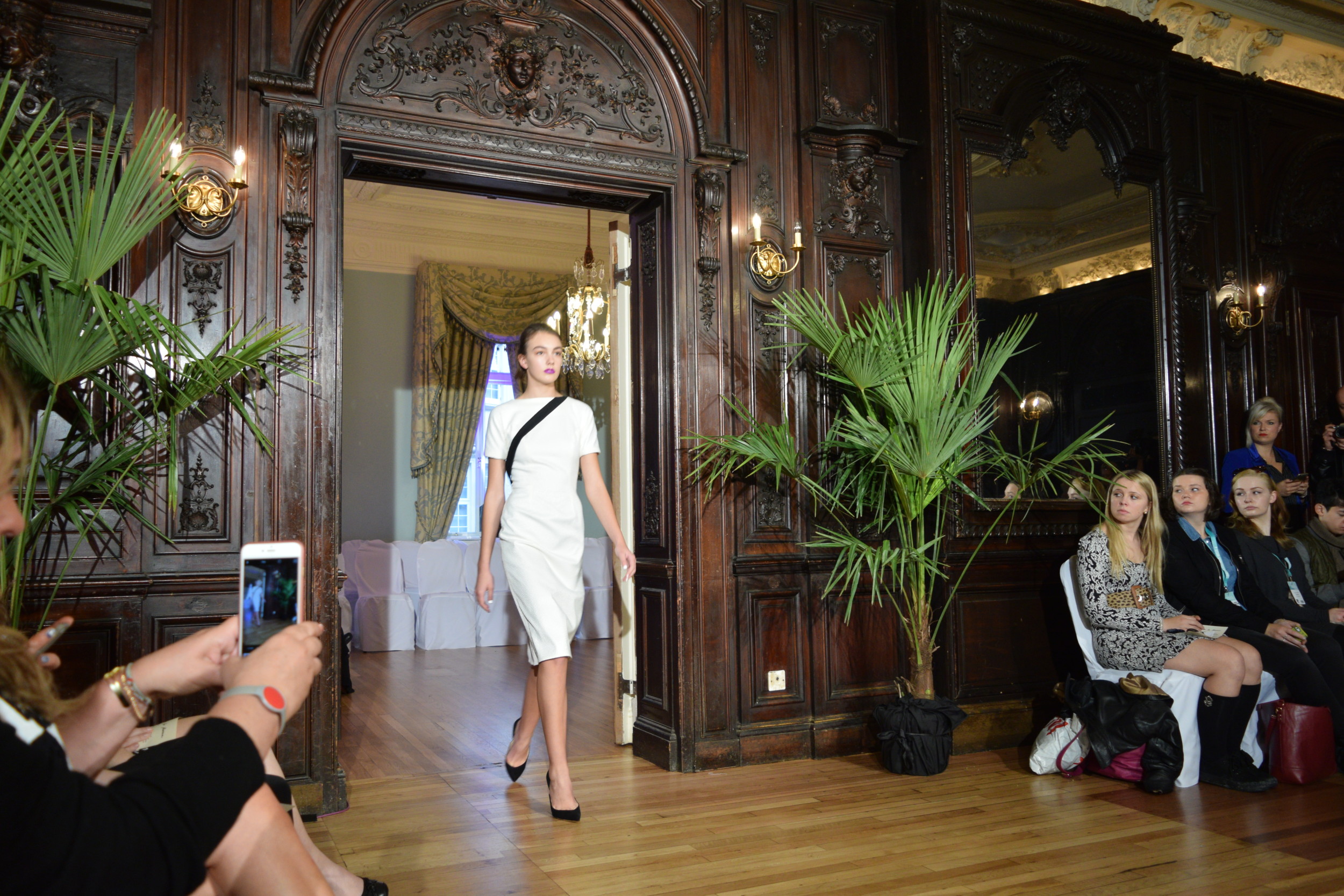 Emilio de la Morena might not be a designer you know yet but after seeing his designs you won't forget his name and I am sure you also want to own some of these wonderful dresses ( at least they are on my wishlist ). The designer studied at the famous London Fashion School Central Saint Martins and as we know: That is the recipe for success. He is known for his architectural daywear and his love for ruffles which connects him to his Spanish roots. If you like to shop his dresses – visit the Matchesfashion website.
I simply loved his current collection and after attending last seasons show as well I have to say that I am quite the fan. His designs are feminine, classic but also have a modern twist to them and the fabrics are really special especially the fabric combinations. There was not one dress in his Collection that I would not wear. Actually the same can be said about his new Spring Summer 2016 Collection.
Last season I remember that he presented his collection on site in the fashion tent at Somerset House but this time he went for an off-site venue which I adored. Dartmouth House in Mayfair was his choice which is an amazing location with its white stucco elements, wooden walls and wooden floors. The Models and the collection fitted so perfectly in this gorgeous georgian house. The former military hospital and now the headquarter of the English-Speaking-Union is an amazing location that can also be hired for events like weddings (i can even imagine my wedding there) and fashion shows apparently. Good Choice Emilio! But not only the location was devine – the same appears to his designs. I totally fell in love with the sheer materials that he used for dresses and tops. I also liked the embellishments that gave the fabrics even more sparkle and shine. The black & white combinations were also very pretty and is a total must next summer as well as colorful prints. The abstract animal print is also very elegant and artistic – he used them in six looks as dresses, skirts and tops.
Do you agree with me when I say that "Emilio de la Morena is my London Fashion Week Favorite"? It was the most glamorous and intimate show that I have been to and the atmosphere was amazing. What I also thought was special? Every invited guest sat in the first row which is a nice feeling to be valued and you can actually see every detail of the look. Imagine that you can also stand or sit in the 7th row with so many people and phones in your sight that you cannot actually take one clear pic. ( Bloggers are usually banned to the least nice spot.) But not at Emilio de la Morena.
Thanks for the invite – I enjoyed it a lot.