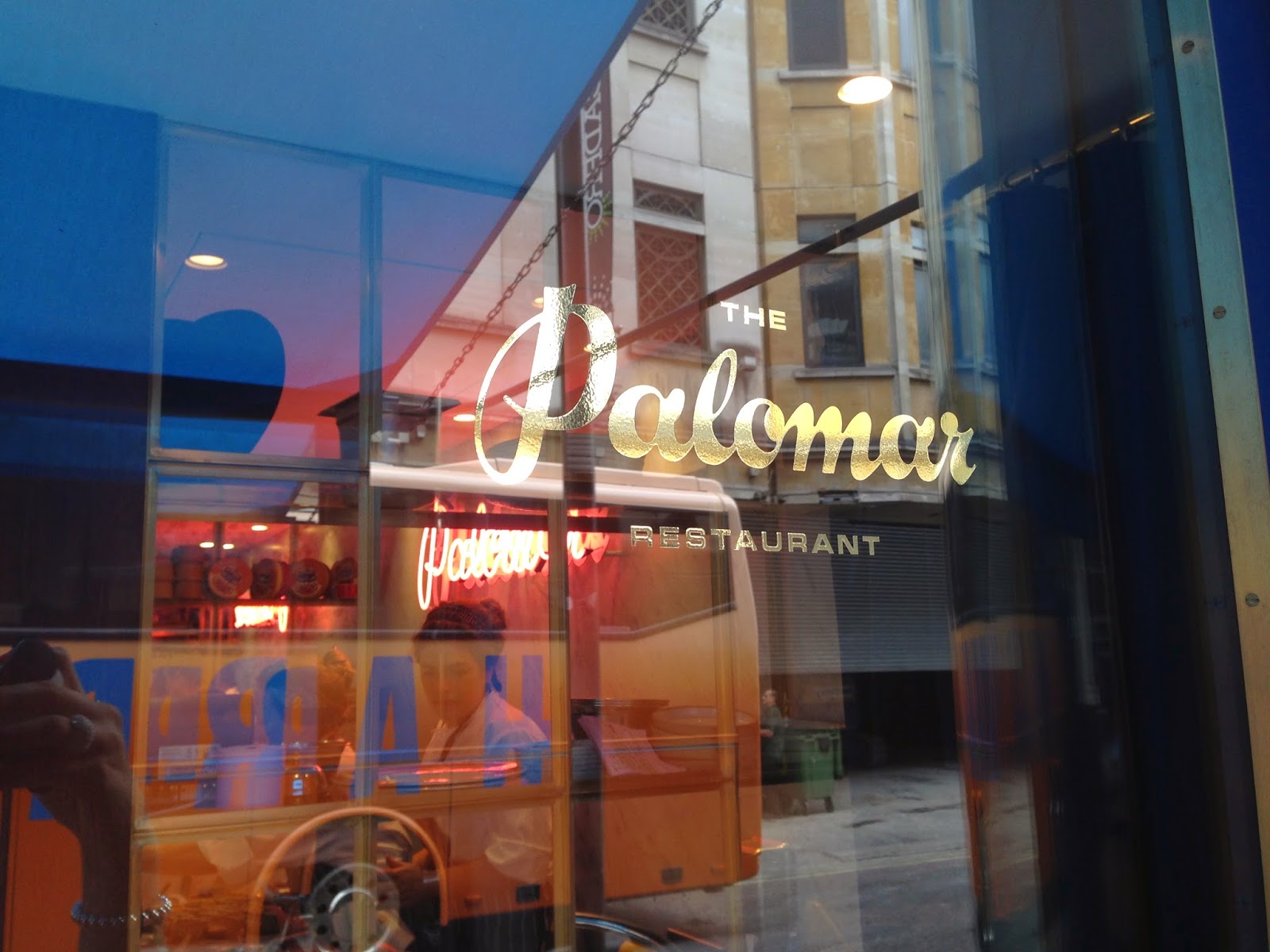 I would call the Palomar – the hippest and tastiest restaurant in London currently. But this is not the only reason for this Eat Out post. The Palomar feels like home. With its vibrant Jerusalem Cuisine and the lovely laid back atmosphere it has no connection to Germany whatsoever. But it's the third weekend in a row that i went to Palomar and it certainly won't be the last.
---
 When you enter the door, you instantly feel that you changed cities. You just swapped London with the quirky Jerusalem. Literally you stand in the middle of the kitchen where food and chefs are everywhere. Only the long bar prevents you from falling into the chefs' pans. In terms of seating, there are two choices: either you can sit at the bar when there is space or when you booked a table at least one month in advance you can sit in the cozy dining area. For the bar – it's first come first serve which in this case means: dinner at 6PM. If you come a bit later, you have to wait and wait and wait. I would not recommend waiting to be honest because you see all the beautiful dishes passing by and you are not allowed to taste them. It will kill you – eventually. So be on time or plan ahead.
Here are some impressions of the kitchen…
Last time I sat at the bar, which was a fantastic experience. You get to watch the chefs and can see how the dishes are prepared. I love that. Also because they give out Vodka shots and scream "L'chaim!" which is cheers in jewish. Then everyone drinks together – including Papi and the chefs in the kitchen. It was such a fun evening with great entertainment.
Now the Food Talk…
Oh my god – before I get started I will tell you that it will taste totally different from what you know and what you have tasted before. The Palomar gives every dish a unique twist and everything on the menu tastes absolutely delicious. Every day they also have a few specials using seasonal produce. It is jewish food at it's best and it is considered to be modern Jerusalem style cuisine.
I will let the pictures speak for themselves. And I am sure they will.