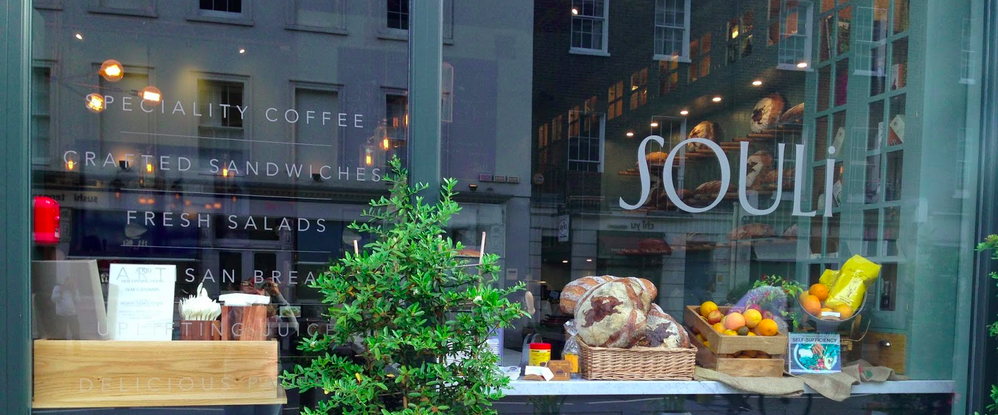 I am on a constant search for independent coffee shops in London. They have to serve great coffee, have to have good food and amazing sweets. Souli fulfils all three requirements. The coffee is very good and we also had several sandwiches but not just regular cheese and Salami Sandwiches – special ones. For example, they do not only put any cheese on their bread – a Souli creation sounds like this: Sourdough Bread with Goats Cheese, Pears, Onion Chutney, Walnuts and fresh Watercress. Doesn't this sound amazing? And it was. Then we also had another sandwich with Roast Beef, a fruits relish and arugula, which was also devine. And of course I wanted a sweet treat. At the Coffee Bar they have Mini Muffins – i went for my favourite Red Velvet as always. But this particular one was just perfect. The Frosting was not to sweet and the muffin was so fluffy. Yummy I can still remember the taste in my mouth. It was quite special. So you see – Souli is a great tip when in Marylebone.
/////
Auf meiner stetigen Suche nach gutem Kaffee in London komme ich immer wieder in Cafés, die mich begeistern. Ketten mag ich nicht, außer sie liegen in Form einer Statement Necklace um meinen Hals, ansonsten kann ich auf sie verzichten. Individuelle Cafés jedoch ziehen mich an – so auch das Souli.
Das hippe Viertel Marylebone hat viele dieser Independent Coffee Shops zu bieten, das Kaffeine, das Attendant, das Daisy Green und die Borough Baristas. Diese vier habe ich ja schon vorgestellt. Das Souli ist nun das Fünfte in der Barista Community von Marylebone.
Der Kaffee ist sehr gut im Souli, alleine beim Schaum meines Cappuccinos bin ich schon hin und weg. Der Kaffee an sich schmeckt auch fantastisch. Weiter zum Essen. Das Souli bietet frische Sandwiches an, die ausgefallen belegt und just in time belegt werden. Das mag ich ganz besonders, denn das Sauerteig Brot ist noch nicht durchgeweicht, sondern frisch und der Salat knackig, statt lätschig. Als Topping gibt es Ziegenkäse mit Zwiebelkompott, Walnüssen und Rucola oder Roast Beef mit Kresse, Cranberry Chutney und Frischkäse. Alleine von der Zusammenstellung läuft mir schon das Wasser im Munde zusammen. Und genauso lecker, wie sie sich anhören schmecken sie auch. Ausgezeichnet sind auch noch die Muffins, der Red Velvet Cupcake zergeht auf der Zunge und passt natürlich perfekt zu meinem Cappuccino.
Hier sind nun ein paar Fotos vom Souli, nun bekommt ihr einen visuellen Eindruck von meinem neuen Lieblingscafé.
---