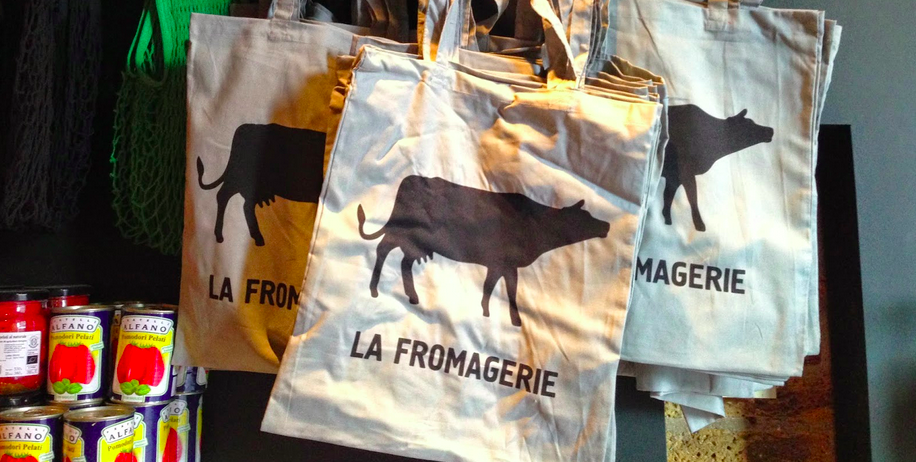 At La Fromagerie you can eat, shop and smell cheese all at the same time. I love going there for breakfast on the weekends. Especially on sundays when Marylebone Farmers Market takes place just across the street. Farmers Markets are one of my big passions and the one in Marylobone is my favourite. And after I did all the shopping for the week it is time to relax, grab a coffee and have a proper breakfast. La Fromagerie is just the perfect place for that. I love their Granola and sometimes I buy a pack which they sell in the shop. It is quite pricey but absolutely worth it. My second biggest passion is cheese. Simply enjoyed with crackers, bread or on its own with some grapes or Quince gelee. The cheese selection they have is devine. From soft, hard and blue cheeses to goats and sheeps cheeses. It's Cheese Heaven right there. So check it out when your in the neighbourhood.
/////
La Fromagerie ist nicht nur ein Käsegeschäft, es ist auch ein Feinkostlädchen, Frühstücksbistro und einmal im Monat ein Restaurant. Sonntags wenn ich meine Einkäufe auf dem Farmers Market erledige, komme ich immer hier vorbei und kaufe Käse, andere Leckereien oder stärke mich mit einem leckeren Frühstück für das Tütenschleppen.
Wer Delikatessen und besondere Lebensmittel mag, sollte hier einkaufen. Alles ist saisonal und frisch, besonders die Käseauswahl ist gigantisch, man bekommt besondere Sorten und kann sie probieren. Was ich hier besonders mag, ist das Ambiente. Hier sind keine Touries unterwegs, sondern nur Anwohner, die sonntags ihre Einkäufe auf dem Markt machen und das Essen & Trinken der Fromagerie schätzen. Ich freue mich immer, wenn ich überhaupt einen Tisch bekomme, denn besonders sonntags ist hier Hochbetrieb.
Natürlich hört man auch viel französisch an den Nachbartischen, das liebe ich an der Gegend und an London allgemein. Die Internationalität und die vielen verschiedenen Sprachen und Menschen machen es zum Melting Pot. Und dadurch fühlt man sich in der Fromagerie fast wie in einem Pariser Feinkostladen. Sogar mein seltenes Maronenmousse haben sie im Sortiment. Was außerdem ganz ausgezeichnet ist, ist das selbstgemachte Müsli mit vielen Nüssen und getrockneten Früchten. Nun zeige ich euch wie die Fromagerie von innen aussieht.
---