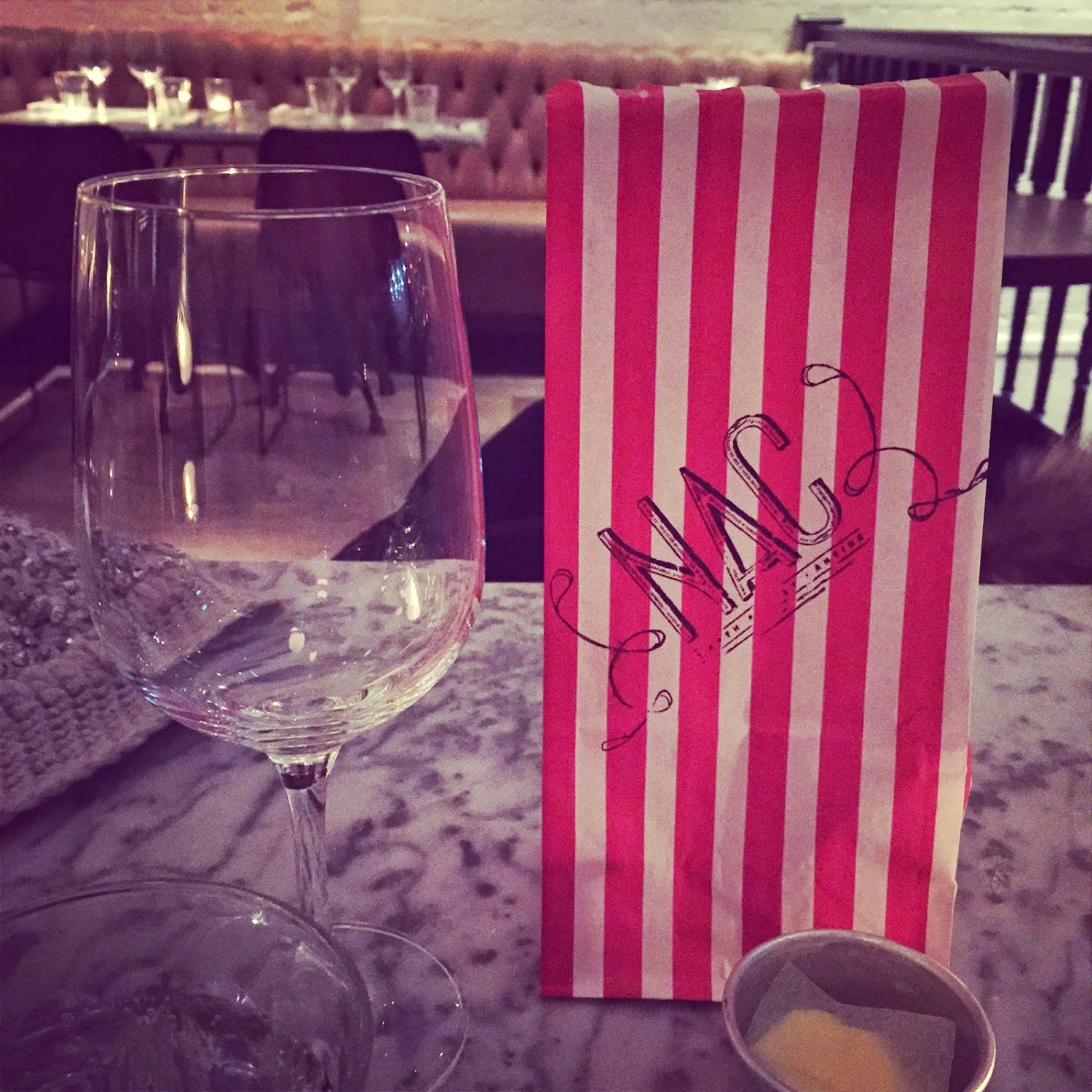 There are lots of London restaurant reviews in the pipeline. I will kick off this year with the NAC, which I really enjoyed. It is not posh and overly expensive like most of the other Mayfair restaurants. But don't get me wrong it is hip and a great place to have dinner. I think it is quite rustic, down to earth and has a great vibe. 
Sometimes I just want to enjoy great food and do not want to dress up for it. At NAC you can wear whatever you feel comfy in and eat your way through their menu which is quite diverse. From french influenced dishes to cajun seasoned chicken and a "Schnitzel"like veal steak. But before I get to the food I want to show you the interior which I love. The white brick walls with the old school lights and the granite tabletops remind me of a mix between modern brasseries and hipster coffeeshops. And all this is paired with a british twist in form of cognac leather Chesterfield sofa benches.
Food & Drinks
Mojitos are always a good idea and the NAC really knows how to create yummy cocktails. I loved the attitude when the waiter said: "We can mix everything you want even when it it not on the menu". This flexibility is not common in most of the restaurants but I really think this is what makes a good restaurant a great one. 
Let us move on to food. We ordered two starters, two mains and two sides which was more than enough for us two. If you ask me what is the best dish at NAC? I would have to go with the Cajun Chicken. First of all I love chicken, but the cajun seasoning and the corn just gave it such an amazing flavour. But do not get me wrong the food was great overall I am just addicted to sweet corn. The veal Schnitzel was also very tasty, the batter was crispy but not soggy or fatty. Just a perfect companion for the crispy and fresh side salad. 
At NAC not only the food is unique. Every dish is placed on a different plate which makes the dinner even more enjoyable. The atmosphere is homy and comfy. You do not feel that you sit in a restaurant, it is more like sitting in a private dining room and just enjoy the food and the interior. 
I will definitely come back especially when spring arrives for sitting outside at one of the six tables in front of the restaurant. I imagine myself right now eating the cajun chicken and get kissed by the sun.