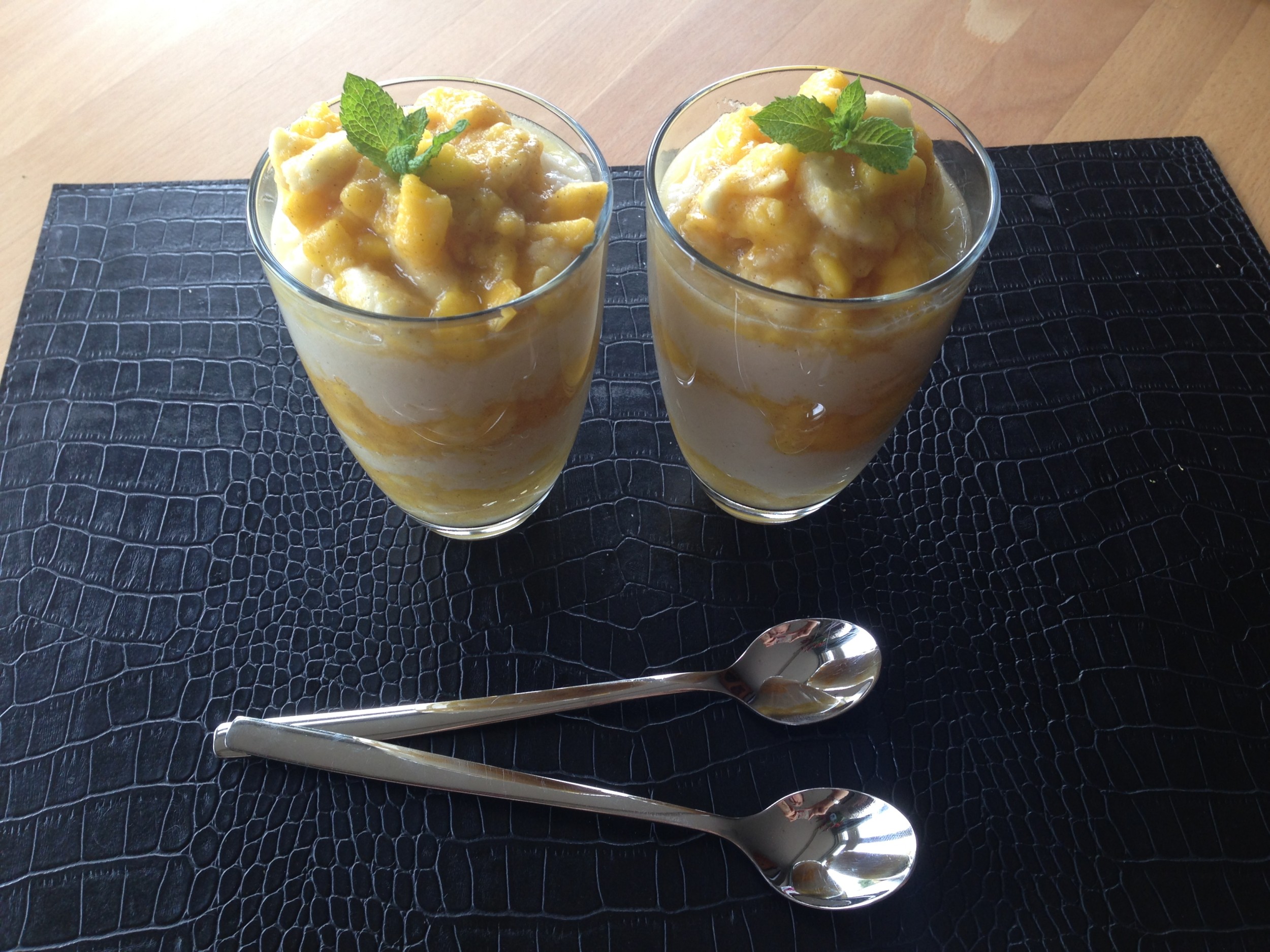 I love hot dishes for breakfast like Pancakes, Porridge or Rice Pudding. This comforting dish is so yummy and fresh at the same time. This is also a great dessert when you host a dinner party and want to prepare it ahead of time. It consists of the creamy Coconut and Vanilla Rice Pudding topped with a Mango & Banana Compote which is so easy to make. And it is also dairyfree which is another plus. You'll love the simplicity and the taste – I am sure.
---
What you need?
---
1 Mango
1 Banana
Vanilla Extract
1 Vanilla Bean
Rice Pudding
Coconut Milk
Sugar
Honey
---
How to prepare it?
---
First I always do the chopping. Take the Banana and slice it up and put it into a pot. Add the chopped Mango and a teaspoon of Vanilla Extract and add a half of the Vanilla Bean which you opened by slicing down the middle. The other half is for the rice pudding. Take another pot and pour a whole tin of Coconut milk into it. Then add 250g of Pudding Rice and bring it to a bowl. You can reduce the heat straight after it boiled. Now you can heat the other pot with the compote and stir both pots taking turns. You can also add the sugar and the honey now. For the Rice Pudding I use 1 tablespoon of sugar and the compote only needs a drizzle of honey because the fruits are sweet in the first place.
The Compote is done after just 5-10 minutes so remove it from the stove and let it cool down before filling into the glasses. The Rice should be done after 15-20 minutes depending on your rice. After they are both cooled you can fill them into glasses. Start with compote then put rice in and repeat until the glass is full. Top it off with a mint leaf. Now it is ready to serve and it looks like you stood in the kitchen for a few hours when you only spend 25 minutes. That's amazing – right.