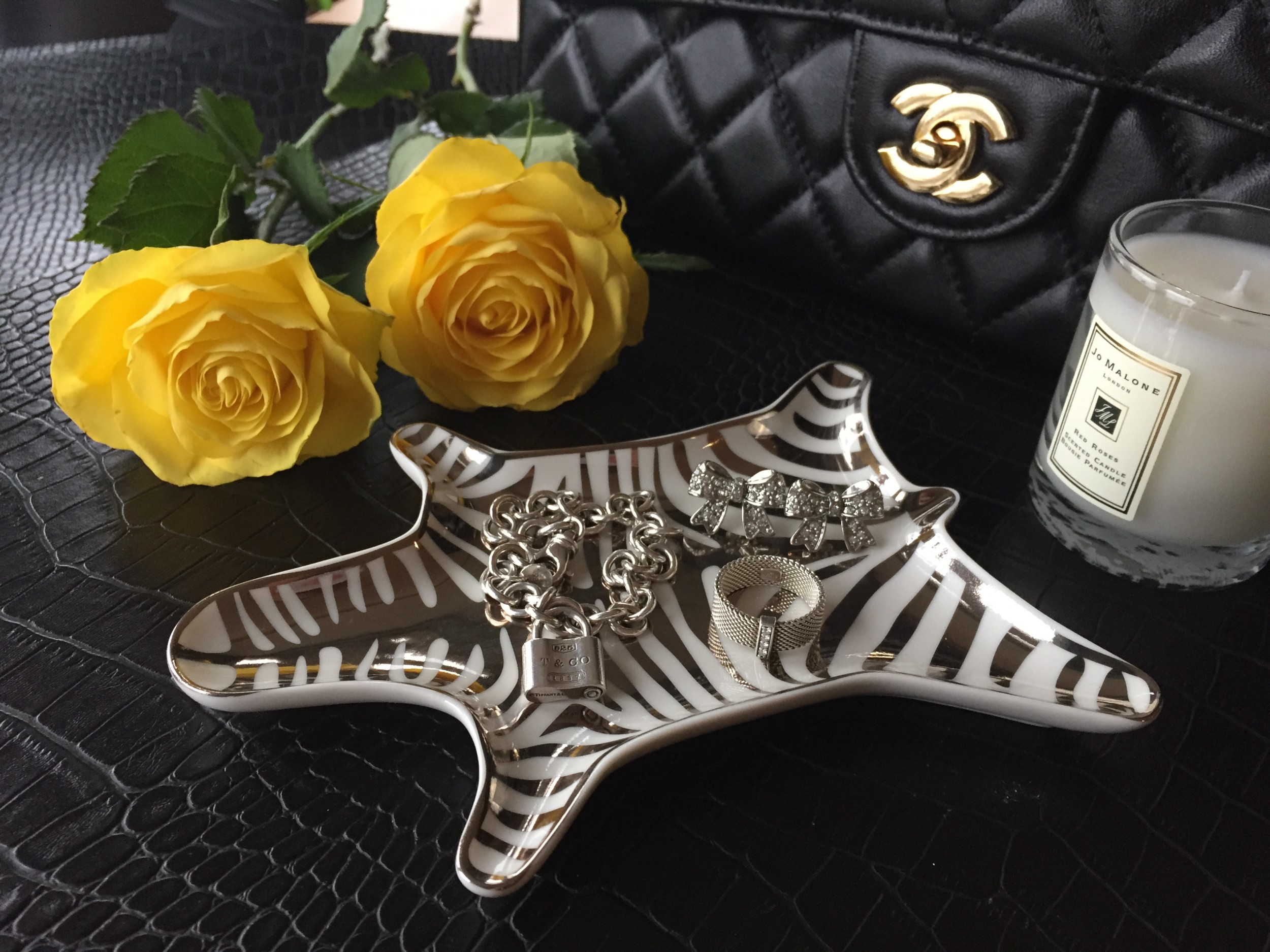 Interior is one of my big passions besides fashion. Interior Decor can make all the difference. A home with attractive peel and stick wallpaper will look so much more appealing than boring, bare walls, for example. When you live in a furnished flat (as many Londoners do) you have to feel cozy and home although you have not selected one piece of furniture. So Home Decor is the key. What I would recommend are scented candles – the smell when you enter the door can either be homy or strange. I would got to Jo Malone and select your signature hime smell. Mine is "Red Roses" which is elegant, blossomy but not too sweet. Also Flowers are a big thing when you want to give your flat a nice makeover. Always have fresh flowers around in different vases. The third recommendation is trays, where you can put jewellery or candles. This Zebra dish is from Jonathan Adler – if you like it you should buy it quick because the sell quite fast.
Don't forget though that your home exterior is also just as important as the interior. You can't have your house looking perfect on the inside if it doesn't look good on the outside! You will also find that if you don't take care of things like your gutters or roofs, or clean your windows, that you can actually cause a lot of problems occurring in the future. Things like water damage, or mold occurring in your home are a big deal and are something that will happen if you don't look after your exterior properly. You don't even really need to do anything yourself, just call up a professional like this Clean Pro Gutter Cleaning Topeka company and they can sort your exterior out for you. Just because you can't see it, does not mean that you should forget about it
You want to make sure that your home is perfect on both the inside and outside, I cannot stress this enough. Even if you only live in a small flat or apartment, you should still make sure to take care of your home. So hire a professional cleaning company if you need to, just do whatever works best for you. You won't regret it!
It just means that every time you come home and sit down on your sofa you can feel proud that this is your home and you've taken care of it. That's actually quite a good feeling. So make sure you do enough to keep your home looking amazing, on both the outside and inside.