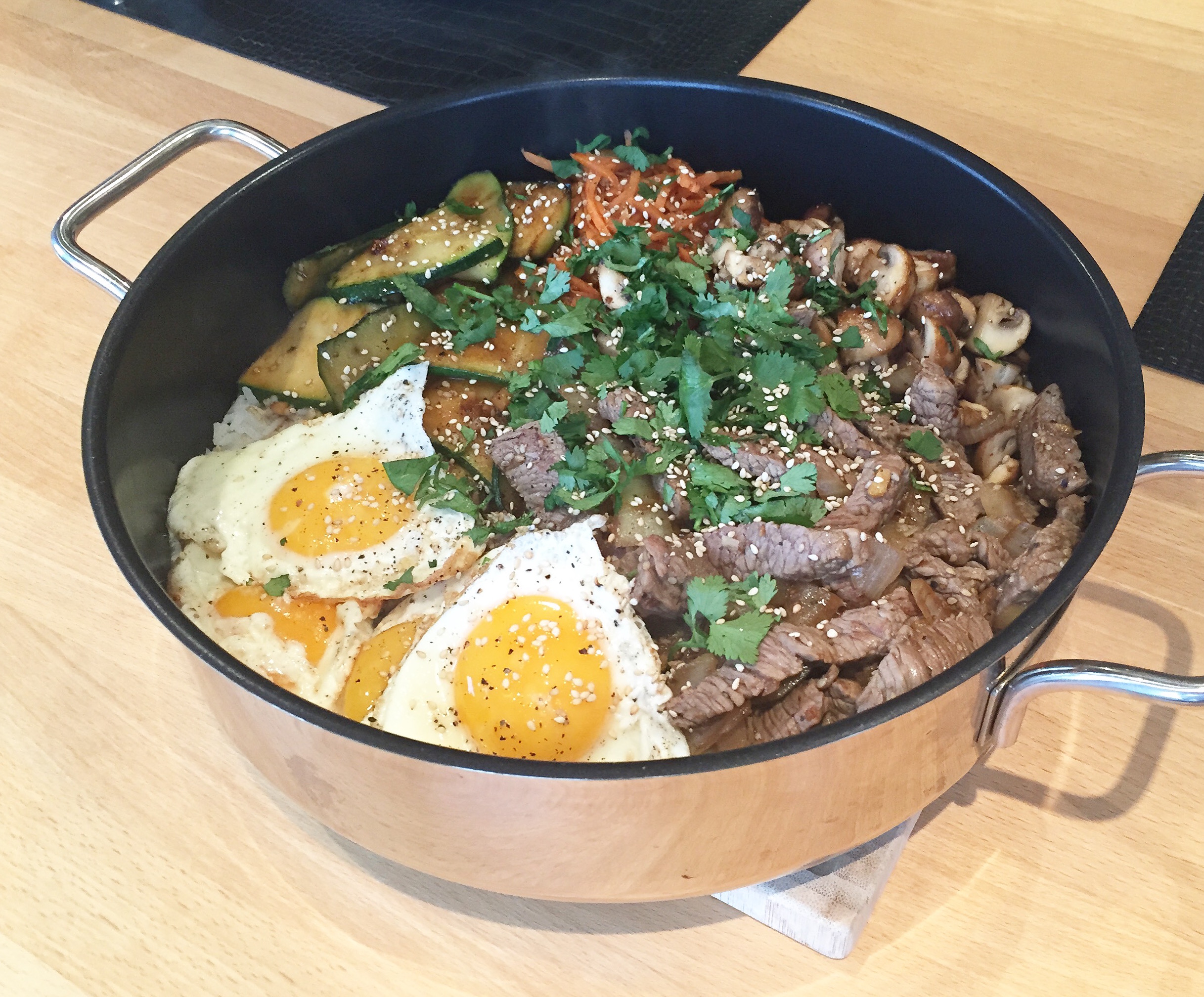 After being asked for this recipe a million times ( it really feels like a billion ) I will finally share it with you. I was totally inspired by Judy Joo, an American Korean chef who recently opened Jinjuu restaurant in London ( blogpost coming soon ). I was there last week and ate a few dishes including the Bibimbap Bowl. I was amazed by the flavours and textures of the dish so I made it at home for me and my boyfriend. And he loves it so much that it has made it to our favourite TOP 10 at home cooking list.
What you need?
Sesame Oil
Basmati Rice
Beef Steak ( Filet or Rump Steak )
Onion
Carrots
Mushrooms
Courgettes
Kimchi (optional)
Eggs
fresh Coriander
For the Sauce & Marinate:
 Toasted Sesame Oil
Gochujang Sauce (korean chilli paste)
Mirin
Ginger
Garlic Clove
Soysauce
Hoisin Sauce
Sesame Seeds
Salt Pepper
How to prepare it?
It is a bit of a hassel and I can ensure you that this dish will take time. You need patience – it is not a 15 minute meal. Depending on how fast you can get all ingredients ready it can take up to two hours but it is worth it. This Korean classic is our new favourite recipe and i know it'll be yours.
First of all take a very big pan where everything can fit in at the end. Take the biggest you have. And you need a separate pot for cooking the rice. Cook your rice for 15-20min lid on, just simmering with the following measurements. 1 Coffee Mug of Rice to 2 Coffee Mugs of water, then bring it to a boil and then turn down the heat that the rice simmers away. When it is done there should be no water left in the pot. Put it aside when done. Take 5 Plates and set them aside. You have to fry every ingredient separately to arrange it neatly in the end.
Wash the courgettes and cut it into the shape you want. I chopped it lengthwise and then in halfmoon shapes. Afterwards peel the carrots and use a Julienne Peeler for perfect carrot sticks. If you do not have a Julienne Peeler just cut it as you like. Then the Beef – I used rump steak and chopped it in thin slices. Also peel and slice the onion in small pieces. The Mushrooms have to be cleaned and cut as well. Put everything on a different plate.
Now the Marinade:
In a medium Bowl or a big Coffee Cup put 1 Tablespoon of each Toasted Sesame Oil, Gochujang Sauce, Mirin, Soysauce and Hoisin Sauce. Cut the ginger and the garlic in small pieces and add to the bowl. I used two cloves of garlic and a 3cm piece of Ginger. Also add the sesame seeds, Salt and Pepper and stir. Try if the sauce tastes good for you. Adjust if you feel that you need more of the ingredients. If you like it more spicy add more of the korean chili paste. For Sauce Lovers like me double the amount of ingredients.  You should have enough sauce that you can add 1-2 Tablespoons of marinade to every frying step later.
Frying:
I started with the courgettes, they take less then 10 min to fry. I like them a little crisp and not too soft. Just before they are done, add 1-2 Tablespoons of the marinate and let it simmer for one minute, just that the garlic gets a little cooked. Then put it in the plate where it was before. Continue to do so with the carrots and the mushrooms, remember everything one at a time. Then the steak, I fried some onions before putting in the beef, the meat should not be cooked though, leave it at medium because it will cook though later. The last frying step are the eggs, I love eggs that's why I used 6 eggs for 2 people. But this dish is all about what you like and how much of each ingredient you prefer. The last and final step is putting everything together.
First put the rice in the big pan you fried everything in. Clean it first that nothing sticks to the pan. put in a little oil then the rice, spread it evenly. Finally arrange every separate plate next to each other, seen in the picture. and let it simmer for a few minutes. That everything gets hot again and that the rice gets a little crunchy. That is my favourite Part. If you have Marinade left put it over everything as well a freshly cut coriander.
DONE.
You won't be able to eat the whole bowl, at least we couldn't but it is a perfect dish to warm up. You can leave it in the fridge and just heat it up again.