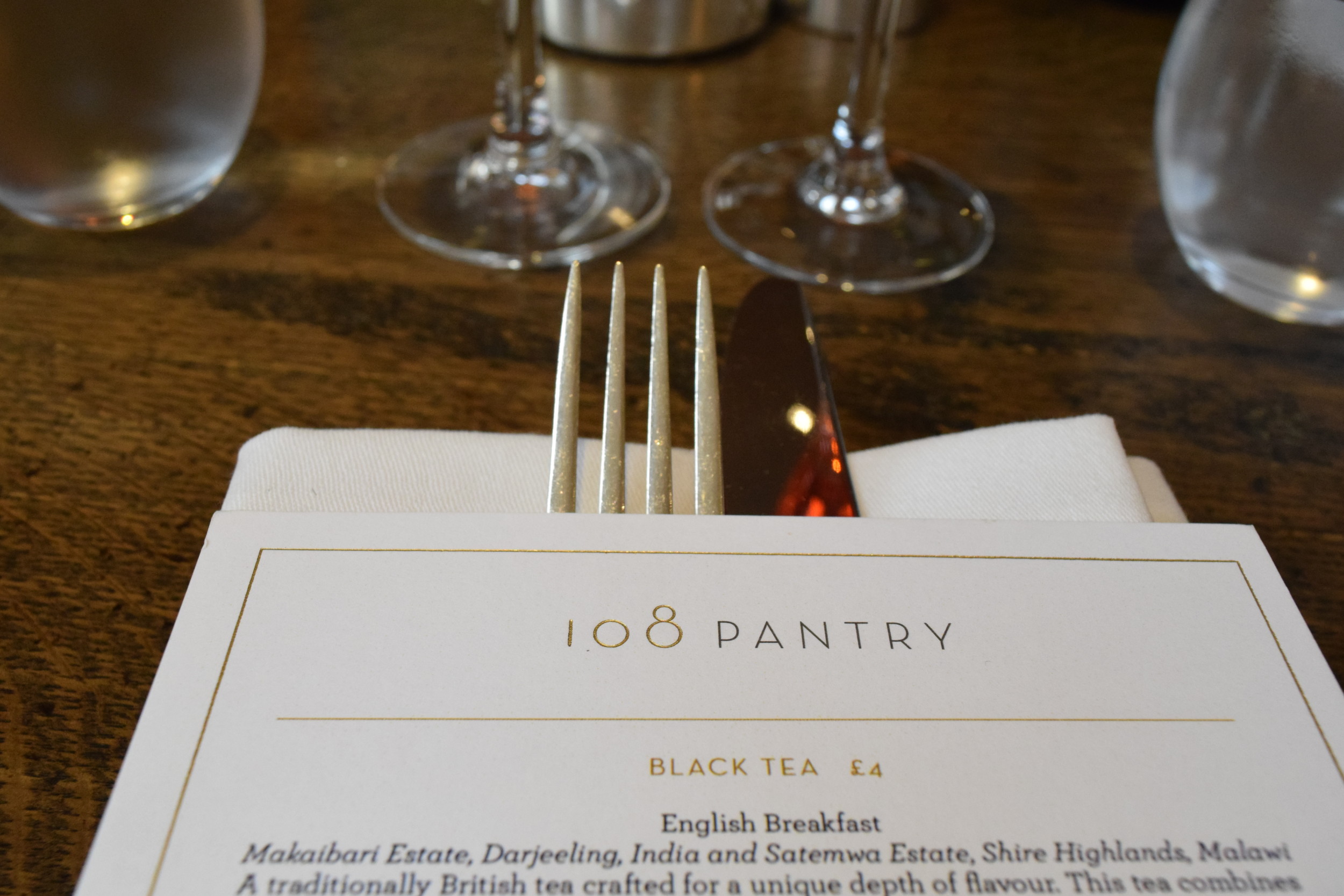 Afternoon Tea is my thing – at the moment. Actually this might not be helping because I should loose some pounds since my big day is coming up soon but on the other hand I am on a constant hunt for the perfect afternoon tea in London. This means cutting back on everything I can except Afternoon Teas. I just love them and cannot give them up. But I don't have to because this one has something up its sleeve that makes it ok to eat it.
Are you curious? You should. I have to reveal one thing about this afternoon tea. I think it is in my Top 3 Afternoon Teas in London and I will explain to you why I think that.
First of all I loved the atmosphere in the 108 Rooms – the Pantry, the Brasserie and the Bar, so cozy and comfy. I could sit there forever. We had the best table in the Pantry restaurant. A red big round couch right at the window with lots of natural light and a great view of the restaurant for people spotting. We started of with a glass of Rose Champagne which is always a good idea and a great start for an indulgent afternoon tea. Then we selected the teas which was a challenge but in a good way.
The waiter presented all the loose teas by the Rare Tea Co. they had on a tray and we could smell every single one. It made the choice harder after smelling all the wonderful teas and see the lovely packaging. I went for a mix between Camomile flowers and Lemongrass. This way you can mix and match your teas as you like and create new flavours. That's unique right? I also loved the china – grey & white with stripes looks so elegant and pretty. I really like when restaurants have nice china instead of just simple boring white ones. You can see that they have thought about design and the look of this Afternoon Tea. Big Like.
One more Big Like for the cakes and the details of them. They tasted amazing. Not too sweet, just the right amount of sugar and flavours. Also a good balance of mousse to cakes and tarts. We were very happy with the food and the drinks as well as the lovely service. You know I am not so keen on the sandwiches but even they were to my liking. The scones were warm and freshly baked, paired with fresh strawberries next to clotted cream and jam. Now the best part – the cakes and sweets:
Chocolate tartlet with popcorn
Flourless pistachio cake
Raspberry Macaron
Vanilla Mousse with fruit compote
And it doesn't stop there. You can also choose some more cakes from the counter where they also have more macarons, muffins, tarts and cakes – also lots of gluten free options. But trust me you will not even get there because when the etagere is empty – you are full.
When we could not eat anymore we ordered a fresh squeezed Juice from The Juicery Menu which was the best idea ever. The freshness of the juice was just perfect after eating so many cakes and sweets. This was the third thing I absolutely loved about this Afternoon Tea. I had the green one of course. I love green smoothies not only are they very healthy – they are so delicious.
Let's repeat !
Tea – Selection, Presentation – AMAZING
Cakes – Design, Flavour, Sweetness – SUPERB
Fresh Detox Juices – Fresh, Refreshing – WOW
---
The Marylebone Hotel
108 Rooms
108 Marylebone Lane
W1U 2QE Marylebone
London
---